Using Vault AI To Gain a Competitive Advantage During the Writers' Strike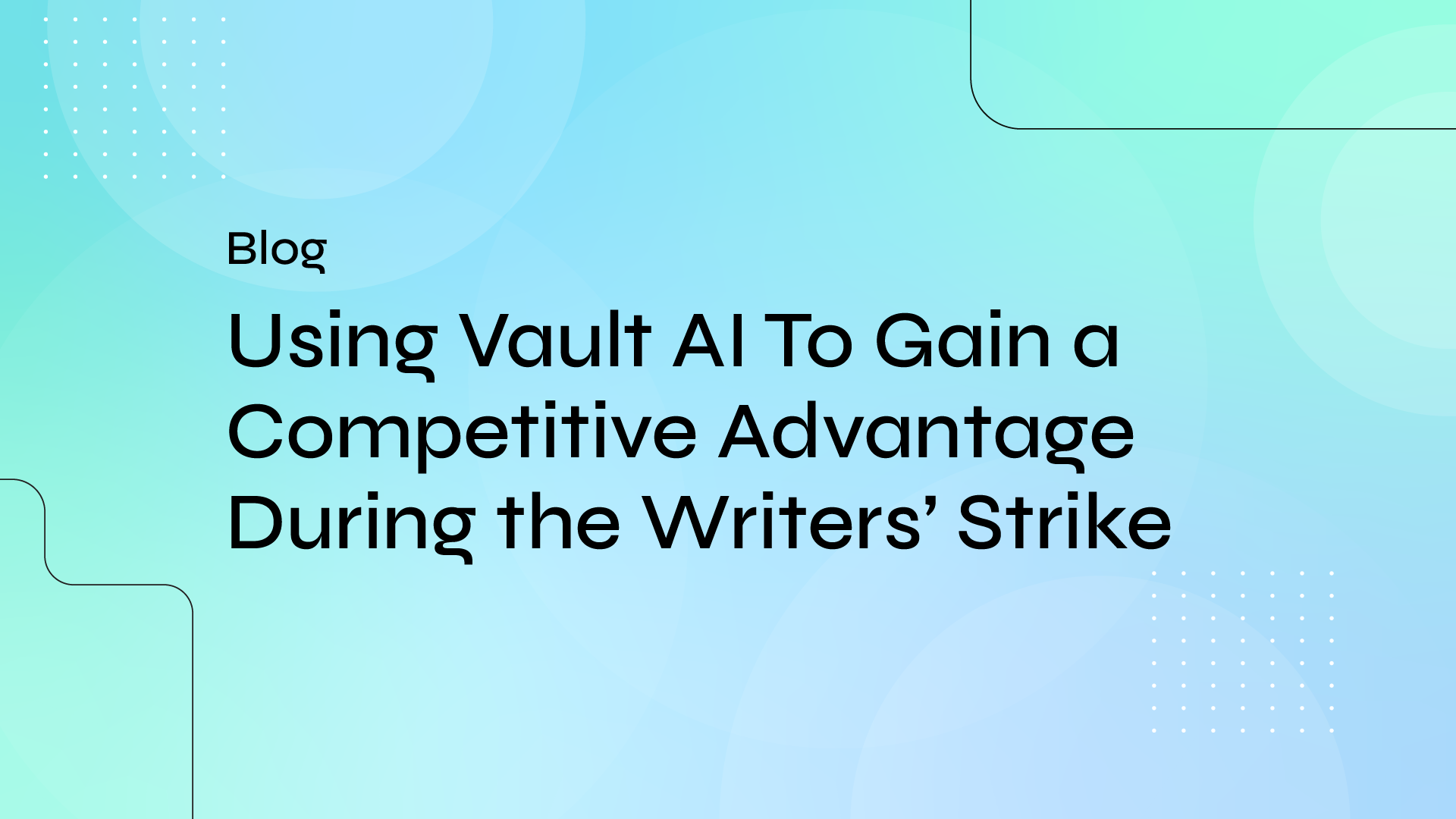 While the writers' strike can halt writing and production work for some time, it also presents an opportunity to leverage AI insights to gain an edge over the competition. 
Vault AI is helping networks in three valuable ways during this time:
1) Pivoting to unscripted content
2) Deciding which new titles to green light once the strike ends
3) Identifying white space opportunities
Let's dive into each of them and show you some examples. 
Pivot to Unscripted with AI Concept Testing
While networks pivot to more unscripted programming to maintain strong viewership levels, choosing the right project to pursue is critical. Ideally, projects will succeed while aligning with the core audiences and growing the brand.  
Using on-hand materials, from a sizzle to a character tape to a written description or paper presentation, Vault AI can ingest the unscripted concept and match it against its database to answer: 
• Which unscripted concepts are predicted to have the most success overall and by demographic?
• How do the concepts rank against each other?
• What key story elements will engage or hold back viewers?
• How unique is each concept vs. the current TV landscape?
Case Study
A broadcast network evaluated seven unscripted projects with the goal of green lighting five due to the writers' strike.
Vault AI ranked each concept based on predicted success among:
• target Women 25-54
• the network's viewers
• viewers of other unscripted shows on broadcast
Vault AI also unpacked each concept's key drivers and challenges to enhance the chances of the series becoming a success.
Get a Head Start with AI Script Testing 
Networks that leverage Vault AI  during the writers' strike can get more significant insights and position themselves to immediately 'hit the ground running' when the writers' strike ends. 
Vault AI can ingest a script, book, or podcast and provide the deep analysis (similar to a pilot test) that helps with script selection or preparation for pilot production.
The deep analysis answers questions like:
• Is this script worth developing?
• Will this pilot hit our target demographics?
• Which storylines are strong and unique enough to keep viewers coming back?
• Which storylines are proving problematic?
• Is the main character compelling enough?
• What network is the best distribution channel?
Case Study
A cable network had four scripts that it commissioned before the writers' strike and wanted to decide which one to move forward with when the strike is over. The cable network also wanted to know what changes to make to the scripts before moving on to the pilot phase. 
Vault AI ingested each script and mapped them against its robust database. For each script, a thorough analysis was provided, including target audiences, key storylines to explore, character evaluations, and metrics on the project's probability of success and uniqueness. 
Using the insights, the network plans to move forward with one of the scripts and potentially a second.  
Identify White Space Opportunities with AI Landscape Studies
During uncertain times, executives look for new opportunities. Vault AI's ability to segment genres and sub-genres by analyzing data from thousands of titles simultaneously helps development executives identify white space opportunities.  
The questions we answer the most with landscape studies are:
• Can we create new sub-genres within the genre?
• Is there a hybrid opportunity between two sub-genres?
• What are the key story drivers of each sub-genre?
• What are the critical demographic segments for each sub-genre?
Case Study
A network wanted to dive deeply into the world of crime programming and understand the nuances of the sub-genres within crime and what made each similar and/or different. The network also wanted to know if any opportunities existed to create a new crime sub-genre. 
Vault AI evaluated over 100 crime shows and segmented them into various sub-genres, mapping out each sub-genre's key story elements, emotions, and demographics. By comparing the mapping of key story elements, Vault AI identified white space opportunities and sub-genres that were less saturated. 
The client is sharing these insights with its development team and production partners to inform new titles.
Take Advantage Today
Find out more about how Vault AI can help you gain a competitive advantage during the writers' strike by contacting david@vault-ai.com