Technology
Predictive Consumer Insights
Harness the power of AI to predict who your global audience will be and how to maximize their engagement with your content.

Domain Expertise
Vault AI is built by Israel's leading minds in AI and designed by global consumer insights people, for consumer insights people.

Fast & Iterative
Get insights in hours, not months. Test new ideas in real-time at any stage of the content life cycle.

Trusted
The most widely adopted AI insights in entertainment. Trusted by leading streamers, networks and film studios.
Enter the Vault
Simulate global audiences at any stage with confidence
The most comprehensive AI, story and performance analytics platform ever assembled to simulate global audiences.
100,000+
story data points
All genres
across unscripted and scripted
All platforms
streaming, linear, theatrical
How it works
Easily unlock crucial insights around any type of content
Get accurate and unbiased predictions of commercial success at the earliest time possible.

Step 1
Upload any visual, textual creative material or IP.

Step 2
Map the creative input against rich datasets.

Step 3
Predict ratings, bingeability, social buzz, longevity, box office and more.

Step 4
Explore changes to story to maximize audience engagement and revenues.
Make smarter decisions faster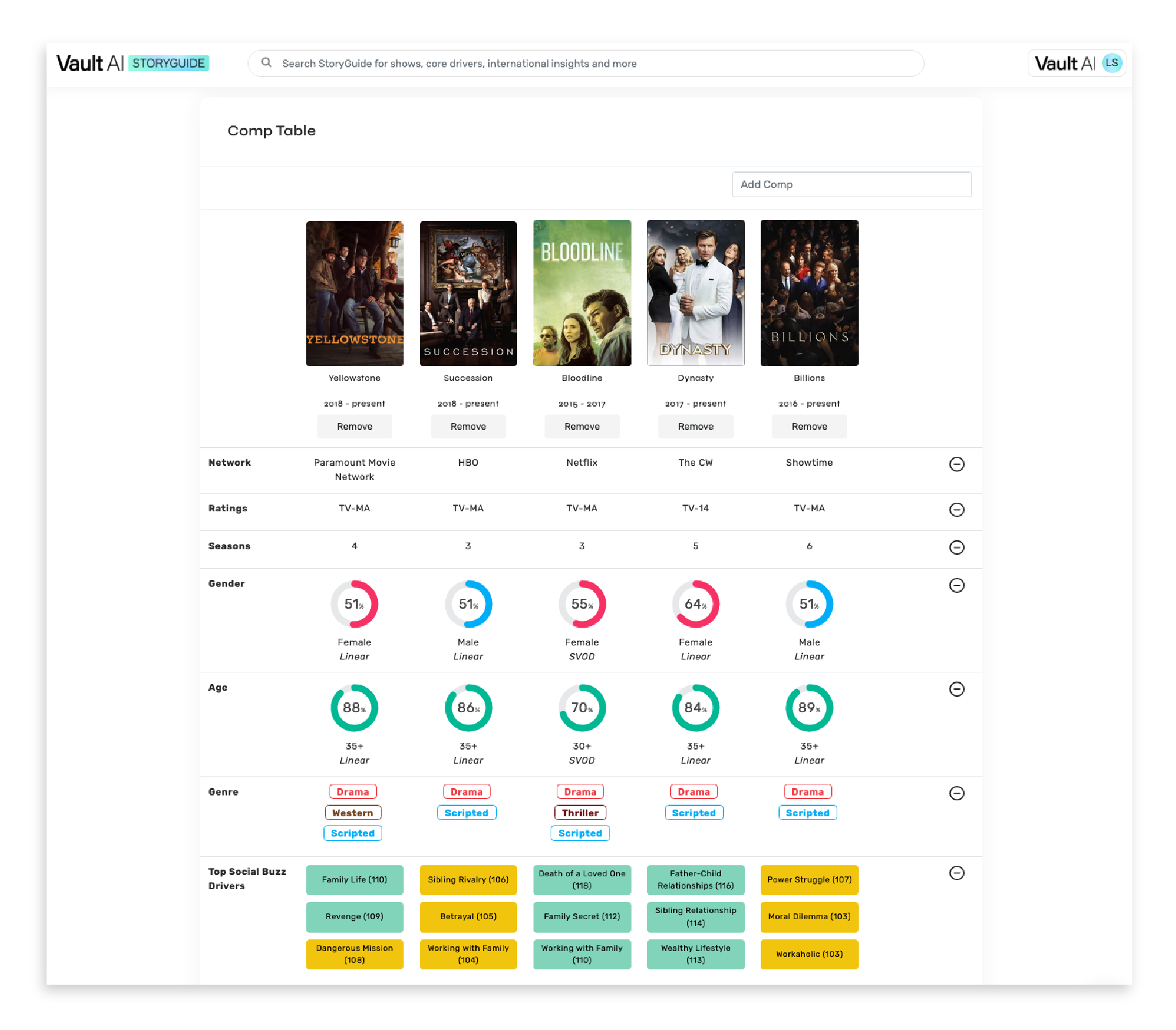 Empower decision across the entire contents entire life cycle
| | Vault AI | Traditional Research |
| --- | --- | --- |
| Samples | 150,000 Objective Data Points | Dozens of Biased People's Opinions |
| Accuracy | 85-95% Core Audience Prediction | Not Designed to Predict Outcomes |
| Speed | On Demand/Days | Months |
| Scalability | Real-time Iteration | Start Over and Re-field Global Sample |
Get Started with Vault
Join entertainment and media companies of all shapes and sizes to see how content analytics can help visualize your audience.
Request a Demo