Rapid Insights: The True Crime Takeover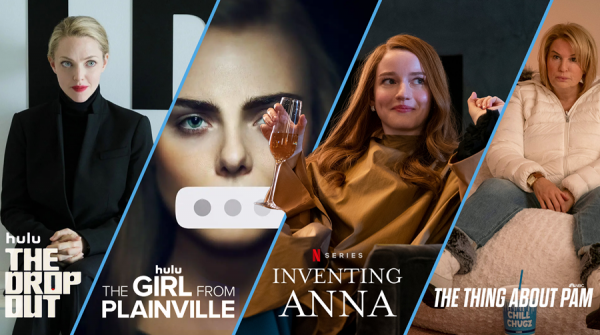 Rapid Insights: The True Crime Takeover
True crime fans have been spoiled in recent weeks by the spate of 'ripped from the headlines' dramas about high-profile female scam artists and criminals. Netflix's Inventing Anna, Hulu's The Dropout and The Girl from Plainville, and NBC's The Thing about Pam offer compelling takes on both the psychological underpinnings of their antiheroes and the societal milieu that allowed them to flourish, all combined with the draw of top-notch actresses in the lead roles. Here's what you need to know about these series:
What type of audience is drawn to this genre?
Adult women. All four series skew older (with roughly two-thirds of viewers aged 30+), and three are mostly female (54-62%). The exception is The Dropout, a cautionary tale of greed and power in the startup world, whose viewership leans male (56%).
How does the social buzz look for these series?
Very strong. All three titles that have already released maxed out our measurement of online activity (160) with the drop of their series premiere (Inventing Anna has seen a particularly sustained trend), and The Girl from Plainville (releasing today) looks to be repeating the pattern.
Is it important to viewers that the shows are based on real-life cases?
Yes, but it's not everything. The fact that these series are based on true stories is a definite contributor to their ratings and bingeability, but other, more dramatic aspects about their subjects' personal lives rise to the top in driving tune-in.
What's the main impetus to watch?
A glimpse into their motivations. As the outcomes of each tale are already known–the women hit their downfall and end up on trial–the shows' deep dives into their mentalities are the seasoning that adds the extra flavor. Anna Delvey's desperation for status within high society, Elizabeth Holmes' emotional roller coaster and struggle to navigate tough decisions, Michelle Carter's unstable, broken family and disordered eating (Personal Backstory), and Pam's Hupp's toxic family conflicts all provide insight into why they did what they did.
Is it a selling point that these criminals are women?
Definitely. The central female protagonists and their specific perspectives and experiences are very important for social buzz, ratings, and bingeability.
Do their specific crimes matter?
Not really. These series encompass transgressions as varied as fraud, theft, psychological manipulation, and murder, but the resulting criminal investigations and public scandals remain top viewership drivers in every case.