Rapid Insights: Special Ops: Lioness, a Female-Focused Spy Thriller That Expands the Sheridan Universe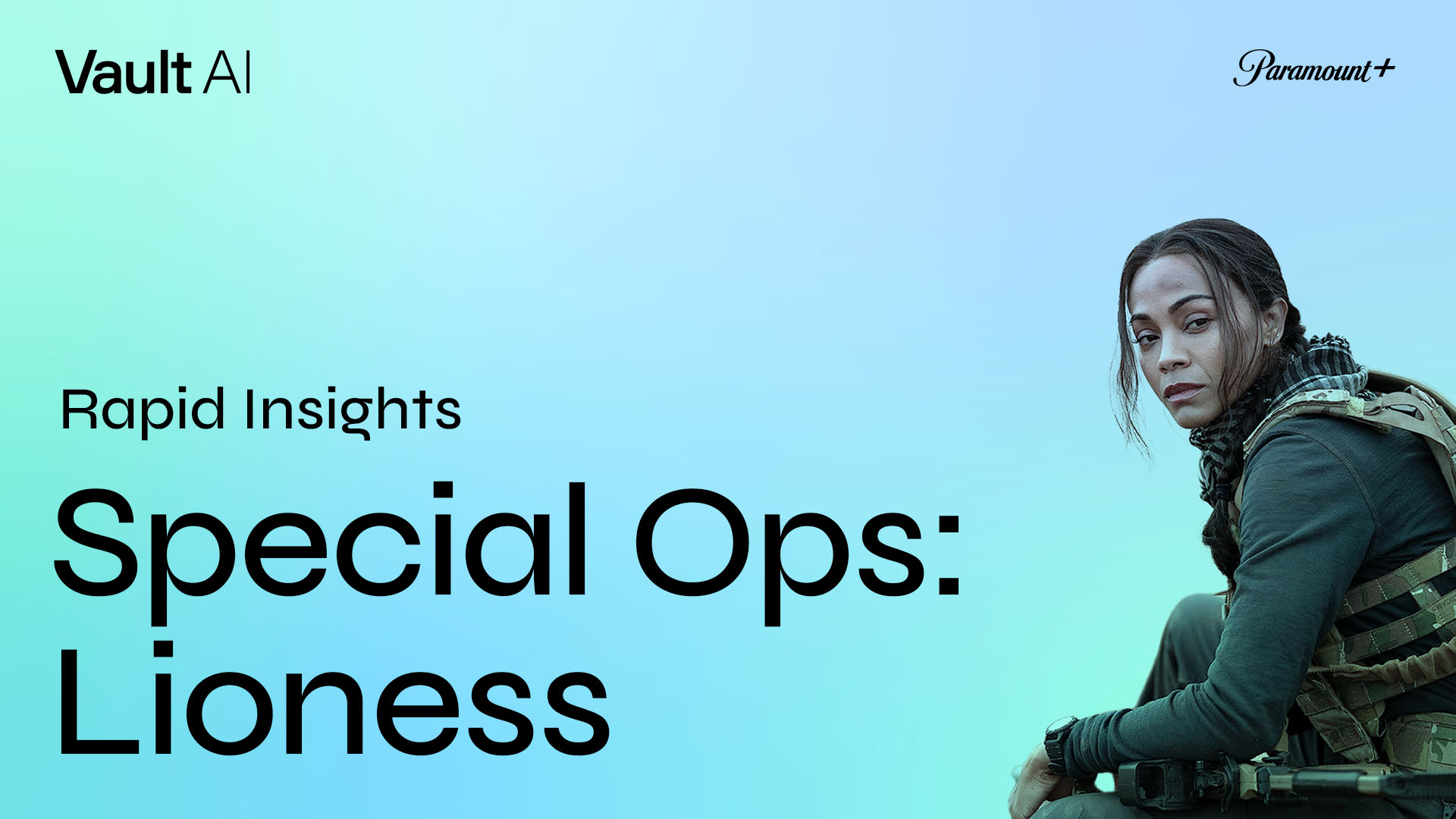 Prolific writer/creator Taylor Sheridan's relationship with Paramount+ will once again pay robust dividends with Sunday's premiere of his newest streaming series. The show is an intense spy thriller featuring Zoe Saldaña, Nicole Kidman, and Morgan Freeman and will follow a newly recruited CIA agent as she goes undercover among Middle Eastern power brokers who sponsor anti-US terrorism.
Here's what you need to know about Special Ops: Lioness:
Vault AI uses index scores to describe the impact a given story/theme/element will have on specific KPIs: 
≤79 Disappointing  80-89 Challenging  90-109 Average  110-119 Promising  120+ Outstanding
How will this audience compare to Sheridan's other streaming originals?
It'll be slightly younger and more gender-balanced. For Lioness, we're predicting a roughly even male-female split (52% M / 48% F) and, though still older-leaning, an age skew (at 69% aged 30+) that's less extreme. In contrast, the creator's other Paramount+ series have slanted more heavily male (from 1883's 55% to Tulsa King's 66%) and older (72-79% aged 30+).
What will set Lioness apart in the Sheridan universe?
It treads new genre ground. In his TV projects, Sheridan has tended to play in the Western sandbox, not only straightforwardly via neo-western Yellowstone (133) and spin-offs 1883 (152) and 1923 (153), but also with crime dramas Mayor of Kingstown (128) and Tulsa King (131), which ideate on key genre tropes like the lone wolf, frontier justice, and the wild west. Lioness, however, tones down the Western (115) elements in favor of heightened War (125) and Action (121) themes.
How important is it that this series is led by women?
Extremely. While Yellowstone, 1883, 1923, and Mayor of Kingstown all have ensemble casts with prominent women (Tulsa King is populated almost entirely by men), Lioness is Sheridan's first series that puts female characters front-and-center. Consequently, their stories (Strong Female Characters, Female Professionals) are the #1 drivers for all four of our tracked metrics: ratings (160), longevity (144), bingeability (137), and social buzz (127).
Why else will viewers want to tune in?
For the intrigue and Espionage (112). Alongside its strong women, the spy thriller elements that make this show unique among Sheridan's oeuvre will provide a compelling reason to watch. The excitement of an untested agent Working Undercover (128) to infiltrate a terrorist organization, the knife's edge she must walk to stay undetected among her targets (Strained Relationships, 160), and the complicated inner workings of the Intelligence Agency (119) steering the ship will all have viewers on the edge of their seats.
What will Lioness have in common with Sheridan's other shows?
Action & Violence (133). Whether set in the new (or old) west, the city of Tulsa, or the Middle East, the creator's shows all feature dangerous confrontations, chaotic shoot-outs, violent bloodshed, and other intense moments where the protagonists find themselves in desperate peril (Life in Danger, 115). In addition, Lioness follows a Marine with a troubled past whose entry into the CIA represents A New Beginning (124), a theme shared with both 1883 and Tulsa King, two other shows whose characters needed a fresh start.
Break free from slow and expensive oversampling 
Create hyper-targeted fan groups and analyze every audience that matters to you.
Introducing SEGMENTS, the groundbreaking new feature revolutionizing how you analyze and target your audiences.
Get rich AI-powered audience insights at your fingertips with 5 Custom Segments included as standard. Define your own or choose from our library of 500+ ready made Segments. No extra costs, no time delays.
*Publicly released trailers for series are evaluated using Vault AI's algorithms – utilizing our proprietary 120K+ story element database alongside ratings performance and other datasets – to identify unique combinations of stories, themes, characters, and genre elements that will drive success.