Rapid Insights: Your Place or Mine Is this Season's Star-driven RomCom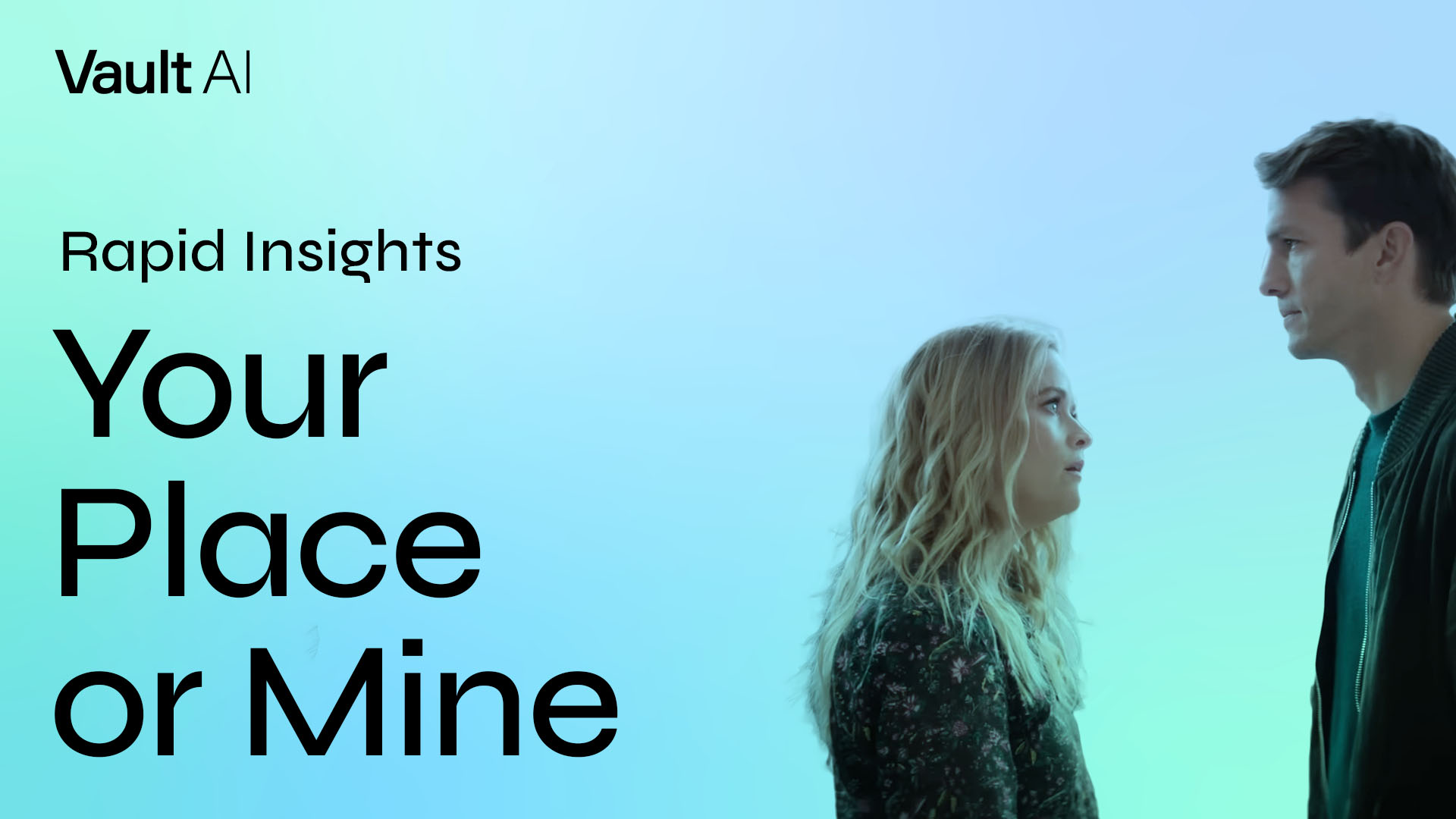 Just in time for Valentine's Day comes Netflix's buzzy new romantic comedy that sees two stalwarts of the genre working together for the first time. From the writer of rom-com classics The Devil Wears Prada, 27 Dresses, and Morning Glory, the film stars Reese Witherspoon and Ashton Kutcher as two long-distance best friends who trade lives for a week. Peter takes care of Debbie's teenage son in Los Angeles and Debbie finds new love in Peter's New York. Ultimately, this trade-off sparks growth, connection, and a final realization of the feelings the pair have always harbored for each other.
Here's what you need to know about Your Place or Mine:
Vault AI uses index scores to describe the impact a given story/theme/element will have on specific KPIs: 
≤79 Disappointing  80-89 Challenging  90-109 Average  110-119 Promising  120+ Outstanding
Who will be tuning in to check out this new movie?
Women. We're predicting a heavily female audience with demand greatest among women 18-54 (123-128), numbers in line with the overall rom-com genre where adult characters take the lead. (Teen girls will likely show softer interest thanks to the lack of teenage protagonists.)
What is Your Place or Mine's most important driver of demand?
The irresistible comfort of a familiar story. Above all, viewers will be drawn to the film's Classic Rom-Com (160) trappings, leaning into the standard hallmarks of the genre that serve up the warm, fuzzy feelings they crave: the Awkward & Funny Moments (136) that inject humor and relatability; the inevitable Love Triangle (127) with an unlucky third party; and the climax of Learning the Truth (116) where the characters at long last discover their own feelings for each other. In these types of movies, it's not the destination but rather the journey that's important, and audiences will delight in watching the lead couple fumble their way toward each other for a final onscreen kiss.
What else is key for pulling in viewers?
The film's sticky premise. The set-up of Your Place or Mine creates a compelling scenario ripe for character growth and ultimate audience satisfaction, as two protagonists with opposing personalities and lifestyles migrate toward each other and eventually meet in the middle. The Complicated Relationship (145) between Debbie and Peter–a long-lived, long-distance friendship that blurs the lines between platonic and romantic–makes their decision to Switch Places (141) and live each other's lives for a week all the juicier, and the fact that they're coming from opposite perspectives–Debbie's an uptight Single Mother (139) to a teenage son, while Peter's an impulsive swinging bachelor–amps up the drama. All are important drivers of demand.
What will set this film apart from other rom-com classics?
The quirks of the central exchange. More specifically, the focus on Debbie's POV (119) as she delights in a number of revelations (new city, new fling, old friend turned lover) in middle-age, broadens her perspective, and opens herself up to new experiences is a top driver of freshness, as are the two swapped Wingwomen (116) (Tig Notaro, Zoë Chao) who step in to help each character acclimate to their temporary new life. The fact that Debbie and Peter have maintained a successful Long-Distance Friendship (112) for twenty years via video calling and other technology also makes the film feel modern and up-to-date.
What's driving the current social buzz?
The cast and the release date. Potential viewers are largely tweeting about the involvement of popular leads Witherspoon and Kutcher, with many excited to see them return to the rom-com format, as well as the film's well-timed arrival during the Valentine's Day season.
What is Vault AI?
WATCH this 3min video to find out 
*Publicly released trailers for series are evaluated using Vault AI's algorithms – utilizing our proprietary 120K+ story element database alongside ratings performance and other datasets – to identify unique combinations of stories, themes, characters, and genre elements that will drive success.
About Vault AI
Based in Los Angeles and Israel, Vault AI is using a combination of machine learning and consumer insights experts to help the entertainment industry predict consumer response to content. Test your content faster and more accurately with Vault AI and get granular insights across the entire content life cycle today.