Rapid Insights: Tulsa King Kills with a Fish-Out-of-Water Mafioso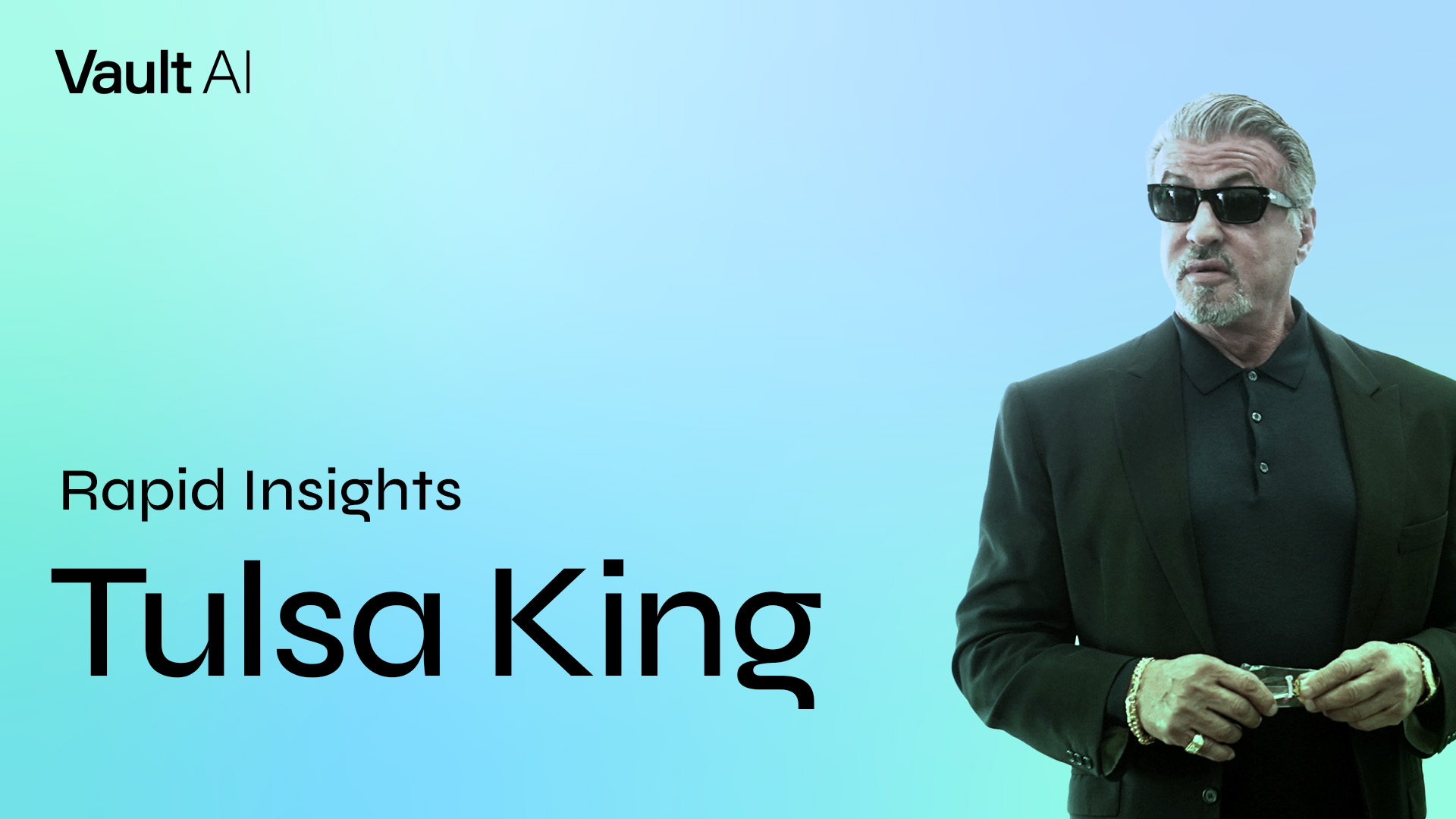 With its gritty new western-set crime drama, Paramount+ continues its fruitful partnership with mega-creator Taylor Sheridan (Yellowstone, 1883, Mayor of Kingstown) and lays the groundwork for another buzzworthy success. The series stars Sylvester Stallone–making his streaming TV debut–as a once-powerful New York Mafioso just released from prison who is sent to Oklahoma by his superiors to establish a new criminal operation. Here's what you need to know about Tulsa King:
Vault AI uses index scores to describe the impact a given story/theme/element will have on specific KPIs: 
≤79 Disappointing  80-89 Challenging  90-109 Average  110-119 Promising  120+ Outstanding
How will Tulsa King's audience compare to those of Taylor Sheridan's other series?
It'll be more male. More than three in five (61%) Tulsa viewers are expected to be men, a slightly higher proportion than seen for the SVOD-only 1883 (59%) and Mayor of Kingstown (58%) and much higher than both audience segments for Yellowstone (50% male on linear, 55% on streaming). All of these titles do, however, line up in terms of their age bracket: they skew heavily to those aged 30+ (66-71%) thanks to their older casts and themes.
What type of story will Tulsa King be telling?
One that blends the best of many worlds. The show combines elements across multiple genres, including Crime (132), Western (131), Action (113), Thriller (112), and Drama (111), all enlivened by interjections of witty humor, to tell the story of Stallone's Dwight "The General" Manfredi and his struggles in Tulsa. Although the series is not a traditional western–no cowboy hats, spurs, or horses here–it touches on enough thematic fundamentals (power struggles, a fish out of water, a macho antihero) to rate nearly as high in the genre as Yellowstone (133).
What will drive the show's story engine?
The idea of starting over, however reluctantly. The first season details Manfredi's dubious New Beginning (153)in Oklahoma, accepted unwillingly after two and a half decades in prison, and his resulting Fish Out of Water (160)status as a born-and-bred New Yorker stuck in what he perceives as a backwater town. This aspect of the series provides ample fodder for both drama and comedy and is its top viewership driver.
How do its action-packed sequences fit in?
They help draw in viewers and keep them watching. Manfredi enters a very High Stakes (125) game of vicious Power Struggles (146) for local dominance that often put his Life in Danger (120), and the resulting fight scenes, car chases, gun battles, explosions, and other elements of Action & Violence (122)amp up the adrenaline, keep the story moving, and contribute to both ratings and bingeability.
What will propel Tulsa King into a second season?
Its focus on (dis)organized crime. The show offers a gripping look at the Mafia Subculture Up Close (120) and, through Manfredi's dealings in Tulsa, delves into the world of arms dealing and other illegal activities as he and his newly-installed Criminal Organization (132) (including a few ragtag, unprepared locals) pursue a business of Committing Crimes (122).
*Publicly released trailers for series are evaluated using Vault AI's algorithms – utilizing our proprietary 120K+ story element database alongside ratings performance and other datasets – to identify unique combinations of stories, themes, characters, and genre elements that will drive success.
About Vault AI
Based in Los Angeles and Israel, Vault AI is using a combination of machine learning and consumer insights experts to help the entertainment industry predict consumer response to content. Test your content faster and more accurately with Vault AI and get granular insights across the entire content life cycle today.