Rapid Insights Trend: Justified: City Primeval and Other IP-revivals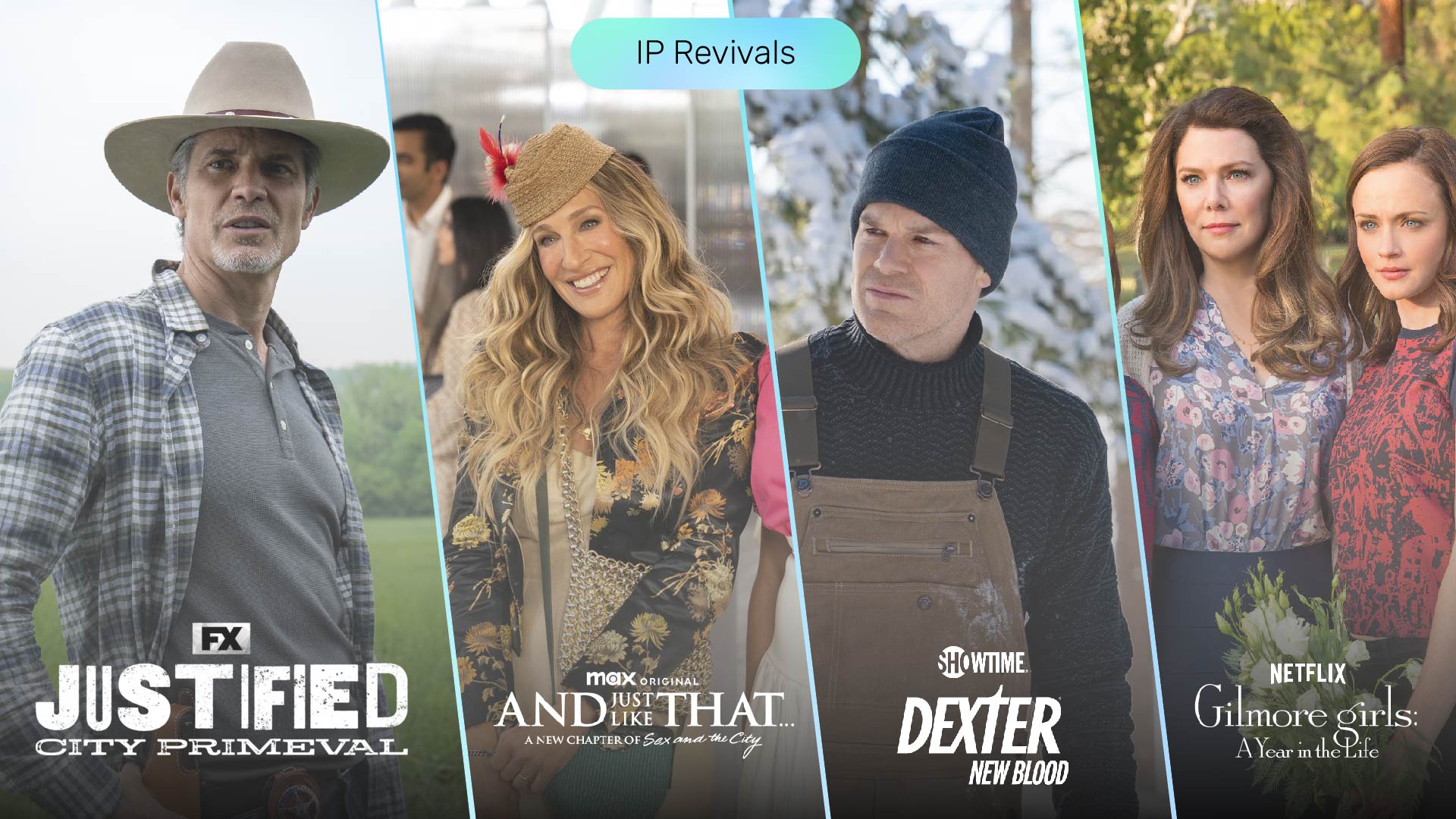 2010's Justified will become the latest series to receive a years-later revival with next week's release of Justified: City Primeval on FX. Such revivals traffic in nostalgia, appealing to fans by continuing a beloved story rather than rebooting it, with original cast members playing their original characters a crucial part of the deal; shows as varied as Gilmore Girls, Roseanne, Dexter, and The X-Files have previously won such a return. In this case, Timothy Olyphant will reprise his role as protagonist Raylan Givens, an ornery lawman dedicated to upholding his own Wild West-style of justice.
Here's what you need to know about Justified: City Primeval and this continuing revival trend:
Vault AI uses index scores to describe the impact a given story/theme/element will have on specific KPIs: 
≤79 Disappointing  80-89 Challenging  90-109 Average  110-119 Promising  120+ Outstanding
Do these revivals attract the same demos as their original series runs?
If they're on the same networks. Revivals like Dexter: New Blood and The Conners, which remained on Showtime and ABC, respectively, hit the same demo sweet spots as their predecessors; FX's Justified: City Primeval is expected to do the same (bringing in Justified's roughly gender-balanced (52% female / 48% male) and heavily older (92% aged 35+) crowd). However, shows that have jumped from linear to streaming (That '90s Show, Gilmore Girls: A Year in the Life) instead factor in the built-in audience of their new home, and series where the protagonists have matured into an entirely different phase of life (And Just Like That, iCarly) have instead seen their viewership age alongside.
Does their name recognition translate into strong social buzz?
Absolutely. Shows that earn this type of continuation are typically those with a strong fanbase, and the much-later returns of everything from The X-Files, Dexter, Veronica Mars, and Roseanne to Full House, That '70s Show, Gilmore Girls, and Sex and the City generated so much excitement that they maxed out our social buzz meter (hitting 160) with the premiere of their revival seasons. Justified: City Primeval hasn't reached this high quite yet, but it's trending upward fast (with a current peak at 129) and will likely do so next week.
Why do viewers tune into these revivals?
Nostalgia. Overall, the strongest viewership drivers for these years-later seasons are those that tap directly into their brands' core DNA. Top ratings-getters from And Just Like That, for example, are the same themes of Female Friendship (122), Female Conflict (119), and Looking for Love (121) that were first perfected in Sex and the City. Dexter: New Blood audiences wanted to see a new iteration of the same dysfunctional Father-Child Relationship (129) (as well as Dexter's familiar Voice-Over Narration (132)), Fuller House fans appreciated new versions of the Supportive Relationships (160), Sibling Dynamics (147), and Single Parent (129) household found in their 90's fave, and those watching the now-adult Punky Brewster tuned in for the same Adopted Family (144) concept found in the original.
Are viewers put off by the updates made to these later seasons?
Generally not. In a bid to both refresh their concepts and acknowledge how much time has passed, these revivals tend to drop their protagonists into new and often more modern situations, and such change-ups can also create enticing reasons to watch. For example, the kids of Full House became the Divorced (126) adults of Fuller House, The Conners now incorporates strong LGBTQIA+ Themes (132) (as well as a powerful Grief-Stricken (126) throughline with the (fictional) death of their matriarch), Dexter: First Blood tackles Teen Angst (112) for the first time with the introduction of Dexter's son, and That '90s Show has swapped the 70s milieu for teen life in the 1990s (160).
How does Justified: City Primeval compare to the original Justified?
It's unusually different. Whereas most of these revivals lean on the same core tenets as their origin shows, City Primeval is a notable exception. Justified's viewership was driven largely by its unforgettable villains and family-against-family tangle of warring factions in the backwaters of rural Kentucky, all loosely policed by Deputy US Marshal Raylan Givens (Crime Family, 128; Family Secret, 133; Family Conflict, 130). City Primeval instead jettisons this set-up entirely and transplants an older Raylan to an all-new locale to chase an all-new type of criminal, all while battling both the killer's lawyer and his teenage daughter; because of this shift in focus, City Primeval's ratings will depend on a different set of themes (Serial Killer, 126; Personal Backstory, 121; Parenting Problems, 120). However, the two pieces of the Justified story do have a basic throughline in common: Raylan's ongoing desires for Vengeance, Power, and Honor, and the Action & Violence he must use to pursue them.
Break free from slow and expensive oversampling 
Create hyper-targeted fan groups and analyze every audience that matters to you.
Introducing SEGMENTS, the groundbreaking new feature revolutionizing how you analyze and target your audiences.
Get rich AI-powered audience insights at your fingertips with 5 Custom Segments included as standard. Define your own or choose from our library of 500+ ready made Segments. No extra costs, no time delays.
*Publicly released trailers for series are evaluated using Vault AI's algorithms – utilizing our proprietary 120K+ story element database alongside ratings performance and other datasets – to identify unique combinations of stories, themes, characters, and genre elements that will drive success.