Rapid Insights: Three Pines, Many Murders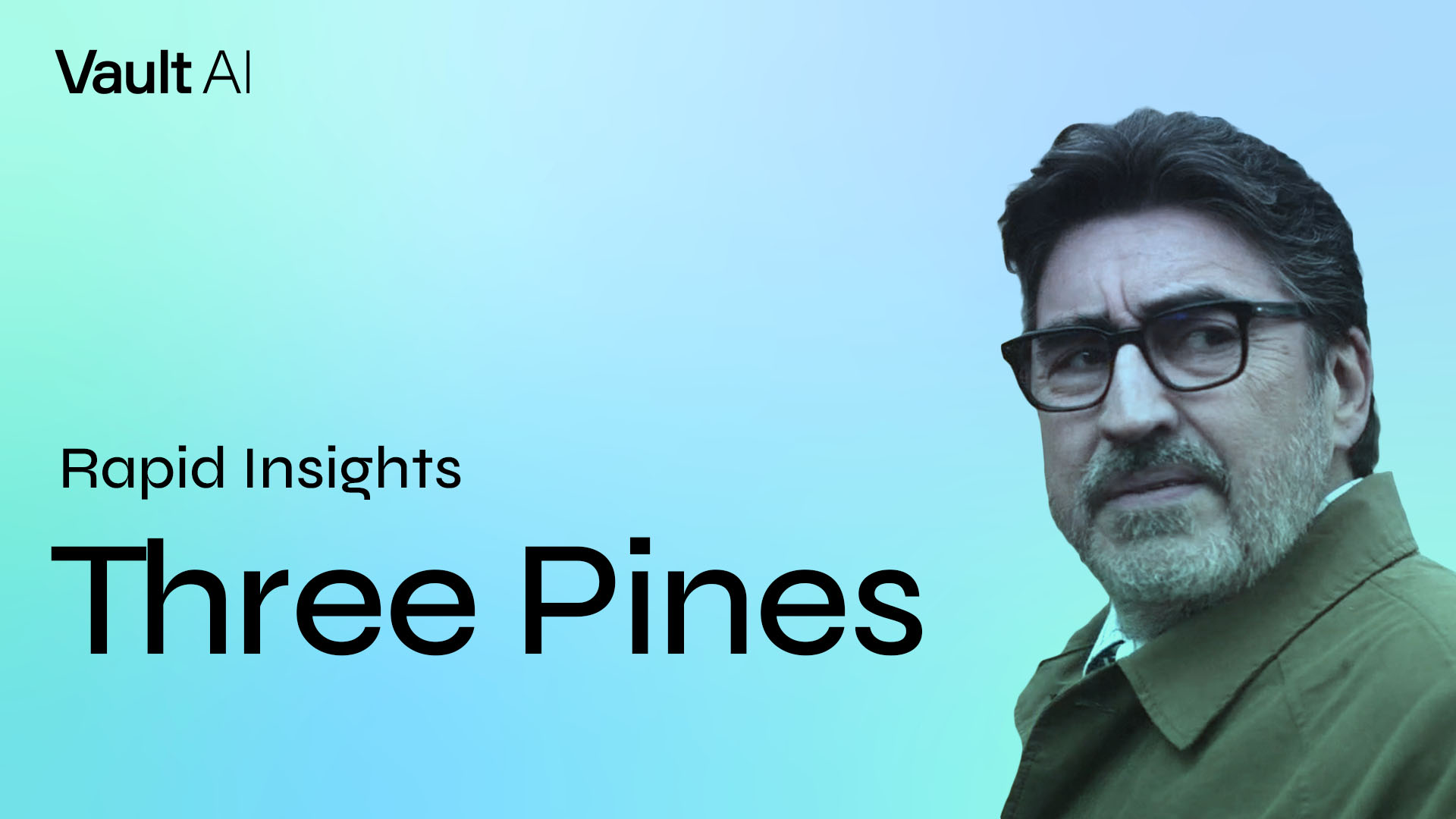 Author Louise Penny's bestselling series of crime novels is making the jump to streaming this week with a brand new adaptation on Amazon Prime. Named for the fictitious French Canadian village where all the action takes place, the show stars Alfred Molina as Chief Inspector Armand Gamache, a beloved detective investigating a series of murders who, along the way, digs up the town's long-buried secrets and discovers his own hidden ghosts. Here's what you need to know about Three Pines:
Vault AI uses index scores to describe the impact a given story/theme/element will have on specific KPIs: 
≤79 Disappointing  80-89 Challenging  90-109 Average  110-119 Promising  120+ Outstanding
Who will be tuning in this Friday?
We're predicting a streaming audience that's mostly female (63%) and heavily older (72% aged 30+)–a new viewership segment compared to Amazon's other recent crime dramas, which all lean male thanks to their much grittier feel (Bosch: Legacy, Reacher, Too Old to Die Young).
Which aspect of the story will best draw in viewers?
The terror of a vanished child. The show's longer-term arc–which does not appear in the original novels–traces the emotional toll of A Missing Loved One (160) and the strength of a Mother-Child Relationship (132) put to the test after the daughter of a local woman disappears. This storyline will help shine a spotlight on the horrifying epidemic of missing and murdered indigenous women throughout North America and authorities' often reprehensible failure to thoroughly investigate or take action.
What will help propel the show into its already-ordered second season?
The episodic Murder Mysteries (127). As the death rate in Three Pines grows, Chief Inspector Gamache must go about Solving each Murder (132), Searching for the Truth (114), sifting for clues, and uncovering forensic evidence (CSI, 111) to finally unravel the multiple cases of whodunnit. Viewers will be eager to see each new investigation, and the evergreen list of small-town suspects with a murderous grudge will provide plenty of story engine for future seasons.
What's the impact of the small-town setting?
Increased bingeability. Having all the murders take place within the insular village of Three Pines sets up a limited pool of suspects and makes each case more absorbing, allowing the townfolk's Troubled Pasts (132) and varying levels of Emotional Turmoil (131) to bubble to the surface. The Seasonal Setting (129) (the harsh Canadian winter) adds another layer of challenges for the Chief Inspector, increasing the village's feel of isolation and threatening to bury everything under the snow.
Which aspect of the show will viewers be talking about?
The suspense. Chief Inspector Gamache and the inhabitants of Three Pines all have various skeletons hidden in their closets just waiting to come to light, and with at least one killer on the loose, anyone in the small village could become the next victim. These Secrets & Lies (122) and the general sense of Life in Danger (120) are the show's top drivers for social buzz.
Introducing Our NEW Research Series
Months in the making, this brand new three part research series analyzes all recently released and in-development movie titles to uncover the trends that you need to know. It puts you in complete control, knowing what the movie market will look like so you know what moves to make. It's full of juicy data that'll help you understand where content is heading and what the streamers are looking to buy.
Check out The Future of Movies here.
*Publicly released trailers for series are evaluated using Vault AI's algorithms – utilizing our proprietary 120K+ story element database alongside ratings performance and other datasets – to identify unique combinations of stories, themes, characters, and genre elements that will drive success.
About Vault AI
Based in Los Angeles and Israel, Vault AI is using a combination of machine learning and consumer insights experts to help the entertainment industry predict consumer response to content. Test your content faster and more accurately with Vault AI and get granular insights across the entire content life cycle today.