Rapid Insights: The Walking Dead: Dead City Powered by IP and Big Apple Setting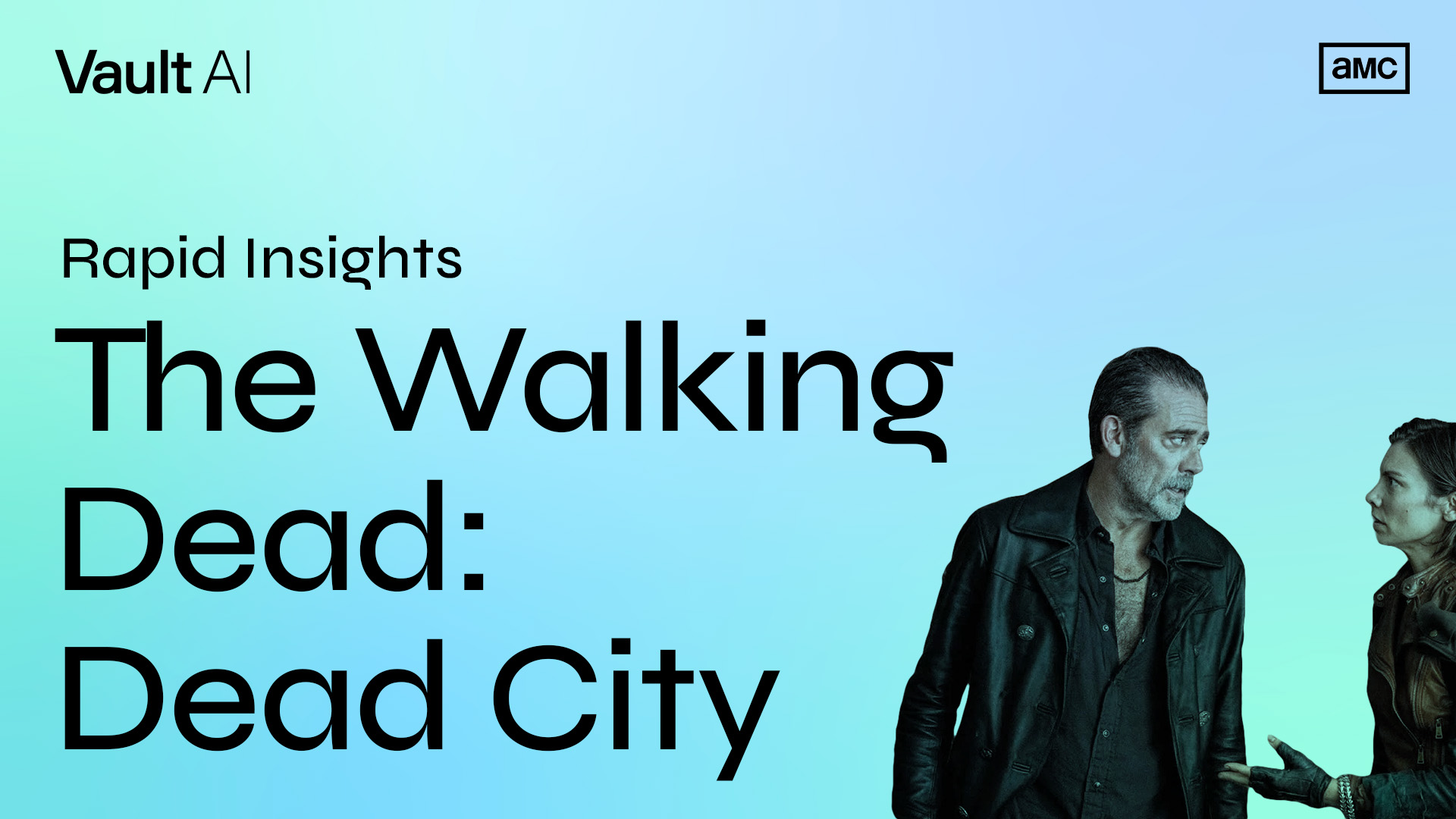 Though The Walking Dead vanquished its final zombie last year after eleven intense seasons, its broader shared universe lives on through numerous current spin-offs. The newest of these premieres next month on AMC and follows Maggie and Negan–two characters who survived the mothership series–on a journey through post-apocalyptic Manhattan, battling terrors both living and dead to rescue Maggie's young son.
Here's what you need to know about The Walking Dead: Dead City and the broader Walking Dead franchise:
Vault AI uses index scores to describe the impact a given story/theme/element will have on specific KPIs: 
≤79 Disappointing  80-89 Challenging  90-109 Average  110-119 Promising  120+ Outstanding
What does The Walking Dead audience look like?
The shows' linear viewership is fairly gender-balanced (50-54% male) and heavily older (86-91% aged 35+), matching viewing trends for cable TV. In contrast, those streaming the series include more men (54-60%) and under 30s (34-44%). We're predicting that the Dead City audience will most closely mirror that of anthology Tales of the Walking Dead, which proved more male-skewing than The Walking Dead or Fear the Walking Dead. With a score of (135), fans of HBO's The Last of Us will likely also be on board (as well as fans of the other AMC franchise series).
What makes these shows so popular?
Their tales of survival. From The Walking Dead through the upcoming Dead City, each series has featured a World Turned Upside-Down (118) thanks to a global zombie apocalypse, and viewers have tuned in each time for the resulting Scary Situations (125), moments of Life in Danger (137) suspense, and human vs. undead Action & Violence (120). The series also all feature strangers banding together (Team-Up, 121) to share Survival Skills (135) and offer mutual protection, a triumph of the human spirit in the face of overwhelming odds. All are top ratings drivers.
How important is the franchise link to these shows' success?
Crucial. Their shared universe–and its connection to the original Robert Kirkman comic books–is a top driver of bingeability across the board. Given that Dead City continues the narrative of characters originating in The Walking Dead, its IP Extension (160) is a particularly essential reason that viewers will want to keep watching.
What will set Dead City apart?
A more focused storyline. Whereas its predecessors have been much broader in scope and followed a host of different characters, Dead City hones in on only two and tracks their singularly Dangerous Mission (121) through downtown Manhattan (NYC Setting, 121), an urban locale new to the franchise.
What kind of emotional experience should viewers expect with Dead City?
An intense one. In keeping with its franchise brethren, the upcoming series rates as especially Bloody/Gory (131), Action-Packed (121), Violent (119), Scary (117), and Suspenseful (116), and audiences can anticipate feeling Tense (118) and Shocked (113) while watching. At the same time, we predict they'll be more Thrilled (119) by the show than is typical for a horror title.
What can Dead City learn from its predecessors' longevity?
Build out the interpersonal relationships. Both The Walking Dead (11 seasons) and Fear the Walking Dead (8 seasons) have succeeded for so long because of the tight-knit kinship that developed at their center. While viewers initially tune into these shows for the danger and apocalyptic setting, they stick around to watch the Family Relationships (133), Unlikely Friendships (116), and moving bonds of Protectiveness (116) that form among their core characters.
Break free from slow and expensive oversampling 
Create hyper-targeted fan groups and analyze every audience that matters to you.
Introducing SEGMENTS, the groundbreaking new feature revolutionizing how you analyze and target your audiences.
Get rich AI-powered audience insights at your fingertips with 5 Custom Segments included as standard. Define your own or choose from our library of 500+ ready made Segments. No extra costs, no time delays.
*Publicly released trailers for series are evaluated using Vault AI's algorithms – utilizing our proprietary 120K+ story element database alongside ratings performance and other datasets – to identify unique combinations of stories, themes, characters, and genre elements that will drive success.