Rapid Insights: The Walking Dead: Daryl Dixon Embarks on a New Beginning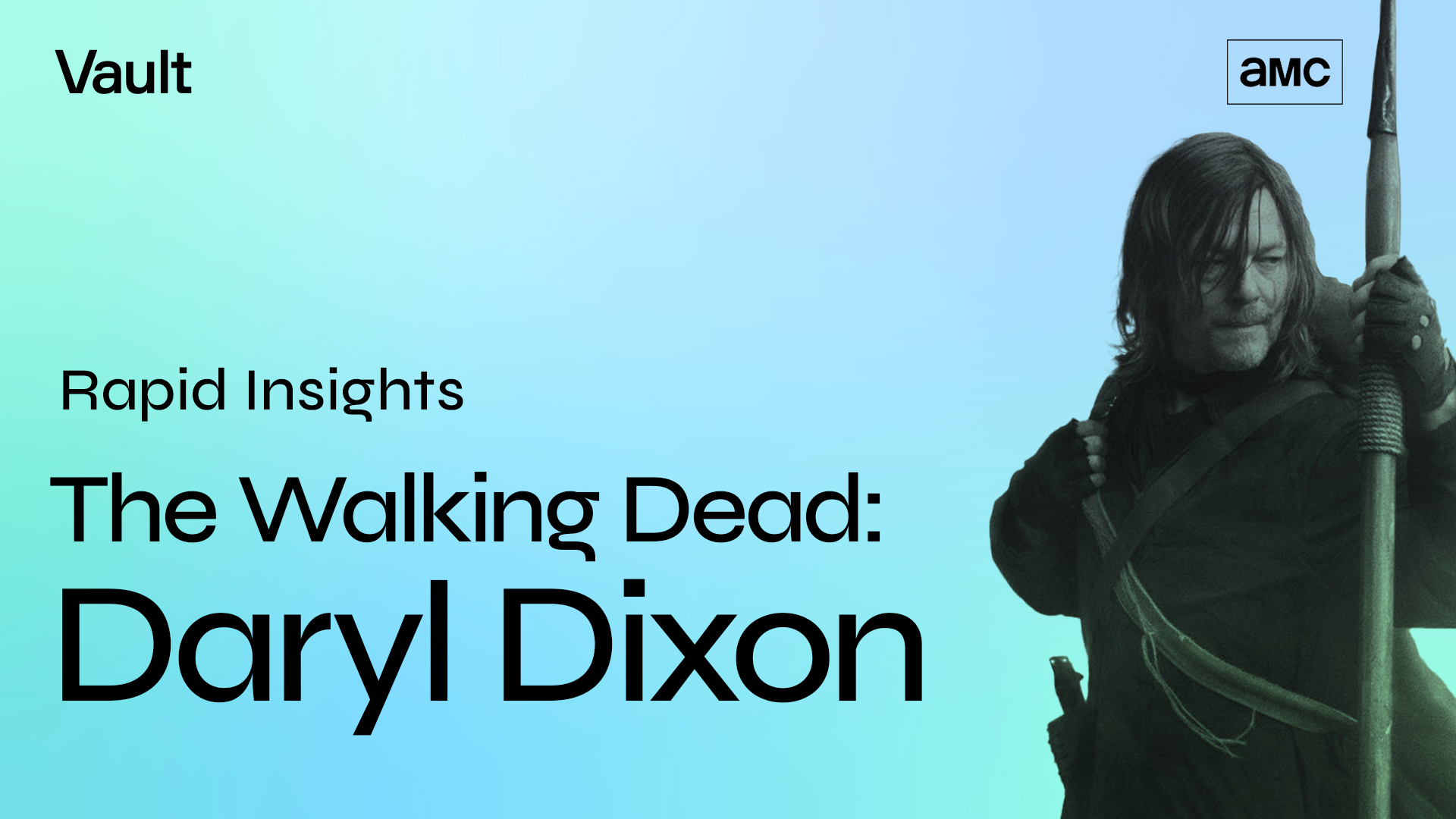 On September 10, AMC will premiere the much-anticipated sixth series in its expansive Walking Dead universe; it follows Daryl–a fan-favorite character from the mothership show–as he journeys across a turbulent, zombie-ravaged France. We took a look at the drivers behind the entire Walking Dead franchise with the release of The Walking Dead: Dead City back in June; this time, we're exploring where the newest show fits within the recent trend of sweeping, broad-in-scope post-apocalyptic dramas.
Here's what you need to know about The Walking Dead: Daryl Dixon:
Vault uses index scores to describe the impact a given story/theme/element will have on specific KPIs: 
≤79 Disappointing  80-89 Challenging  90-109 Average  110-119 Promising  120+ Outstanding
Who will be tuning in for this latest Walking Dead series?
We're predicting a cable TV audience that leans male (55%) and is heavily older (90% aged 35+), while those streaming on AMC+ will be younger (40% <30) and mostly male (69%). This viewership pattern closely mirrors fellow zombie thrillers The Walking Dead: Dead City and The Last of Us, which places these shows between post-pandemic dramas See and Station Eleven (relatively gender-balanced) and the action-heavy DMZ (heavily male).
What's the common draw for this type of show?
Life-or-death stakes and tight-knit bonds. These dystopian dramas tend to feature a Dangerous Mission (152) (Daryl Dixon) across a treacherous landscape of Tribal Warfare (138) (DMZ) in a World Turned Upside-Down (114) (Station Eleven), with the heroes' Lives in Danger (133) (The Last of Us) and dependent on their wits and Survival Skills (135) (Dead City); the suspense leaves viewers on the edge of their seats. At the same time, such intense circumstances lead to intense relationships, where bonds new and old (Partnerships, 132, The Last of Us; Adopted Family, 151, See; Motherhood, 113, DMZ; Unlikely Friendships, 132, Daryl Dixon) become all that truly matter.
What will set Daryl Dixon apart?
A softer touch. This series (or its trailer, at least) takes a lighter tone than most, suggesting a very different audience experience. While shows like Dead City, See, and DMZ traffic in Fear (137), Aggressiveness (116), Loathing (130), and Vigilance (111), Daryl is tinged with Optimism (115) as the titular protagonist bonds with a young boy thrust into his care. Similarly, Daryl has fewer outright Horror (113) elements than Dead City (121) or The Last of Us (118), instead playing up tropes of the Western (128) genre with a lone hero standing his ground for Honor (117).
What will differentiate Daryl Dixon from the previous Walking Dead spin-off?
A single protagonist, a clean break and a mystery. While both follow characters long familiar to fans, Dead City picks up where original series The Walking Dead left off, creating a long-anticipated Team Up (132) between a pair of compelling former enemies. In contrast, Daryl Dixon breaks away from The Walking Dead's story entirely, thrusting its lone, hardened Tough Guy (111) lead into A New Beginning (115) on an entirely different continent. The puzzle of Daryl's journey (Hidden Truth, 123)–he doesn't know how he ended up in France–also adds a hook for both longevity and social buzz. Daryl Dixon's international backdrop, however (Non-US Setting, 106) will not prove as strong of a driver as Dead City's post-apocalyptic New York (NYC Setting, 121).
Your On-Demand Content Assistant
Vault GPT leverages the power of Vault's vast content database and insights engine to transform development, marketing and sales workflows empowering users with ondemand coverage-like-summaries and briefs combined with insights – a cutting edge new tool for today's executive.
100% safe and secure, Vault GPT is trained on over 60,000 film and television titles from the Vault database that contain both story and performance data.
Upload anything – a book, a script, a treatment – and let Vault GPT do the heavy lifting. In less than 1hr you'll have automated summaries giving you insights into characters, key themes, plot, and even potential taglines.
Spots are limited, join the waitlist to secure your place in line.
*Publicly released trailers for series are evaluated using Vault's algorithms – utilizing our proprietary 120K+ story element database alongside ratings performance and other datasets – to identify unique combinations of stories, themes, characters, and genre elements that will drive success.