Rapid Insights: The Rom-com Makes a Theatrical Return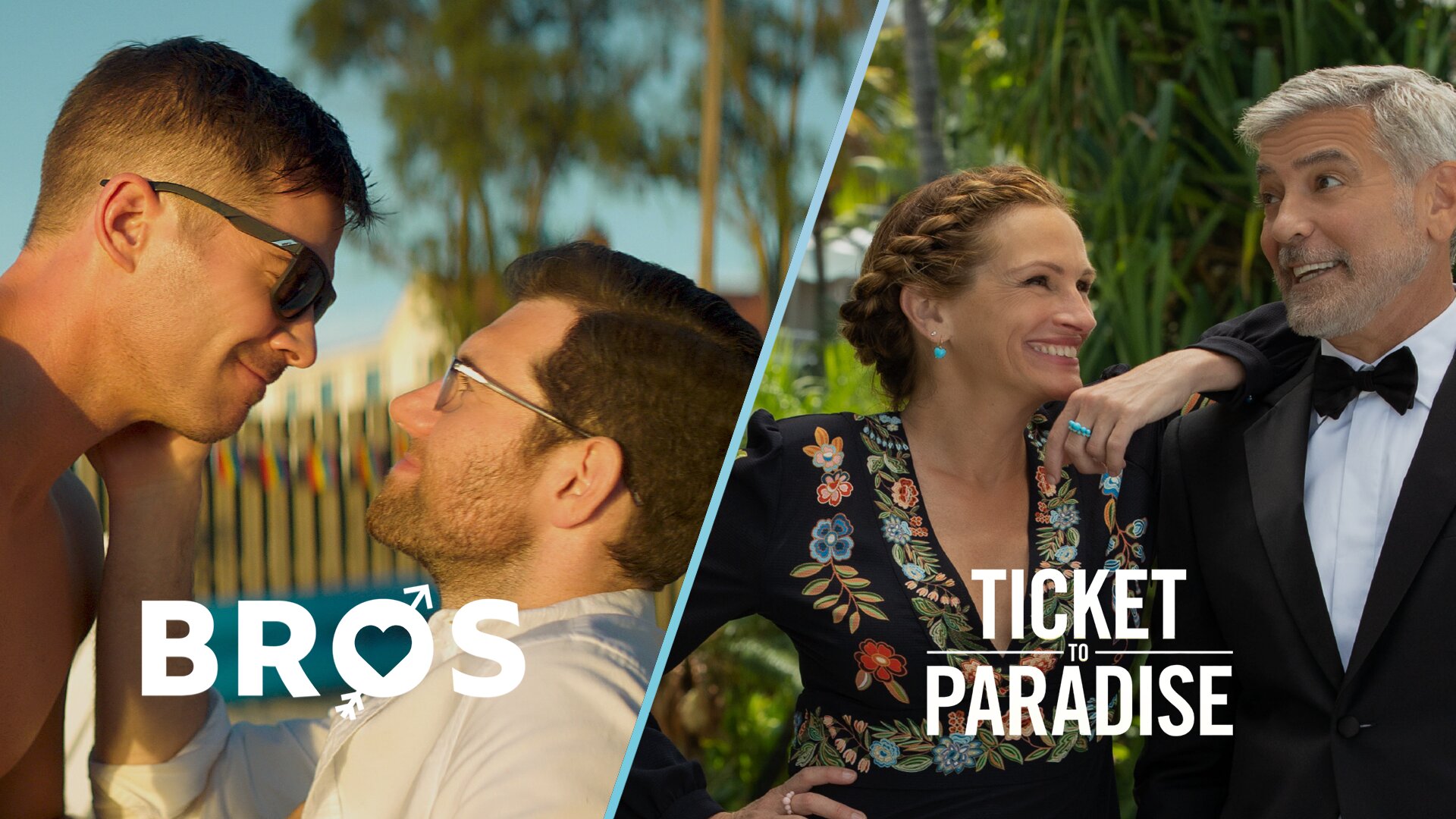 The mid-budget romcom has been experiencing a true resurgence as of late, which will test whether theatrical audiences are ready for a more grounded, relationship-oriented form of escapism. Universal is bringing two genre headliners to cinemas this fall. Bros, produced by Judd Apatow, represents the future as the first gay romcom produced by a major studio; Ticket to Paradise is a welcome throwback to the past and stars two romantic icons of the silver screen. Here's the future outlook for these feel-good titles:
Vault AI uses index scores to describe the impact a given story/theme/element will have on opening weekend success: ≤79 Disappointing  80-89 Challenging  90-109 Average  110-119 Promising  120+ Outstanding
What type of audience is attracted to these films?
Women, but the exact proportion depends on the movie. Based on the trailers, Ticket to Paradise is expected to be 64% female, while the male-heavy Bros is expected to run a bit closer to gender-balanced (at 54% female).
What will coax viewers out to the cinema?
The movies' unique milieus. Demand will be driven by the promise of an escape into immersive, welcoming new worlds: the Millennial Yuppie Life (160) explored in Bros, with NYC-based board meetings, gym sessions, and boys' nights out, as well as the Tropical Vacation (160) of Ticket to Paradise, featuring resort luaus, swimming with dolphins, and a beach wedding, are top ratings drivers. At the same time, the romance of it all is much more important for Bros (Unexpected Meet Cute, 160) than Paradise (Romantic Whirlwind, 108) as the former feeds more directly off of its insular setting.
What will make these particular films stand out from the rest of the genre?
The specificity of their core group relationships. The most important distinguishing element of Bros is its exploration of Queer Culture (142) and representation across sexualities and sexual identities, making it a particularly notable stand-out among theatrically-released romcoms. For Ticket to Paradise, the central Family Conflict (151), in which divorced parents take issue with their daughter's decision to marry, gives the film a lived-in feel as it grapples with complex family dynamics and parenting questions. Both will make their respective titles feel fresh and original.
Is it important for romcoms today to lean into the 'com'?
Yes. Though each of these titles offers up a different flavor of humor, comedy is nevertheless an important component of both their demand and freshness as viewers gravitate toward lighter fare that will make them laugh. The silly, Funny Romance (155) in Bros that arises as the leads bumble their way into each other's arms, as well as the over-the-top Schemes & Shenanigans (129) cooked up by the meddling parents in Ticket to Paradise, will support ratings; Paradise's Insult Comedy (149), stemming from the leads' hilarious, snarky bickering, is also crucial in making that film feel unique.
How important are the movies' recognizable casts?
They're crucially additive. Billy Eichner–co-writer and star of Bros–brings his well-known Pop Culture (141) sensibility and cachet to heighten his film's freshness score. Julia Roberts and George Clooney–the headliners of Ticket to Paradise–leverage their star personas into their characters' sparkling Love/Hate Relationship (119) and enemies-to-lovers story arc, boosting their movie's demand.
*Publicly released trailers for series are evaluated using Vault AI's algorithms – utilizing our proprietary 120K+ story element database alongside ratings performance and other datasets – to identify unique combinations of stories, themes, characters, and genre elements that will drive success.
About Vault AI
Based in Los Angeles and Israel, Vault AI is using a combination of machine learning and consumer insights experts to help the entertainment industry predict consumer response to content. Test your content faster and more accurately with Vault AI and get granular insights across the entire content life cycle today.