Rapid Insights: The Last of Us Series Leverages the Emotional Storytelling that Made the Video Game So Popular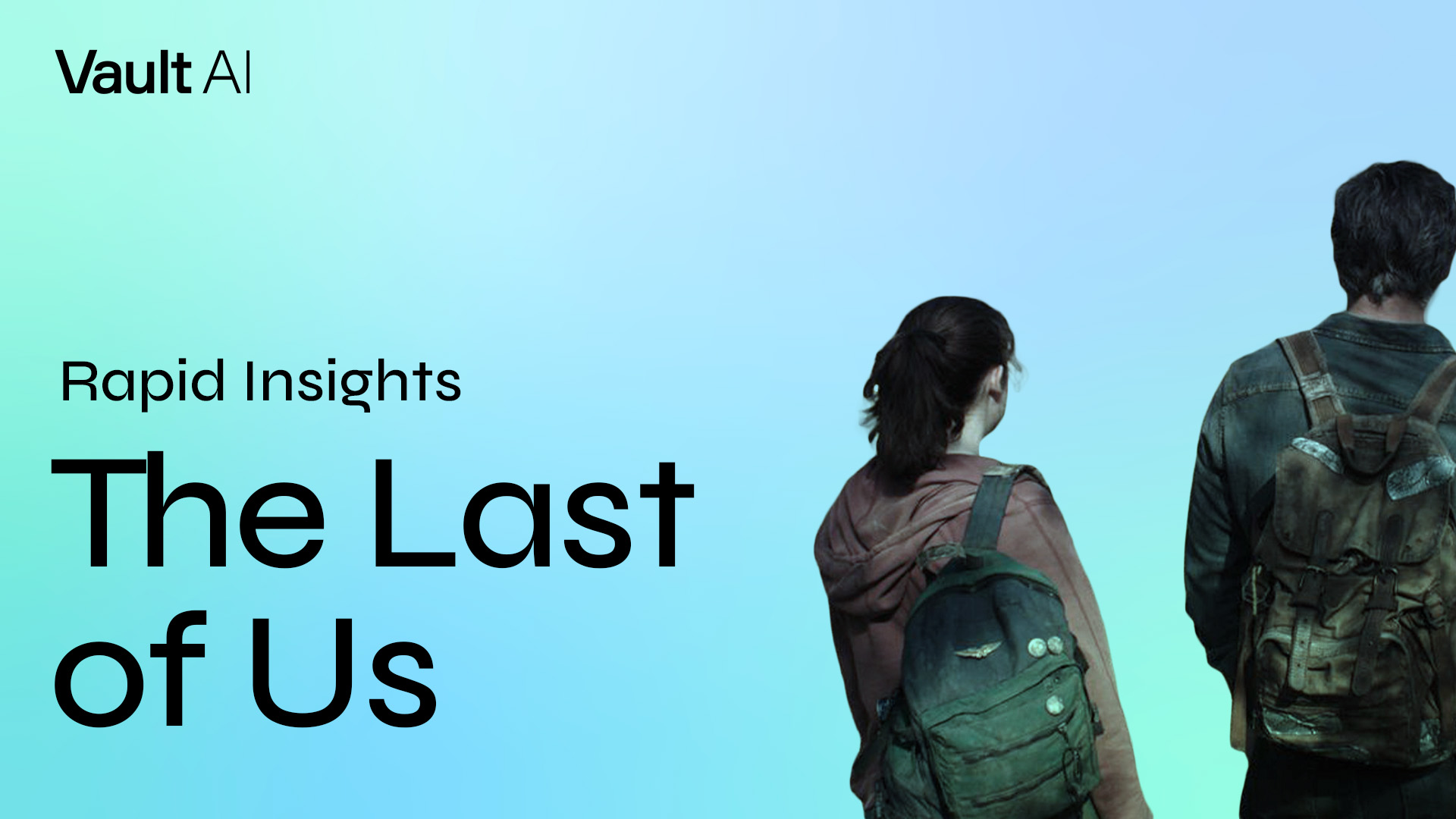 In mid-January, HBO will be premiering a big-budget new action-drama series–said to be the biggest TV production ever filmed in Canada–based on the 2013 PlayStation video game of the same name. The show stars a pair of Game of Thrones alums as Joel (Pedro Pascal) and Ellie (Bella Ramsey), a mismatched duo thrown together by circumstance who must survive brutal conditions, ruthless killers, and infectious zombies on a trek across post-pandemic America. Here's what you need to know about The Last of Us:
Vault AI uses index scores to describe the impact a given story/theme/element will have on specific KPIs: 
≤79 Disappointing  80-89 Challenging  90-109 Average  110-119 Promising  120+ Outstanding
Who'll be tuning in to watch this show?
Older men. We're predicting a male-skewing audience (56-59%) leaning 30+, with the HBO linear broadcast bringing in even more mature viewers (89% aged 35+) than HBOMax streaming (61% aged 30+). These demos are nearly identical to those for fellow HBO hit House of the Dragon, likely because of the shared violence and dark sci-fi. In contrast, the action-focused, video game-based Halo series leans much more male (68%), while the more relationship-driven Walking Dead zombie franchise is roughly gender-balanced (51% male).
What does the online chatter look like?
Eager. Thanks to the game's popularity (IP Extension, 120), there's lots of fan anticipation for this show; every time a new piece of information drops, there's a big spike in social activity, peaking with the release of the full-length teaser trailer last September (which maxed out our buzz meter at 160).
What kind of story will The Last of Us be telling?
A hard-core one. The show will fuse together elements of multiple intense, heart-pounding genres, including Sci-Fi (132), War (125), Adventure (124), Action (121), and Horror (118), and the story will traffic in Terror (116) and Fear (111) as Joel and Ellie fight to stay alive in a dangerous hellscape.
What will be the show's big draw?
Its post-apocalyptic environment. This Distinctly Realized World (132) full of cannibalistic Zombies (129), a widespread, deadly strain of the mutated Cordyceps fungus, and hostile human survivors more inclined to kill than cooperate (Life in Danger, 133) will put Joel and Ellie's Survival Skills (122) to the test and keep viewers glued to their seats.
What will help The Last of Us secure a second season?
Joel and Ellie's close relationship. While the dangers they face will be the show's initial draw, the series' ultimate longevity is largely dependent on their evolving Partnership (132) and Camaraderie (121), with father-figure Joel's Protectiveness (130) over teen Ellie serving as its heart. Their drive to establish meaningful Social Contact (121) and a makeshift Family (121) will keep viewers coming back.
Introducing Our NEW Research Series
Months in the making, this brand new three part research series analyzes all recently released and in-development movie titles to uncover the trends that you need to know. It puts you in complete control, knowing what the movie market will look like so you know what moves to make. It's full of juicy data that'll help you understand where content is heading and what the streamers are looking to buy.
Check out The Future of Movies here.
*Publicly released trailers for series are evaluated using Vault AI's algorithms – utilizing our proprietary 120K+ story element database alongside ratings performance and other datasets – to identify unique combinations of stories, themes, characters, and genre elements that will drive success.
About Vault AI
Based in Los Angeles and Israel, Vault AI is using a combination of machine learning and consumer insights experts to help the entertainment industry predict consumer response to content. Test your content faster and more accurately with Vault AI and get granular insights across the entire content life cycle today.