Rapid Insights: The Idol's Sleazy Love Story Exposes Pop Music's Dark Side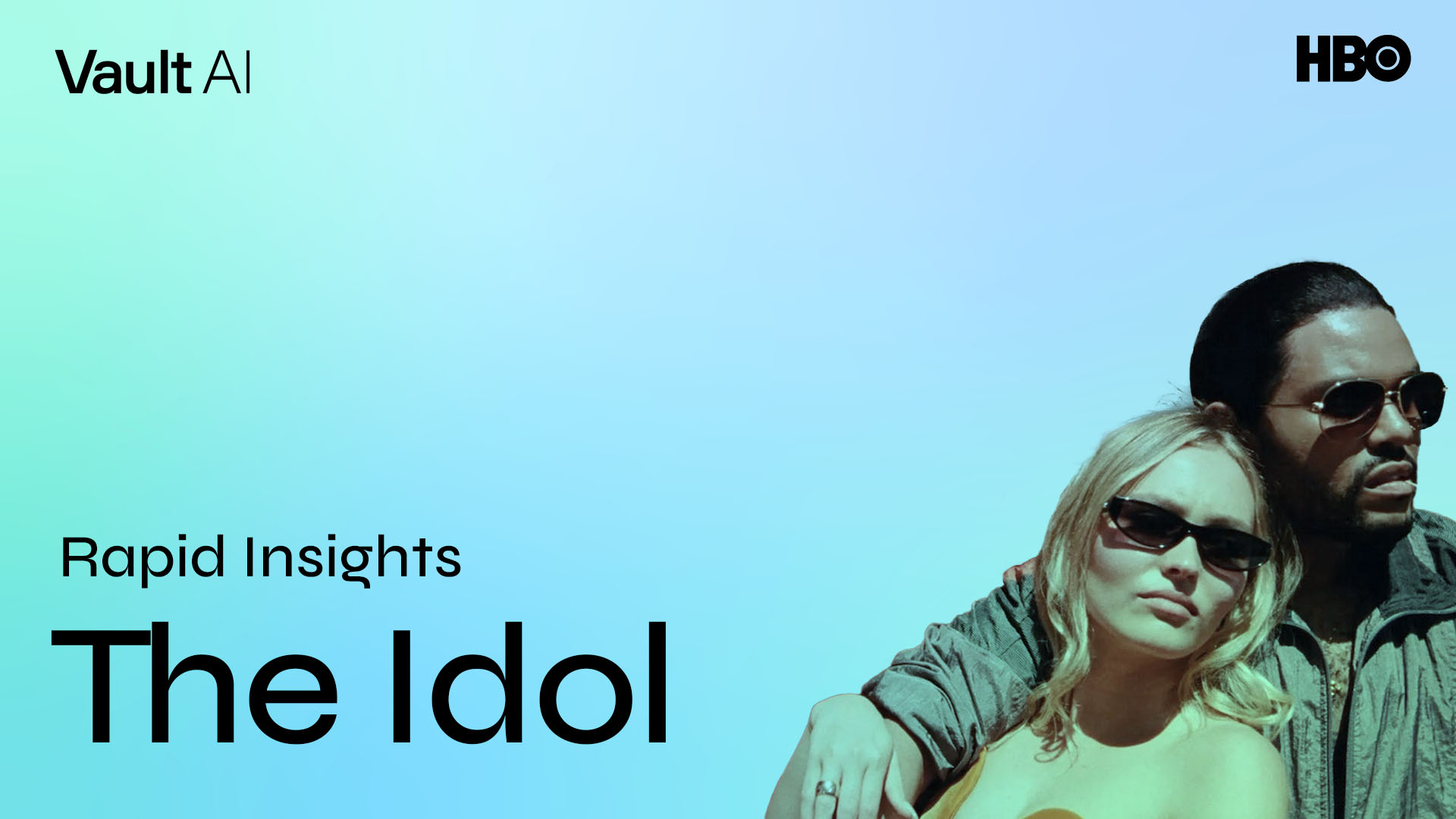 Next month, HBO will release its much-hyped take on the LA-based pop music industry. It's a take that leans heavily into depravity and sex as it depicts (according to the trailer) "the sleaziest love story in all of Hollywood." The brainchild of Abel "The Weeknd" Tesfaye and directed by Sam Levinson (Euphoria), the series focuses on aspiring pop idol Jocelyn (Lily-Rose Depp) as she falls into a complex relationship with a self-help guru and cult leader (Tesfaye).
Here's what you need to know about The Idol:
Vault AI uses index scores to describe the impact a given story/theme/element will have on specific KPIs: 
≤79 Disappointing  80-89 Challenging  90-109 Average  110-119 Promising  120+ Outstanding
How will its audience compare to other music industry dramas?
It'll be more gender-balanced. In general, this genre's built-in melodrama attracts more women (Empire, Atlanta, Daisy Jones & the Six, Nashville, Monarch, and Queens all skewed 56%-67% female). Still, with The Idol's heavy focus on sex, nudity, and prominence of The Weeknd's cult leader character, we predict that more men than usual will tune in (51% male / 49% female).
Why will viewers want to watch?
For the Moral Ambiguity (124). The Idol revels in the Dark Themes (116) of a dysfunctional, potentially abusive relationship between pop star and cult leader, where Sexual Promiscuity (115) leads to empowerment. Viewers will be drawn in by the twisted combination of Love (118) and Terror (116) that defines this central connection.
How important will the musical backdrop be to The Idol's success?
Crucial. Viewers across this category are intrigued by the politics, drama, and inner workings of the Music Industry (135). The theme consistently lands as a top viewership driver for ratings, bingeability, and longevity, whether the show focuses on hip hop, country, or rock. For The Idol specifically, its critique of the pop music world is the critical factor for social buzz (135) and bingability (134).
How is The Idol's social buzz looking?
Very promising. The show's initial teaser drop maxed out our meter (at 160) in July 2022, with subsequent marketing efforts resulting in similar spikes in online chatter. Its buzz also received a boost (again hitting 160) in early March when Rolling Stone reported on its contentious mid-production creative overhaul, quoting a crew member in calling it "twisted torture porn".
What will help The Idol reach a second season?
Jocelyn's story. She's a sympathetic Female Protagonist (130) that viewers want to root for. While her extravagantly Wealthy Lifestyle (121) provides a dose of lighter escapism, the darker elements of her toxic Romantic Relationship (142) will provide the best fodder for future episodes. In this way, The Idol fits right in among previous music biz series; rather than the trappings of the music industry itself, it's always the characters' relationships–from sibling rivalry to friendship conflict to parent-child dysfunction to adultery–that drive their shows' longevity.
Break free from slow and expensive oversampling 
Create hyper-targeted fan groups and analyze every audience that matters to you.
Introducing SEGMENTS, the groundbreaking new feature revolutionizing how you analyze and target your audiences.
Get rich AI-powered audience insights at your fingertips with 5 Custom Segments included as standard. Define your own or choose from our library of 500+ ready made Segments. No extra costs, no time delays.
*Publicly released trailers for series are evaluated using Vault AI's algorithms – utilizing our proprietary 120K+ story element database alongside ratings performance and other datasets – to identify unique combinations of stories, themes, characters, and genre elements that will drive success.