Rapid Insights: The Family Bonds in Avatar's New Sequel Will Help It Make a Splash with Audiences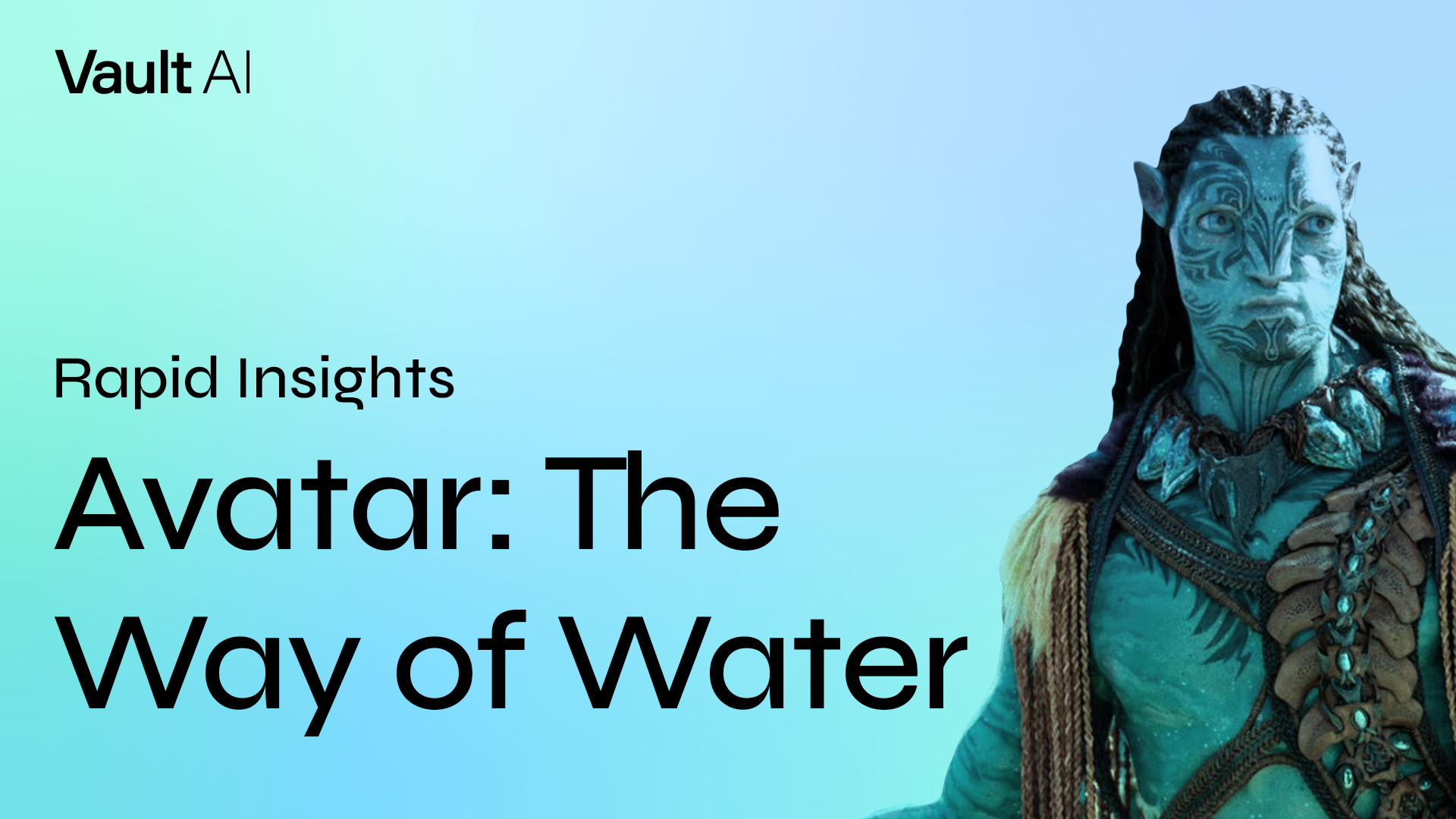 Though first released in 2009–several years before the multi-blockbuster MCU even took shape–James Cameron's Avatar remains the worldwide highest-grossing film of all time, with a global net of almost $3 billion. Now, thirteen years later, the first of its four long-gestating sequels is teed up to release theatrically in mid-December. This new installment, which has already been picking up steam in online chatter, will return audiences to the epic saga of Pandora and the Na'vi and is expected to make a massive splash at the box office. Here's what you need to know about Avatar: The Way of Water:
Vault AI uses index scores to describe the impact a given story/theme/element will have on specific KPIs: 
≤79 Disappointing  80-89 Challenging  90-109 Average  110-119 Promising  120+ Outstanding
How will the audience for Way of Water compare to that of the original Avatar?  
It will lean a bit younger. Like its predecessor, Way of Water is expected to skew male (56%), but we're predicting that it will bring in more viewers under 30 (45%) than did Avatar (42%) thanks to strong interest from teens–a group largely too young to have seen the first movie in theaters.
How is the film's social buzz?
White hot. #Avatar has been coasting as one of the top Twitter hashtags in the entertainment space all the way out at two months before its theatrical premiere, undoubtedly helped along by this fall's successful re-release of the original film. Consumers are excitedly tweeting (and retweeting!) about their desire to see Way of Water, especially in specialized formats like IMAX, and the sentiment around the title and its first trailer is overwhelmingly positive.  
What will cause moviegoers to check out Way of Water?
The Avatar name and its newest locale. Audiences are incredibly excited to see this beloved story continue, and Way of Water's connection to the broader Avatar IP (134) is its #1 driver of demand. Beyond that, though plot details remain sparse, the trailer's glimpses of the aquatic world of the new-to-the-sequel Metkayina reef clan, led by the compelling chief Tonowari, have piqued viewer interest. The film's cast learned to freedive and hold their breath for minutes at a time to authentically capture these underwater scenes, and the excitement of seeing this new tribe fight to Protect Their Homeland (129) alongside familiar faces from the first movie will also draw in cinemagoers–particularly men. Similarly, demand for the first Avatar film was largely generated by peeks at the Epic Final Battle (140) that viewers knew would take place between the Na'vi and their human would-be colonizers.
What will distinguish Way of Water from its predecessor?
Family. The original Avatar felt new thanks to the immersive, 3D Scenic Beauty (137) of Pandora and the novelty of a human in avatar form assimilating peacefully into an alien people, finding love (Unlikely Relationship, 127), and coming to appreciate and respect their culture. This time, with audiences already expecting these baseline franchise elements, it's the evolution of Jake Sully's integration into the Na'vi that will keep the story fresh: Way of Water focuses on the Family Bonds (114) between Jake, his mate Neytiri, and their children (including an adopted human son), and the measures they'll take to protect each other. This family-focused story will land best with female audiences, particularly older women 45+.
*Publicly released trailers for series are evaluated using Vault AI's algorithms – utilizing our proprietary 120K+ story element database alongside ratings performance and other datasets – to identify unique combinations of stories, themes, characters, and genre elements that will drive success.
About Vault AI
Based in Los Angeles and Israel, Vault AI is using a combination of machine learning and consumer insights experts to help the entertainment industry predict consumer response to content. Test your content faster and more accurately with Vault AI and get granular insights across the entire content life cycle today.