Rapid Insights: The Bad Guy Centers on a Darkly Funny Mafia Revenge Story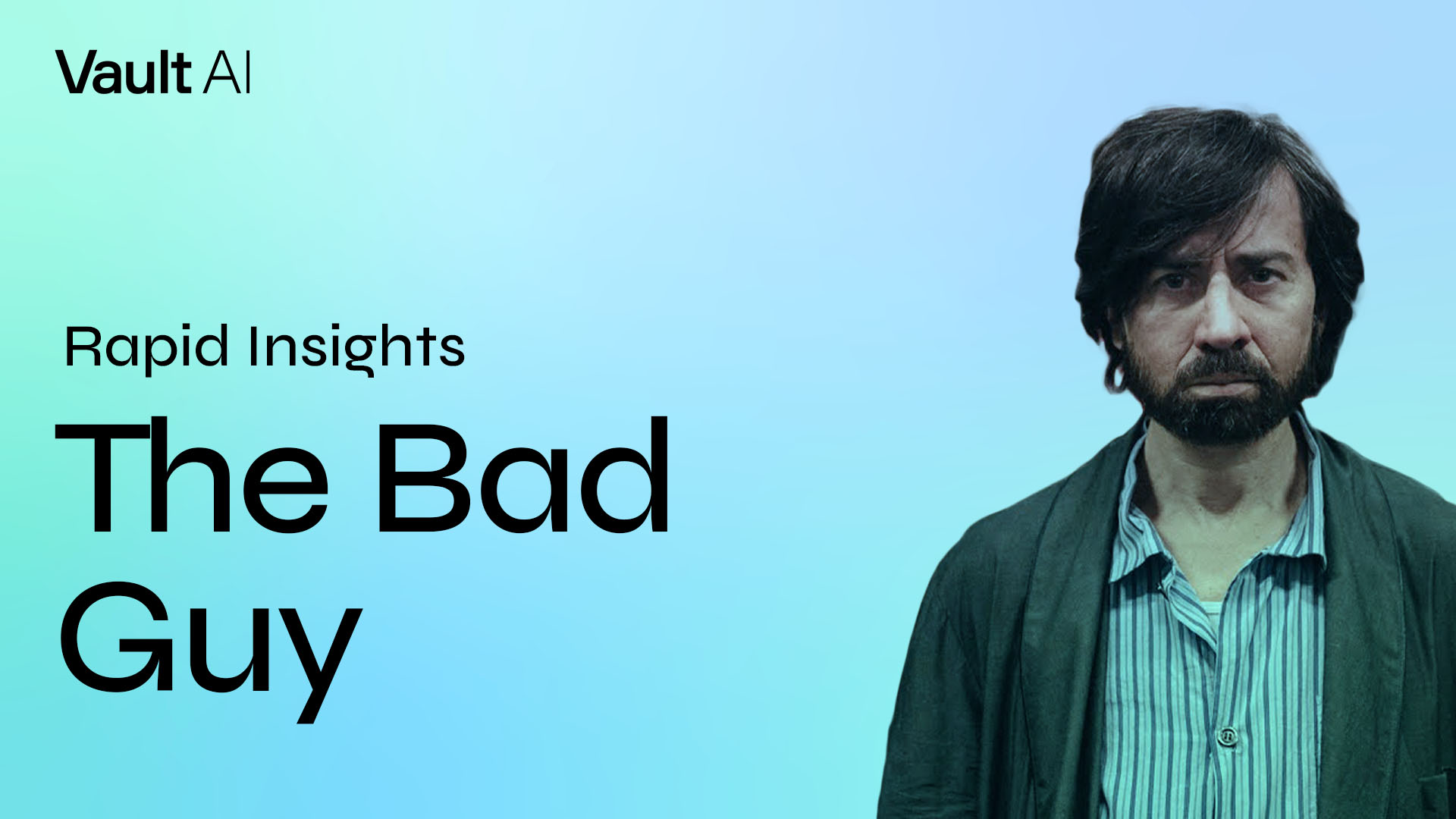 Vault recently acquired a number of international data sets to round out our global market capabilities, and in honor of this new expansion, this week we wanted to spotlight an intriguing new Italian dramedy releasing worldwide Thursday on Amazon Prime. Arising from the streamer's recent local production ramp-up in the country, the series revolves around a staunchly anti-Mafia Sicilian prosecutor named Nino Scotellaro who finds himself wrongfully convicted of working for the very criminal organization he despises. Here's what you need to know about The Bad Guy:
Vault AI uses index scores to describe the impact a given story/theme/element will have on specific KPIs: 
≤79 Disappointing  80-89 Challenging  90-109 Average  110-119 Promising  120+ Outstanding
Who in the US will be tuning in for this new series?
For the show's American debut, we're predicting a heavily male audience (65%) that leans older (57% aged 30+), a profile nearly identical to the streaming viewership of similar pitch-black, male-led dramedies The Boys and Barry.
What type of show is The Bad Guy?
A gritty cocktail with a twist of dark humor. The series starts with a Crime (133) Thriller (110) base derived from its Mafia milieu, adds flavors of Action (114) and Western (122) pulled from its protagonist's thirst for revenge, and finishes it off with a hint of Comedy (92) squeezed from his increasingly questionable decisions as his vengeance snowballs.
What will draw in American viewers?
Scotellaro's Machiavellian plot. The protagonist's decision to Seeka complicated yet satisfying Revenge (146)against those who falsely accused him, a risky path that places his Life in Danger (123), is the top driver of interest among US audiences and generates a compelling sense of suspense and intrigue. The show's localized depiction of the Sicilian Mafia (Criminal Organization, 142) also stands out domestically.
Which aspect of the show will appeal in its native Italy?
Scotellaro's reversal of fortune. While, like Americans, Italians will be drawn to the show's Mafia aspects and its protagonist's revenge plot, they're also uniquely pulled toward the lawyer's Life-Changing Decision (127) that will alter his trajectory and sink him ever farther into moral ambiguity. After the wrongful guilty verdict costs him everything he has, Scotellaro decides to transform from upstanding public prosecutor into the very type of 'bad guy' he once pursued.
What aspects of the series are fresh for US and Italian audiences? 
Across the board, Dark Humor (135 US, 159 IT). Both US and Italian audiences will be amused by the twisted, comedic nature of the series which separates it from other crime thrillers. Among Italian audiences, elements of suspense and action-filled thrills – Seeking Revenge (153), Life-Changing Decision (145), and Dangerous Mission (142) – will excite most.
What could help The Bad Guy land a second season?
Its unique viewpoint. The show is narrated from The Accused's POV (129), providing the audience with an intimate look at Scotellaro's perspective as a once-esteemed lawyer now reviled as a falsely-convicted felon. This narrative choice allows viewers to connect with the show's protagonist and provides fodder for his continuing story. At the same time, the Action & Violence (129) that undergirds his storyline will help keep the series' predominantly male audiences interested for future seasons.
Introducing Our NEW Research Series
Months in the making, this brand new three part research series analyzes all recently released and in-development movie titles to uncover the trends that you need to know. It puts you in complete control, knowing what the movie market will look like so you know what moves to make. It's full of juicy data that'll help you understand where content is heading and what the streamers are looking to buy.
Check out The Future of Movies here.
*Publicly released trailers for series are evaluated using Vault AI's algorithms – utilizing our proprietary 120K+ story element database alongside ratings performance and other datasets – to identify unique combinations of stories, themes, characters, and genre elements that will drive success.
About Vault AI
Based in Los Angeles and Israel, Vault AI is using a combination of machine learning and consumer insights experts to help the entertainment industry predict consumer response to content. Test your content faster and more accurately with Vault AI and get granular insights across the entire content life cycle today.