Rapid Insights: Super Mario Bros Will 1-Up the Competition by Bringing a Beloved Gaming Franchise to the Big Screen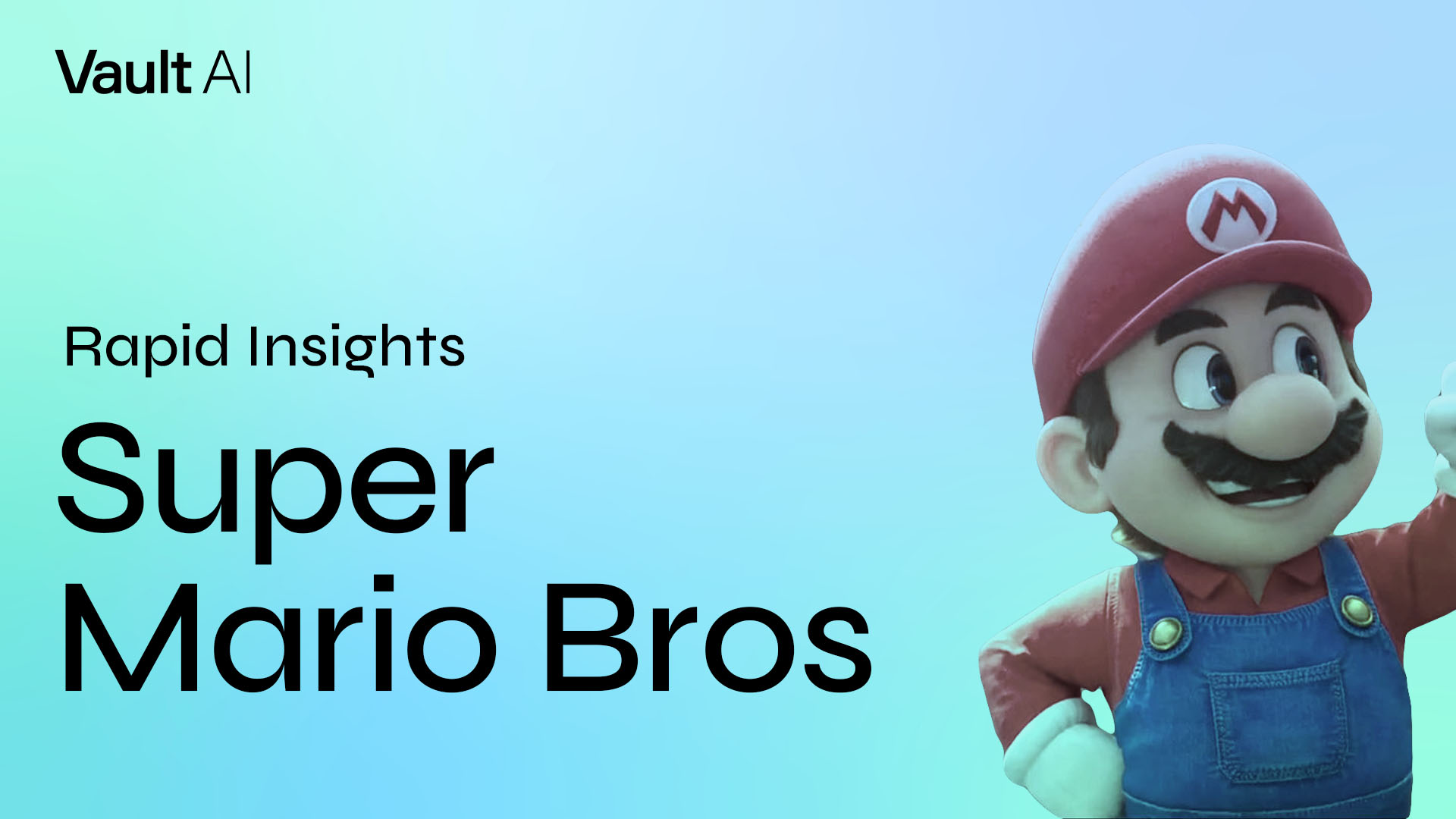 For the first time since 1993's infamous live-action interpretation, plumber twins Mario and Luigi will be returning to the silver screen next April in Universal Pictures' full-length CGI adventure, and the buzz is already through the roof. Audiences have taken early notice of the film's perfectly polished animation, stellar voice cast, and nods to defining elements across the range of Mario-based video games (from Super Mario Bros. to Super Smash Bros. to Mario Kart), and they're beyond excited to see one of their favorite childhood franchises brought to life. Here's what you need to know about The Super Mario Bros. Movie:
Vault AI uses index scores to describe the impact a given story/theme/element will have on specific KPIs: 
≤79 Disappointing  80-89 Challenging  90-109 Average  110-119 Promising  120+ Outstanding
Who will show up in theaters for this cartoon adventure?
We're predicting a younger-skewing audience (57% <30) with a heavy family component (25% <18) and a slight lean towards males (53%). Demand is expected to be strong across key demos, with those under 30 falling in the "outstanding" range (138) and teen boys especially eager to buy tickets (153).
What's the movie's biggest draw?
Its Famous Franchise (121). The IP and its familiar characters have been beloved by Nintendo players for almost forty years, and they're eager to see Mario and twin brother Luigi once again Saving the World (114) from arch-nemesis Bowser and his army of Koopas. Viewers want to see the transport pipes, fire flowers, power-granting suits, Rainbow Road, and other trappings of the games' Fantasy Land (112) on the big screen as well as the dynamic Animated Action (116) of the heroes' ongoing battle for the Mushroom Kingdom. This aspect of the film will be especially popular for younger theatergoers under 30.
What's the impact of the increased role for Princess Peach?
A stronger appeal to older females. Whereas the original video games relegated Peach to the role of damsel in distress, the new movie places her front and center alongside Mario and Luigi in the middle of the action. Her greater agency within the fight against Bowser transforms her into the type of Strong Female Character (112) that helps draw in women 30+ (126).
Where does the movie's funny tone fit in?
It's a major draw for teens. The moments of Slapstick physical Comedy (112) and goofy humor, as when Mario falls off the platform and is hit in the face by a sucker fish, add to the film's sense of unruly fun and engage younger viewers (160) much more than the cartoon action would alone.
How important is the movie's voice cast?
Essential in driving online chatter. Twitter has been increasingly abuzz about this movie since last week's official trailer drop, and the names of the core cast appear alongside the long-running video game characters in the list of top terms tweeted. While Chris Pratt (voicing Mario), Seth Rogan (Donkey Kong), and Anya Taylor-Joy (Princess Peach) all factor into the conversation, fans seem especially excited for Jack Black's energetic turn as villain Bowser. Additionally, the part of the trailer in which Donkey Kong repeatedly slaps Mario has become an oft-shared viral meme.
Months in the making, this brand new three part research series analyzes all recently released and in-development movie titles to uncover the trends that you need to know. It puts you in complete control, knowing what the movie market will look like so you know what moves to make. It's full of juicy data that'll help you understand where content is heading and what the streamers are looking to buy.
Check out The Future of Movies here.
*Publicly released trailers for series are evaluated using Vault AI's algorithms – utilizing our proprietary 120K+ story element database alongside ratings performance and other datasets – to identify unique combinations of stories, themes, characters, and genre elements that will drive success.
About Vault AI
Based in Los Angeles and Israel, Vault AI is using a combination of machine learning and consumer insights experts to help the entertainment industry predict consumer response to content. Test your content faster and more accurately with Vault AI and get granular insights across the entire content life cycle today.