Rapid Insights: Star Trek Explores Strange New Worlds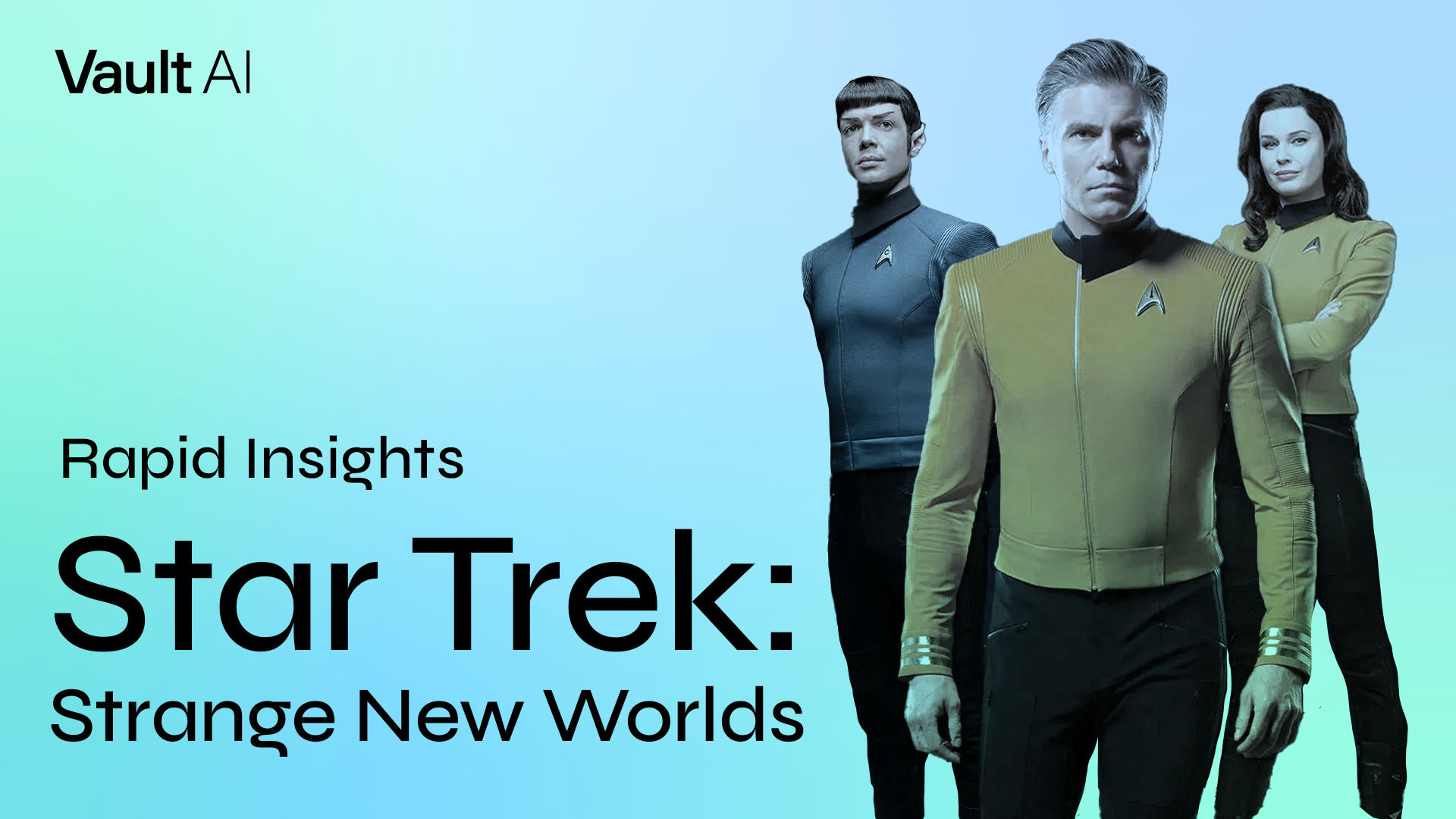 The Star Trek franchise continues to live long and prosper with the launch of its newest iteration on Paramount+. A prequel to the 1960s original, this new show focuses on the USS Enterprise under Captain Pike (Captain Kirk's predecessor) and is brighter, more optimistic, and less serialized than other recent spin-offs. Here's what you need to know about Star Trek: Strange New Worlds:
​How does the audience for this newest show compare to other recent live-action Star Trek spin-offs?
It's just about identical. Strange New Worlds appeals to the very same viewer demographic that has been leaning into fellow Paramount+ series Picard and Discovery: older men (63% male / 68% aged 30+). (Animated offerings Prodigy and Lower Decks have a similar male skew but lean younger.)
What makes Strange New Worlds unique?
Its lighter tone. In contrast to the darker, grittier Picard and Discovery, this new show leads with positive emotions like Joy (122), Serenity (122), and Ecstasy (122) as well as an overall sense of Optimism (120) thanks to Captain Pike's upbeat outlook on life. All are key ratings drivers for its first season.
How important are the 'Strange New Worlds' highlighted in the title?
Essential. The show's fully fleshed-out, Distinctly Realized Worlds (132) are its top overall viewership driver, much more crucial here than for its streaming siblings (like Picard). Audiences are eager to explore the series' lush, imaginative new planets.
What impact do the familiar Star Trek sci-fi elements have on the show?
They make it bingeable. The series' futuristic Gizmos & Technology (130)(including the ubiquitous phasers, transporters, and warp drive) and advanced Space Travel (120) allow for the introduction of its compellingly strange new worlds. As with previous series, these hallmarks of the broader Star Trek Universe (115) keep viewers coming back for more.
What does this show have to offer the sci-fi hesitant?
Relatable character relationships. Its Enterprise boasts a plethora of Friendships (125) and Human/Non-Human Relationships (122) among its diverse crew and features strong heroes in search of Acceptance (122) and Social Contact (122). The series' inclusion of these more socially-minded drivers can help to attract those wary of its colder sci-fi trappings.
—
Stay in the know

Subscribe to get Rapid Insights delivered to your inbox weekly.
Sign up for StoryGuide for more details and analysis.