Rapid Insights: Spider-Man: Across the Spider-Verse Goes Bigger and Bolder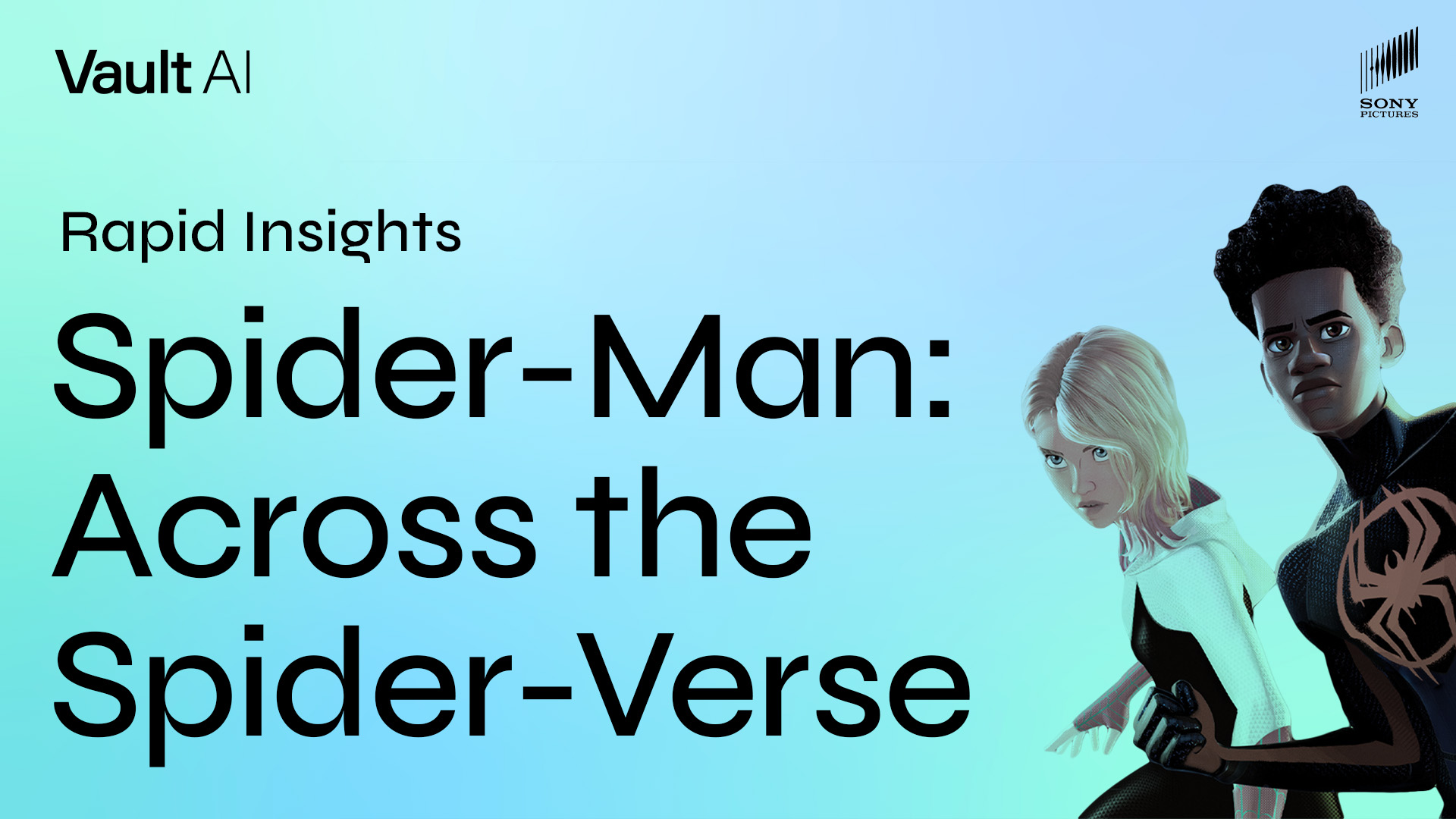 Early next month, Sony's follow-up to its Oscar-winning, animated Spider-Man: Into the Spider-Verse (2018) hits theaters, and viewers will once again be treated to the Spider-ventures of teen Miles Morales as he navigates life as a web-slinging superhero. In this new installment, Miles teams up with Gwen Stacy and a host of other Spider-People to save the multiverse from The Spot, a tricky supervillain primed to cause catastrophic disaster.
Here's what you need to know about Spider-Man: Across the Spider-Verse:
Vault AI uses index scores to describe the impact a given story/theme/element will have on specific KPIs: 
≤79 Disappointing  80-89 Challenging  90-109 Average  110-119 Promising  120+ Outstanding
Is Across the Spider-Verse a kids' movie, or will it go broader?
Definitely broader, just like its predecessor. Leveraging Vault AI's capability of creating and analyzing custom, hyper-targeted fan segments, this animated sequel looks promising not only with fans of other animated superhero titles (The Incredibles, Big Hero 6, Lego Batman, etc.) (112), but also with those who love the wider live-action MCU (111). Demand will likely be strongest among parents (132), followed by younger males <35 (110). We're also predicting that it will outperform with Black audiences thanks to its lead.
What made the first Spider-Verse movie so compelling?
Spider-Man's origin story. Whereas the live action Spider-Man films have focused on Peter Parker, Into the Spider-Verse introduced teen Miles Morales as the titular hero and explored what it meant for him to take up the storied mantle. Audiences leaned in to watch Miles Become Spider-Man (160) after Parker's death and honor his legacy by Protecting New York (156) from fearsome villains.
What will set this upcoming Spider-Verse movie apart?
All the Spider-People. Bigger and broader in scope, Across the Spider-Verse leans hard into the multiverse (and the multi-Spider-Man) concept of the first film, bringing in a host of spandexed crusaders that keep their many universes running. As a result, the idea of their Superhero Team-Up (160)–and the references made to Spider-Man's comic book origins (Comic Connections, 160)–is a bigger draw than it was for Into the Spider-Verse (141). The sequel's Stylized Action (134), Enhanced Animation (134), and sticky new villain are also more prominent drivers this go-round.
How important is Miles' own story in Across the Spider-Verse?
It's supportive. While audience demand will be driven more by the web of Spider-People, Miles' personal journey will give the film crucial emotional stakes. Viewers do want to follow the Coming of Age (125) tale begun in the first movie, and Miles' Mentor and Protege Relationship (114) with multiverse Peter Parker, friendship with love-interest Gwen Stacy, and brave stand against the dubious head of the Spider-Society (Disagreements & Conflict, 114) are also promising elements.
How buzzy will this new movie be?
Very. We're predicting outstanding scores for both Google search volume (126) and social buzz (121), meaning that Across the Spider-Verse will be a key topic for search activity and online chatter in the days around its release. Users will be talking about Miles' Interdimensional Heroism (118) and the many Spider-People inhabiting the film's multiverse.
Break free from slow and expensive oversampling 
Create hyper-targeted fan groups and analyze every audience that matters to you.
Introducing SEGMENTS, the groundbreaking new feature revolutionizing how you analyze and target your audiences.
Get rich AI-powered audience insights at your fingertips with 5 Custom Segments included as standard. Define your own or choose from our library of 500+ ready made Segments. No extra costs, no time delays.
*Publicly released trailers for series are evaluated using Vault AI's algorithms – utilizing our proprietary 120K+ story element database alongside ratings performance and other datasets – to identify unique combinations of stories, themes, characters, and genre elements that will drive success.