Rapid Insights: Shyamalan's Knock at the Cabin Brings Terror & Thrills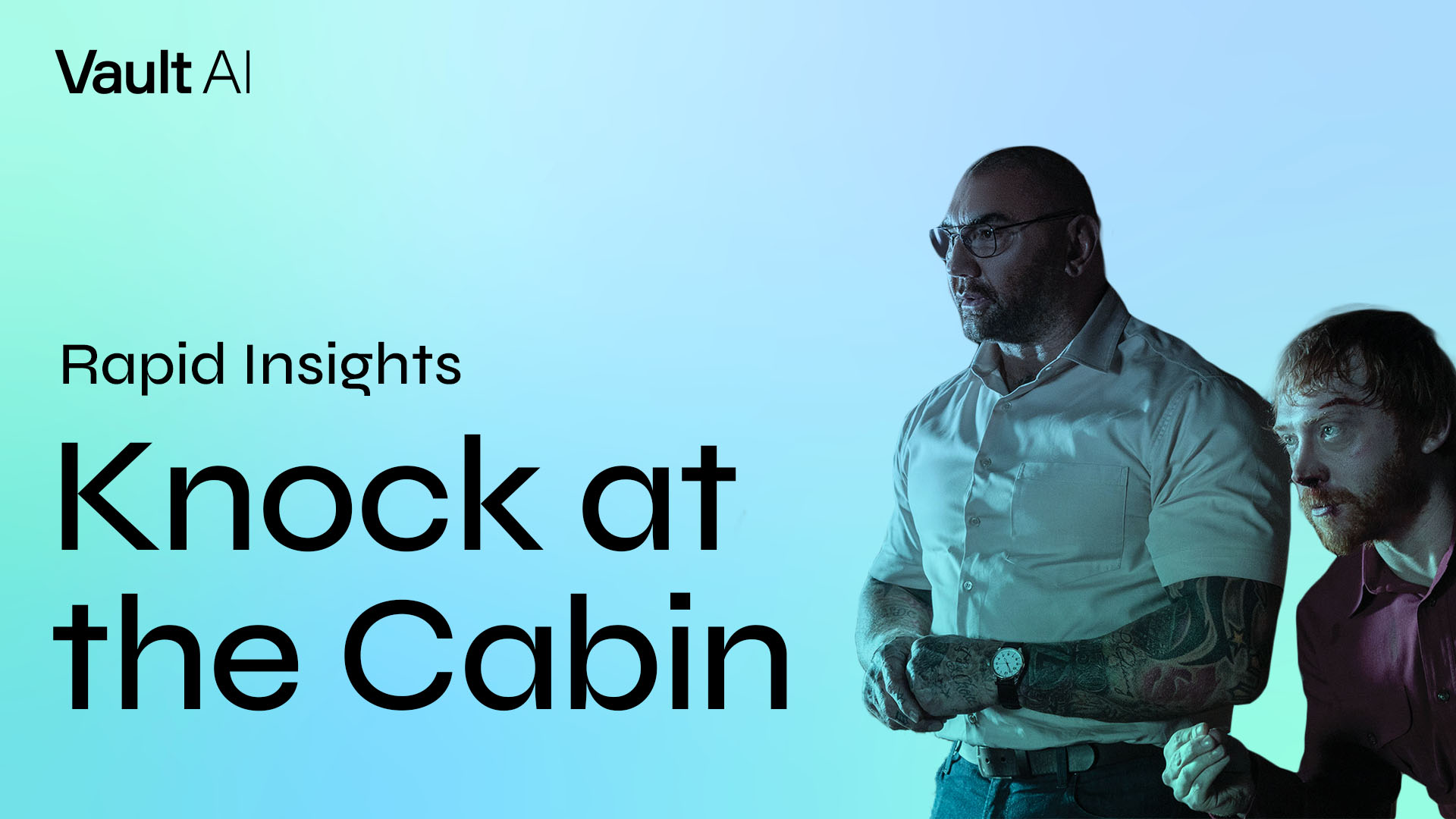 Auteur director M. Night Shyamalan's latest thriller-with-a-twist will be releasing theatrically via Universal Pictures in early February, and its gripping set-up has already fueled considerable social buzz. In this new tale–his first R-rated film since 2008's The Happening–a family of three on an idyllic wilderness vacation is taken hostage by four armed strangers demanding the impossible: choose a family member to sacrifice to avert an impending apocalypse. Here's what you need to know about Knock at the Cabin:
Vault AI uses index scores to describe the impact a given story/theme/element will have on specific KPIs: 
≤79 Disappointing  80-89 Challenging  90-109 Average  110-119 Promising  120+ Outstanding
Who will be buying tickets?
We're predicting a theatrical audience that leans male (54%) and skews heavily older (68% aged 30+). Shyamalan's niche is horror thrillers, but he casts a wide net when it comes to audience: his recent films Old, Glass, and Split all skew younger than Knock at the Cabin and lean more female (barring Glass, which also leans male 54%).
What type of movie should viewers expect?
A suspenseful nail-biter that makes them think. In keeping with the director's typical oeuvre, Knock at the Cabin is a Horror (135)–Thriller (124) with elements of Sci-Fi (118) and Mystery (118), the latter teasing the audience about the true nature of the existential threat (is the apocalypse real or are the strangers crazy?). The intense Emotional Rollercoaster (114) that ensues will play into audience demand and keep viewers on the edge of their seats.
Which aspect of the film's high concept is its biggest draw?
The mysterious Armed Strangers (140). The four crazed, desperate people who force their way into the cabin and hold the family hostage (Breaking and Entering, 116) set up the film's sticky central conceit, and audiences already want to know more about them. Who they are, where they came from, and why they were chosen as apocalyptic messengers will determine the family's ultimate chances of survival (Life in Danger, 117). At the same time, the Scared Daughter (125) under attack with her fathers ups the movie's emotional stakes and provides an even greater obstacle for the strangers' mission: would they really hurt a little girl?
What will make Knock at the Cabin stand out from previous M. Night Shyamalan movies?
The family's Impossible Decision (136). The trio are forced to choose between saving their loved ones and saving the world, and the gut-wrenching sacrifice as well as the moral ambiguity wrapped up in their forced ultimatum is the film's primary driver of freshness. Additionally, the Diversity (132) built into the casting–the characters represent a wide range of types and ethnicities, including the LGBTQ+ family–helps the film feel modern, a concern especially important to female viewers.
What are people talking about?
Its high concept and pedigree. The family's impossible choice is driving many tweets and online comments in the run-up to the movie's release, with potential viewers discussing what they themselves would do in a similar situation. Fans are also leaning into the cast (most notably Dave Bautista) and speculating about the expected twist given its M. Night Shyamalan connection. However, while the director's brand (IP Extension, 99) helps to generate buzz, it's the sticky plot specifics that will actually drive demand and convince theatergoers to buy tickets.
What is Vault AI?
WATCH this 3min video to find out 
*Publicly released trailers for series are evaluated using Vault AI's algorithms – utilizing our proprietary 120K+ story element database alongside ratings performance and other datasets – to identify unique combinations of stories, themes, characters, and genre elements that will drive success.
About Vault AI
Based in Los Angeles and Israel, Vault AI is using a combination of machine learning and consumer insights experts to help the entertainment industry predict consumer response to content. Test your content faster and more accurately with Vault AI and get granular insights across the entire content life cycle today.