Rapid Insights: Shazam! Fury of the Gods Brings Bigger, Badder Villains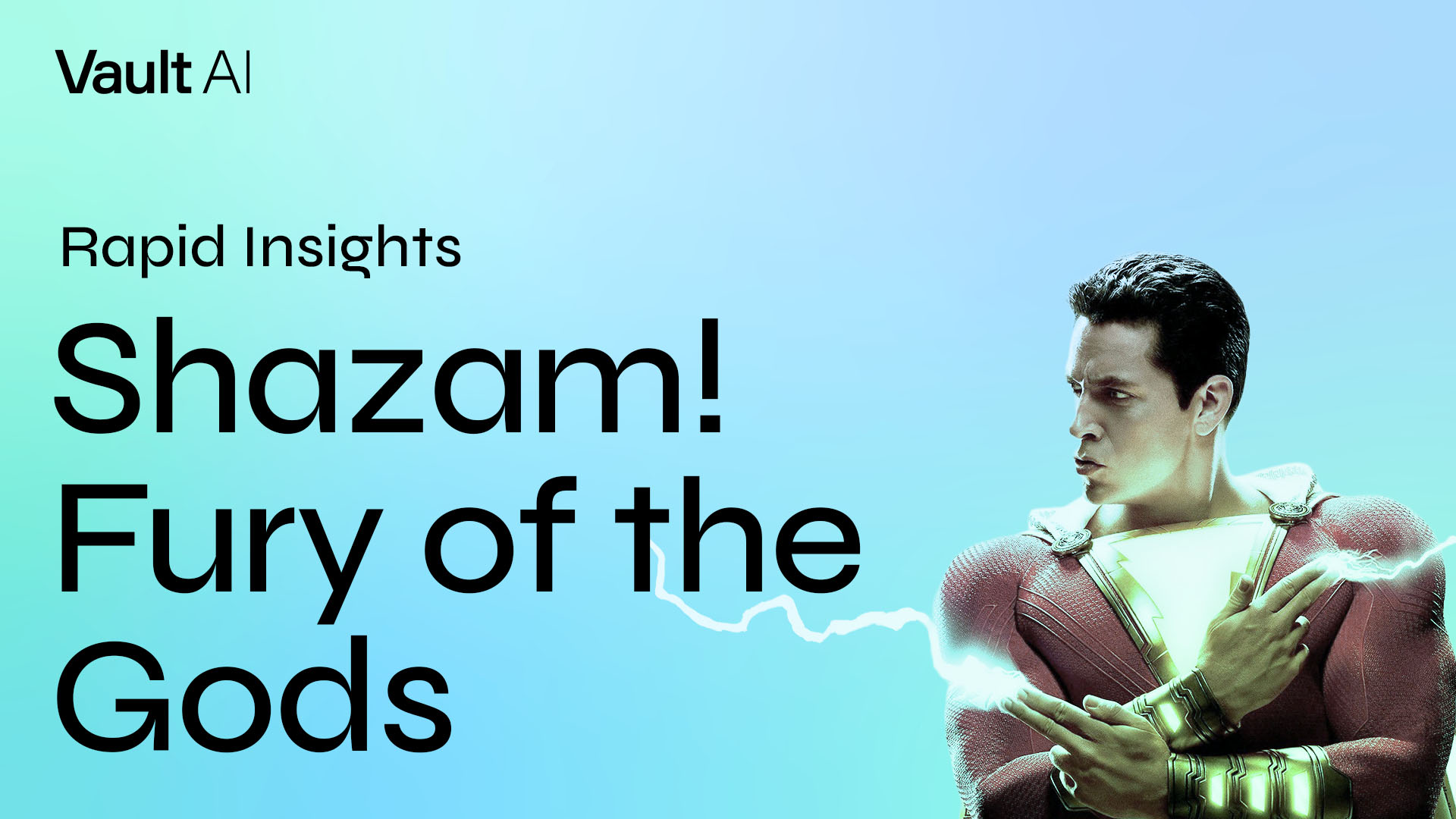 The newest film in the DC Universe will be releasing next month as the sequel to the wildly successful 2019 title Shazam! The franchise's most family-friendly crusader, Shazam! tells the story of 15-year-old Billy Batson, an unhappy foster teen granted godlike powers by an ancient wizard; by simply uttering his alterego's name, he gains the ability to transform into an adult superhero and  save the world. This new movie continues his adventures as he fights alongside his team of similarly supercharged foster siblings against a newer, scarier set of villains.
Here's what you need to know about Shazam! Fury of the Gods:
Vault AI uses index scores to describe the impact a given story/theme/element will have on specific KPIs: 
≤79 Disappointing  80-89 Challenging  90-109 Average  110-119 Promising  120+ Outstanding
Will the same Shazam! audience show up for the sequel?
Yes. We're predicting that Fury of the Gods will be as broadly appealing as the first movie, luring in both the male-skewing DC fanbase as well as the family crowd with kids and their parents. Our model suggests that demand will be highest for boys under 18 (148), with men 18-29 (141) right behind.
Why will moviegoers want to buy tickets?
Thrilling action. The Fury of the Gods trailers showcase the same elements that attracted viewers to the original Shazam! (Superhero Adventures, 117; Super Powers, 113; Fighting Crime, 112) but on a broader scale now that teen Billy Batson has learned to fully use his special powers. This time, Mass Destruction (139) is on order within the iconic New York Cityscape (126), with cars, buildings, and other immense objects–and Shazam himself–crashing, Falling (123), and generally causing mayhem.
What makes Shazam so likable?
His emotional depth. Of course, Batson's one-word transformation into his high-powered alterego (Superhero Suit, 134) and manipulation of The Living Lightning (116) (among other cool abilities) continue to be audience highlights. But before he can save the day, our hero must overcome crippling Self-Doubt (114) as he struggles to find his place in a world with Batman, Aquaman, and other impressive megastars. (Just as in the first movie, fans will undoubtedly appreciate the larger DC Universe (133) references.)
What will set Fury of the Gods apart from its predecessor?
Bigger, badder villains. In the second film, Shazam must face off against the Daughters of Atlas, a trio of fearsome Female Supervillains (131) who want to steal his powers and are willing to destroy the world in the process. On their side is a veritable army of supernatural monsters, including a massive, formidable Dragon (115) that threatens to crush Shazam himself.
What makes Shazam unique as a superhero?
His supercharged Foster Siblings (110). Unlike Batman and Aquaman, Shazam fights with a team, and it's this group of teens-turned-adult-superheroes that makes the franchise stand out. Shazam himself granted them powers by sharing his own, and the unbreakable bond forged among this adopted clan both sets up the movie's family-friendly themes and serves as its primary driver of freshness.
Get Access to Our MIE23 Talk
Get your hands on a recording of our 'Using AI to Get Audience Insights Without Ever Asking' talk from MIE23 – including a case study by Warner Bros. Discovery. Simply register your details and we'll send you the recording as soon as it lands.
*Publicly released trailers for series are evaluated using Vault AI's algorithms – utilizing our proprietary 120K+ story element database alongside ratings performance and other datasets – to identify unique combinations of stories, themes, characters, and genre elements that will drive success.