Rapid Insights: Russell Crowe as The Pope's Exorcist in Memoir-Based Film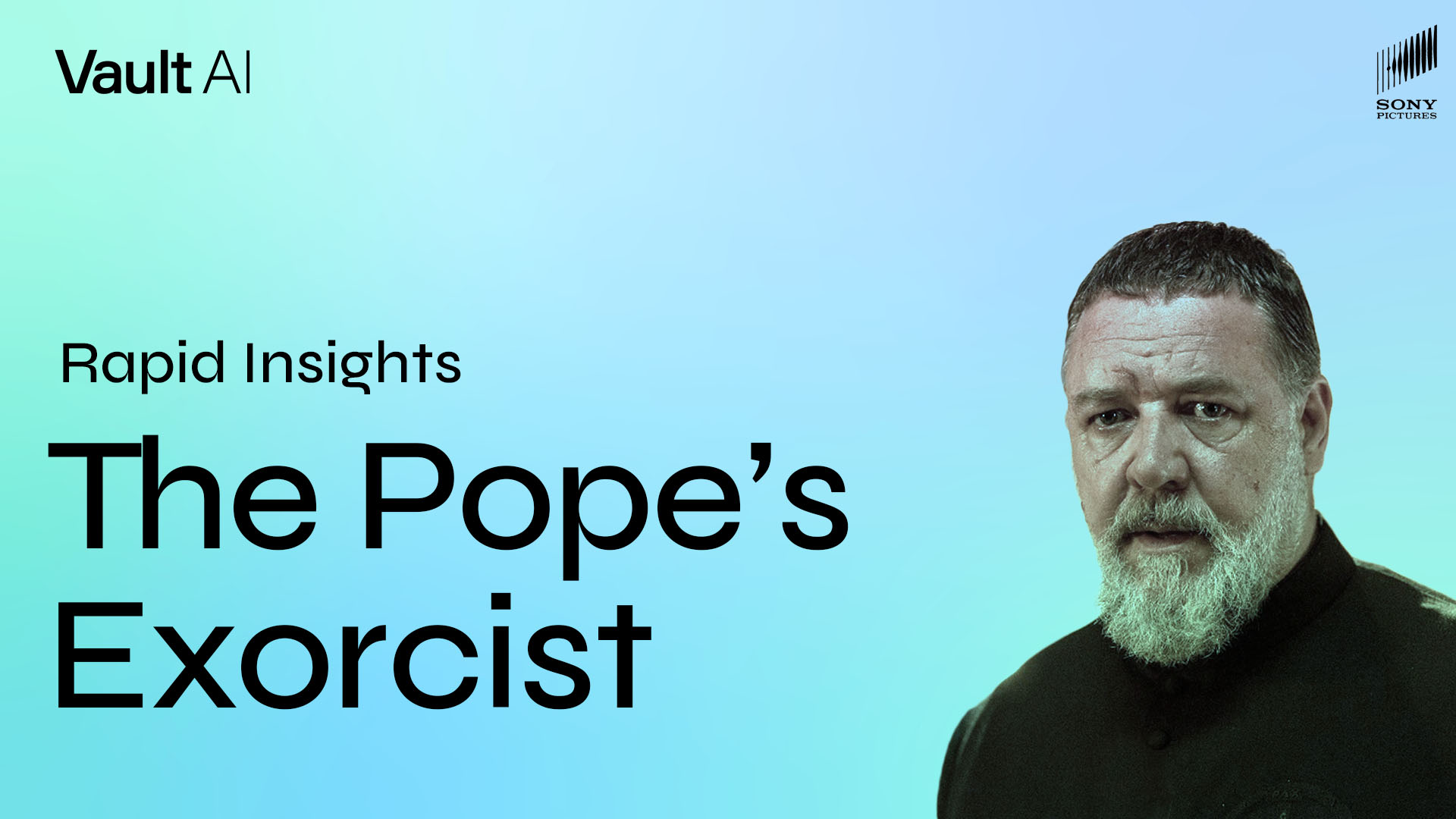 Star Russell Crowe returns to theaters next month in an anticipated new horror movie from Sony with disconcerting links to reality. Crowe plays Father Gabriele Amorth, the legendary Italian priest and real-life Chief Exorcist of the Vatican who performed more than 100,000 exorcisms in his lifetime (he passed away in 2016). The film is inspired by an exceptionally unsettling case from his published memoirs.
Here's what you need to know about The Pope's Exorcist:
Vault AI uses index scores to describe the impact a given story/theme/element will have on specific KPIs: 
≤79 Disappointing  80-89 Challenging  90-109 Average  110-119 Promising  120+ Outstanding
Who will be buying tickets to this chilling narrative?
Men 30+ show the strongest demand (111). Overall, the audience leans male (54%) and skews heavily older (71% aged 30+), the latter driven partially by the film's R-rating. This gender profile makes The Pope's Exorcist somewhat unique among recent horror films, as the similarly religious-themed Prey for the Devil, The Nun, and The Conjuring: The Devil Made Me Do It all leaned female.
What's bringing in the older male audience?
The showdown: priest versus devil. Men 30+ in particular will lean into the exorcist's battle with The Devil (134). The intense fight scenes and Special Effects (160) involving the protector of Catholicism (142) make for an impressive visual spectacle.
How does the movie's social buzz look?
Promising. The chatter online began picking up three weeks ago with its official trailer release, with social media users focused on the involvement of Russell Crowe and the story's real-life connections to the Vatican.
What's the film's main overall draw?
The terrifying demons within. The movie tracks Father Amorth's attempts to rid a young boy of Satanic Evil Spirits (157), and it is the intense, dark portrayals of Exorcism and Possession (160) throughout that will both excite and intrigue horror-loving ticket buyers. These themes are especially important for the female segments of the audience.
What about the possessed victim in the case?
He helps expand the audience. The idea of a Child in Danger is crucial for younger viewers under 30 (149), who'll be focused more heavily on the devastating physical and mental effects on the little boy being exorcised.
What's the impact of this story being based on an actual person?
It's additive. The movie's basis in Father Amorth's Real-Life Memoirs (116) will intensify the suspense and intrigue around the title, making the story all the more gripping and believable.
Follow us on LinkedIn for more
*Publicly released trailers for series are evaluated using Vault AI's algorithms – utilizing our proprietary 120K+ story element database alongside ratings performance and other datasets – to identify unique combinations of stories, themes, characters, and genre elements that will drive success.
Stay in the know