Rapid Insights: Rick and Morty Returns to Build on Its Out-Of-This-Universe Success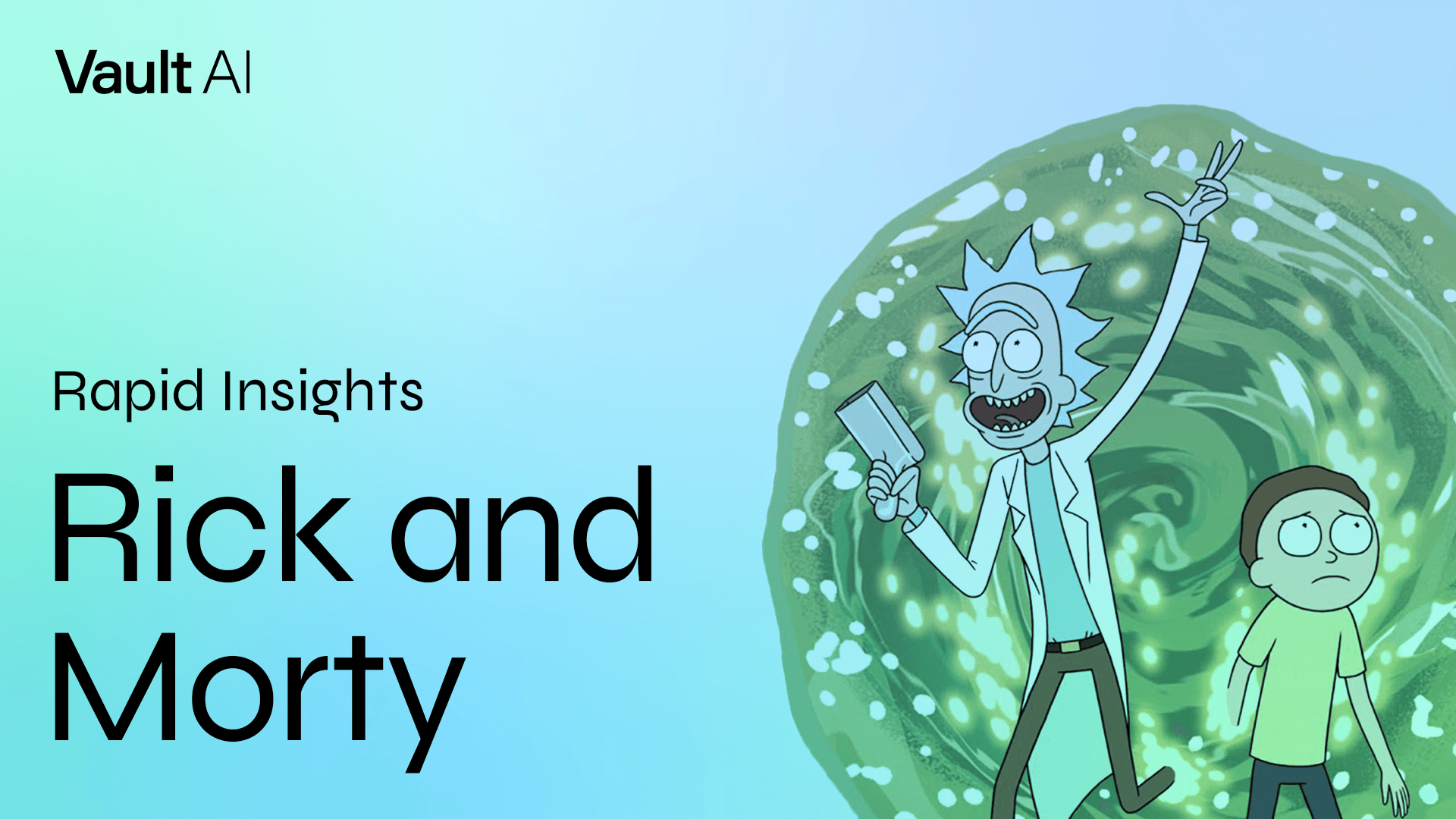 Adult Swim's mega-popular animated sci-fi comedy has delighted audiences since 2013 with laugh-out-loud sci-fi adventures of traveling the multiverse. With the series returning this week for its long-awaited sixth season, we're looking back at season one to explore what made this show such a stand-out success. Here's what you need to know about Rick and Morty:
Vault AI uses index scores to describe the impact a given story/theme/element will have on specific KPIs: 
≤79 Disappointing  80-89 Challenging  90-109 Average  110-119 Promising  120+ Outstanding
Who are the fans of this series?
A broad cross-section of men ages 18-54. The overall Rick and Morty audience leans slightly male (57%) and older (57% M35+), though 22% of viewers are ages 18-34.  The audience is very similar to South Park and Solar Opposites, while younger than Archer and more male-skewing than both Family Guy and American Dad!.
What has made Rick and Morty such a stand-out success?
Unpredictable sci-fi adventures, clever referential comedy, and relatable family themes. The show's Pop Culture References (140) and zany Over-the-Top Humor (138) quickly established its comedic bona fides to engage adult animation fans.  Though the blending of relatable themes including Multigenerational (138) Family Relationships (130) and Disagreements (134) with unpredictable and creative Space Settings (131) is uniquely important for the series. These themes make the universe-hopping, time-traveling escapades of the titular pair amp up the show's sense of Adventure (126) and keeps every episode feeling creatively fresh.
Why is the series so popular internationally?
The family dynamics. While the show's culturally-relevant comedy is the big draw in the US, its American sense of humor is not as relatable to viewers overseas. Instead, international markets are attracted to the relatable relationships between Rick, his grandson Morty, and the rest of their quirky kin.
What does season six's social tracking look like?
It's right in line with season five's June 2021 release. Currently, online activity falls in the 'Promising' range, leading up to an expected bump on premiere day and outperforming legacy animated comedy comp Archer's latest season release. Season five saw sustained peaks throughout its 10-episode release, and it's likely season six will boast the same pattern.
*Publicly released trailers for series are evaluated using Vault AI's algorithms – utilizing our proprietary 120K+ story element database alongside ratings performance and other datasets – to identify unique combinations of stories, themes, characters, and genre elements that will drive success.
About Vault AI
Based in Los Angeles and Israel, Vault AI is using a combination of machine learning and consumer insights experts to help the entertainment industry predict consumer response to content. Test your content faster and more accurately with Vault AI and get granular insights across the entire content life cycle today.