Rapid Insights: Platonic Reignites Seth Rogen and Rose Byrne's Comedic Chemistry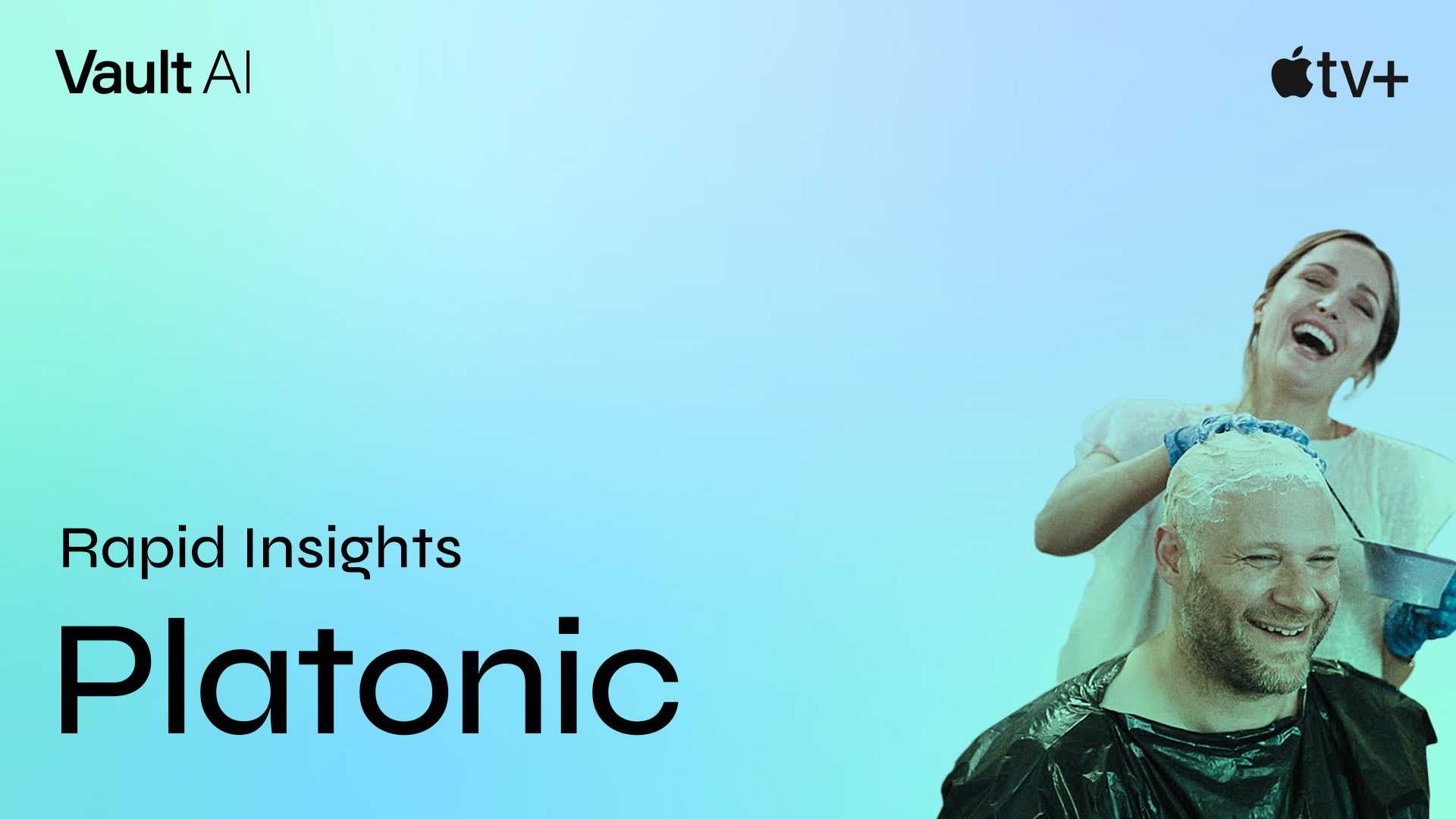 After their hilarious pairing in the Neighbors films, Seth Rogen and Rose Byrne have again joined forces for Apple TV+'s new limited series releasing on May 24. While the show is technically a romantic comedy, its trailer goes all-in on its riotous "com" over its "rom," a creative choice reflected in its humor-heavy viewership drivers. The show tells the story of two estranged childhood pals who reconnect as adults and try to recapture the magic of their former friendship.
Here's what you need to know about Platonic:
Vault AI uses index scores to describe the impact a given story/theme/element will have on specific KPIs: 
≤79 Disappointing  80-89 Challenging  90-109 Average  110-119 Promising  120+ Outstanding
Who will be tuning in for this rowdy comedy?
A broad adult audience. We're predicting a viewership that's gender-balanced (51% male / 49% female) and mostly older (63% aged 30+). That's less female-skewing than Byrne's other Apple TV+ series (dark dramedy Physical, at 59% female) but right in line with several of the streamer's recent comedies (Loot, The Afterparty).
Why will audiences want to watch?
To see Sylvia's life implode. When her childhood Friendship (137) with Will is rekindled, the pair regress into madcap adolescence, shaking up her "boring" Family Life (145) and causing clashes with her other friends (Friendship Conflict, 160) and husband (Family Relationships, 136). The resulting disarray is the show's main ratings driver.
How will the comedy contribute to the show's success?
By making it bingeworthy. The Awkward & Funny Moments (131) arising from Will's hilariously childish antics (Arrested Development, 137) and the scenes of Over-the-Top Humor (128)–from a surprise raccoon attack, to a sudden glass door collision, to getting high on horse tranquilizers–will keep viewers engaged.

What kind of viewing experience will audiences be looking for?
An upbeat one. The show's heavy focus on comedy will lead viewers to expect a host of positive emotions that suggest a good time, like Anticipation (151), Admiration (146), Joy (140), and Optimism (140).

Will fans of Neighbors and Neighbors 2 enjoy Platonic?
Definitely. We're calculating an outstanding fan affinity score of (121), meaning that those who liked Rogen and Byrne's first two collaborations are sure to love their third. These fans will be more drawn to their characters' Midlife Crisis (121) and raucous Partying & Drug Use (121), themes also echoed in Neighbors.
Break free from slow and expensive oversampling 
Create hyper-targeted fan groups and analyze every audience that matters to you.
Introducing SEGMENTS, the groundbreaking new feature revolutionizing how you analyze and target your audiences.
Get rich AI-powered audience insights at your fingertips with 5 Custom Segments included as standard. Define your own or choose from our library of 500+ ready made Segments. No extra costs, no time delays.
*Publicly released trailers for series are evaluated using Vault AI's algorithms – utilizing our proprietary 120K+ story element database alongside ratings performance and other datasets – to identify unique combinations of stories, themes, characters, and genre elements that will drive success.