Rapid Insights: One Piece, a Rare Success in the Live-Action Anime Genre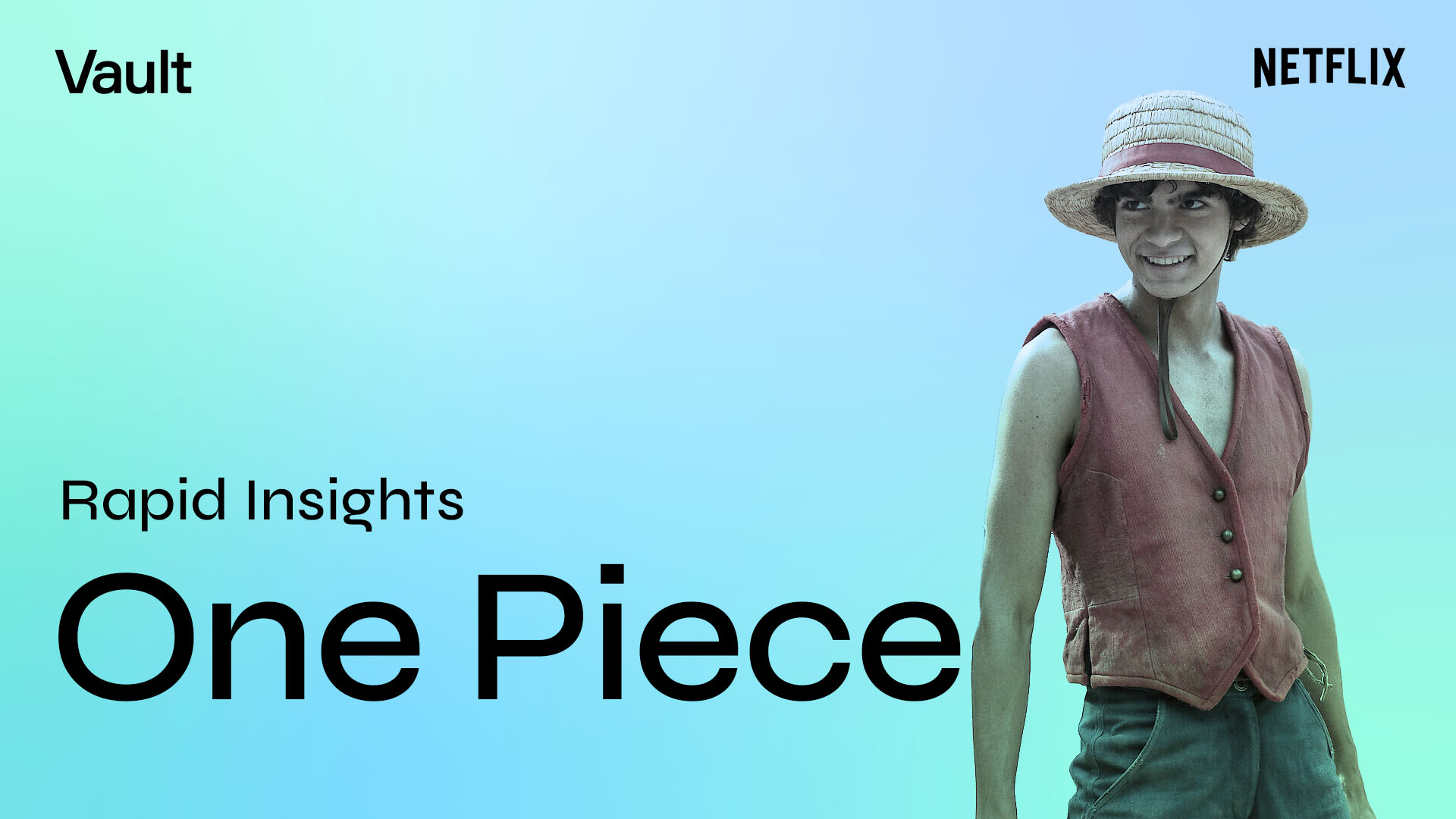 On August 31, Netflix released its new live-action adaptation of a beloved classic manga and anime franchise and the show was an undeniable hit, ranking #1 in viewership in 84 countries over its first weekend. Already renewed for a second season, the series follows the fantastical misadventures of an eclectic pirate crew as they scour land and sea to find a fabled lost treasure.
Here's what you need to know about One Piece:
Vault uses index scores to describe the impact a given story/theme/element will have on specific KPIs: 
≤79 Disappointing  80-89 Challenging  90-109 Average  110-119 Promising  120+ Outstanding
Who's been watching this wildly successful adaptation?
Males. The One Piece audience is heavily male (69%) and mostly older (63% aged 30+), a near exact match for fellow Netflix live-action anime adaptation Cowboy Bebop. Both have run quite a bit older than the streaming audience for animated anime series like Dragon Ball Super (only 43% aged 30+) and Attack on Titan (only 36%).
Why are so many people tuning in for One Piece?
Its imaginative world and memorably motley crew. The show highlights the hard-won Camaraderie (142) that forms after a band of wacky misfits Team Up (142) under the Leadership (134) of novice captain Monkey D. Luffy to become the swashbuckling Straw Hat Pirates. Viewers are rooting for these underdogs to pull together and find the legendary missing treasure, all while navigating a world full of dangerous cutthroats (Piracy, 141), mythical monsters, and superbeings with powers like super speed and telekinetic dismemberment (Life in Danger, 134).
How is One Piece's social buzz?
Through the roof. Matching its strong viewership, the show has seen a sustained level of online chatter that has maxed out our social buzz meter (at 160) since it was released almost three weeks ago. The popularity of its source material also created considerable ingoing interest: there were big spikes in buzz for the series' release date announcement as well as each trailer drop. Its viewers are primarily talking and tweeting about the Straw Hat Pirates' collective treasure hunt (Teamwork, 146) and their earnest captain's quest to win the title 'King of the Pirates' (Ambition & Drive, 138).
What will drive the show's long-term story arcs?
Interpersonal dynamics. As individuals, the misfits and weirdos in the Straw Hat Pirates represent a range of talents, personalities, and backgrounds (Cultural Diversity, 122), and, deep down, they're all searching for Family (122) and a sense of belonging. The Unlikely Friendships (120) they form with each other will set the stage for future conflicts and create an evergreen story engine for next season and beyond.
How is One Piece different from Cowboy Bebop?
It's not quite as intense. Cowboy Bebop–Netflix's other recent live-action anime adaptation–makes for an obvious point of comparison for One Piece, and both do feature a wacky team-up of unlikely companions (bounty hunters, in the former's case) on a wide-ranging search for their quarry. However, Cowboy Bebop features a very different storytelling style, leaning into its futuristic Sci-Fi (135) space setting with cool Gizmos & Technology (123) and bringing in viewers with 'shoot 'em up' Stylized Action & Violence (116) and a clear-cut fight between the protagonists and the gun-toting villains they're pursuing (Good vs. Evil, 118). One Piece, on the other hand, focuses on the more absurdly comical Awkward Misadventures (152) of its hapless crew, and its fight sequences take on a more surrealist bent thanks to their captain's ability to stretch his body like rubber.
Your On-Demand Content Assistant
Vault GPT leverages the power of Vault's vast content database and insights engine to transform development, marketing and sales workflows empowering users with ondemand coverage-like-summaries and briefs combined with insights – a cutting edge new tool for today's executive.
100% safe and secure, Vault GPT is trained on over 60,000 film and television titles from the Vault database that contain both story and performance data.
Upload anything – a book, a script, a treatment – and let Vault GPT do the heavy lifting. In less than 1hr you'll have automated summaries giving you insights into characters, key themes, plot, and even potential taglines.
Spots are limited, join the waitlist to secure your place in line.
*Publicly released trailers for series are evaluated using Vault's algorithms – utilizing our proprietary 120K+ story element database alongside ratings performance and other datasets – to identify unique combinations of stories, themes, characters, and genre elements that will drive success.