Rapid Insights: National Treasure Adds a New, Younger Twist to the American History-Based Franchise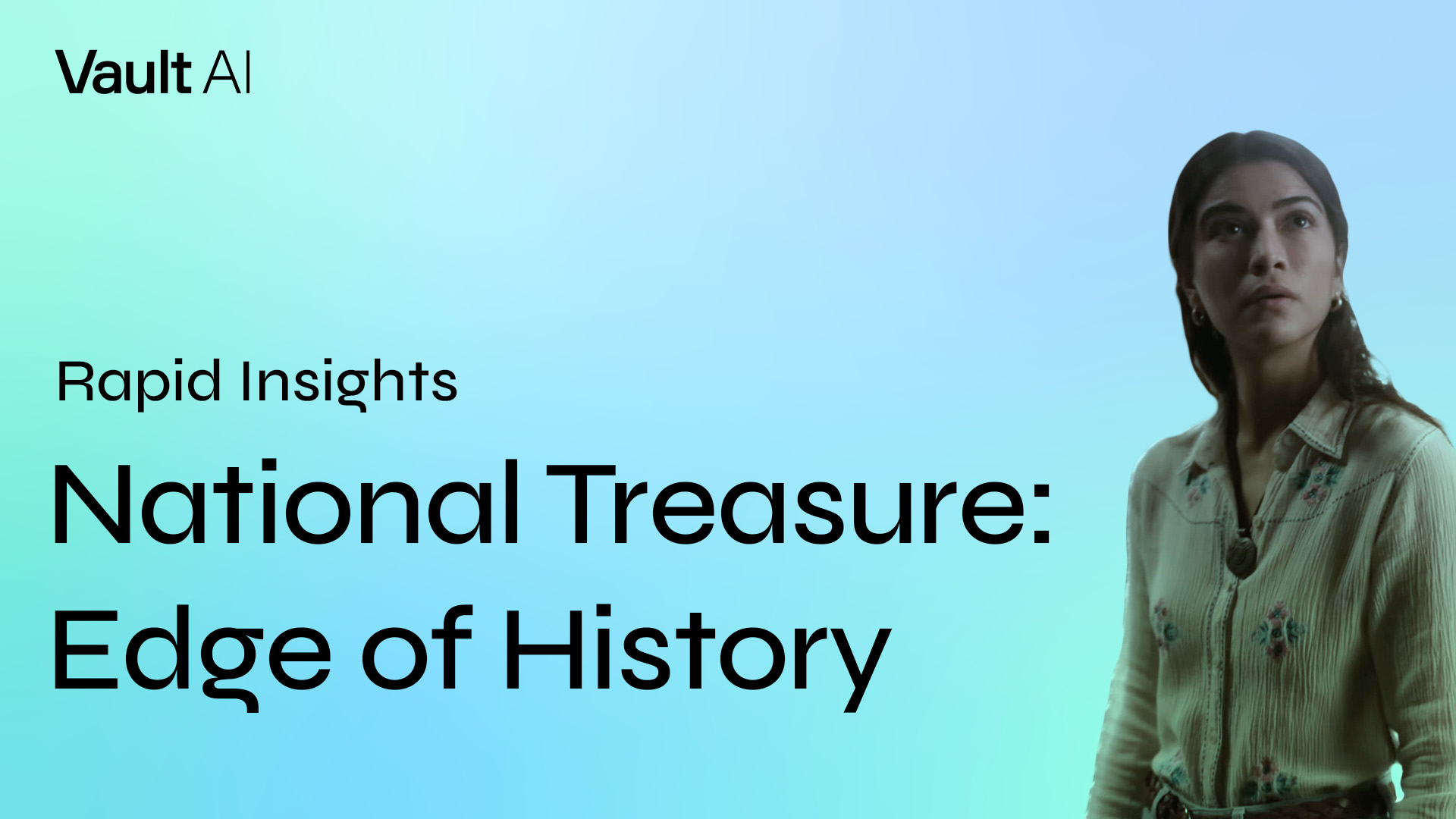 Next month, Disney+ will release a series-length continuation of National Treasure, a wildly successful action-adventure film franchise from the mid-2000s. The new show will honor what came before–including with familiar faces, as actors Justin Bartha and Harvey Keitel will reprise their original supporting roles–while still adding a fresh twist by focusing on a younger, more diverse group of treasure hunters led by Jess, a twenty-year-old Dreamer trying to solve a deep family mystery. Vault predicts this new series will reinvigorate the franchise, striking ratings gold with audiences. Here's what you need to know about National Treasure: Edge of History:
Vault AI uses index scores to describe the impact a given story/theme/element will have on specific KPIs: 
≤79 Disappointing  80-89 Challenging  90-109 Average  110-119 Promising  120+ Outstanding
Who will be tuning in for the show's premiere?
We're predicting an audience that will lean female (54%) and be heavily older (67% aged 30+), the latter potentially thanks to the popularity of its name-brand IP Extension (144) with older Millennials, who would've seen the original Nicolas Cage movies as teens.
How important is the core National Treasure brand?
Essential. The essence of the first two films is baked right into the DNA of this spin-off, with the plot again centered around a Dangerous Mission (160) to solve a series of hidden clues leading to a missing treasure, all while Emotions are Running High (160) against a backdrop of adrenaline-filled chase sequences (Action & Violence, 160). This epic, race-against-time scavenger hunt, with our heroes pitted against a nefarious antagonist (this time played by Catherine Zeta-Jones), is a foundational ratings driver. At the same time, other elements unique to the franchise–its links to hidden facets of American History (152) and its incorporation of Myth & Fantasy (121) in the form of fantastical rare and ancient relics–will make the show bingeworthy.
What will be the impact of the show's younger cast?
Increased ratings. While the original National Treasure movies focused on a pair of more fully-fledged professional heroes (played by Nicolas Cage and Diane Kruger), Edge of History has chosen to age down its lead characters and make the show more family-friendly and diverse. Consequently, Jess, the young Strong Female Protagonist (160) at the story's core, and the Teen Friendships (160) she maintains with her treasure hunting comrades, will be a crucial part of why Disney+ subscribers will check out the series.
What will keep viewers coming back? 
Jess's family mystery. It will help propel Edge of History into a second season. This extended arc, with Jess doggedly Searching for the Truth (125) about her Family's Secret (134) past–everything she knows about her parents is a riddle solvable only by finding the historical treasure–will provide the long-term emotional stakes and story engine needed to drive longevity.
What type of viewing experience will hook viewers?
A balanced one. Streaming audiences will be lured in by the tension and suspense (Terror, 144; Fear 138) that swirl around the show's high-stakes treasure hunt adventure, but it's the more positive emotions like Optimism (123), Joy (123), and Love (123) arising from the young team's deep, mutually-supportive friendships that will keep them watching.
*Publicly released trailers for series are evaluated using Vault AI's algorithms – utilizing our proprietary 120K+ story element database alongside ratings performance and other datasets – to identify unique combinations of stories, themes, characters, and genre elements that will drive success.
About Vault AI
Based in Los Angeles and Israel, Vault AI is using a combination of machine learning and consumer insights experts to help the entertainment industry predict consumer response to content. Test your content faster and more accurately with Vault AI and get granular insights across the entire content life cycle today.