Rapid Insights: Mel Brooks's History of the World: Part II Is Star-Studded and Laugh-Driven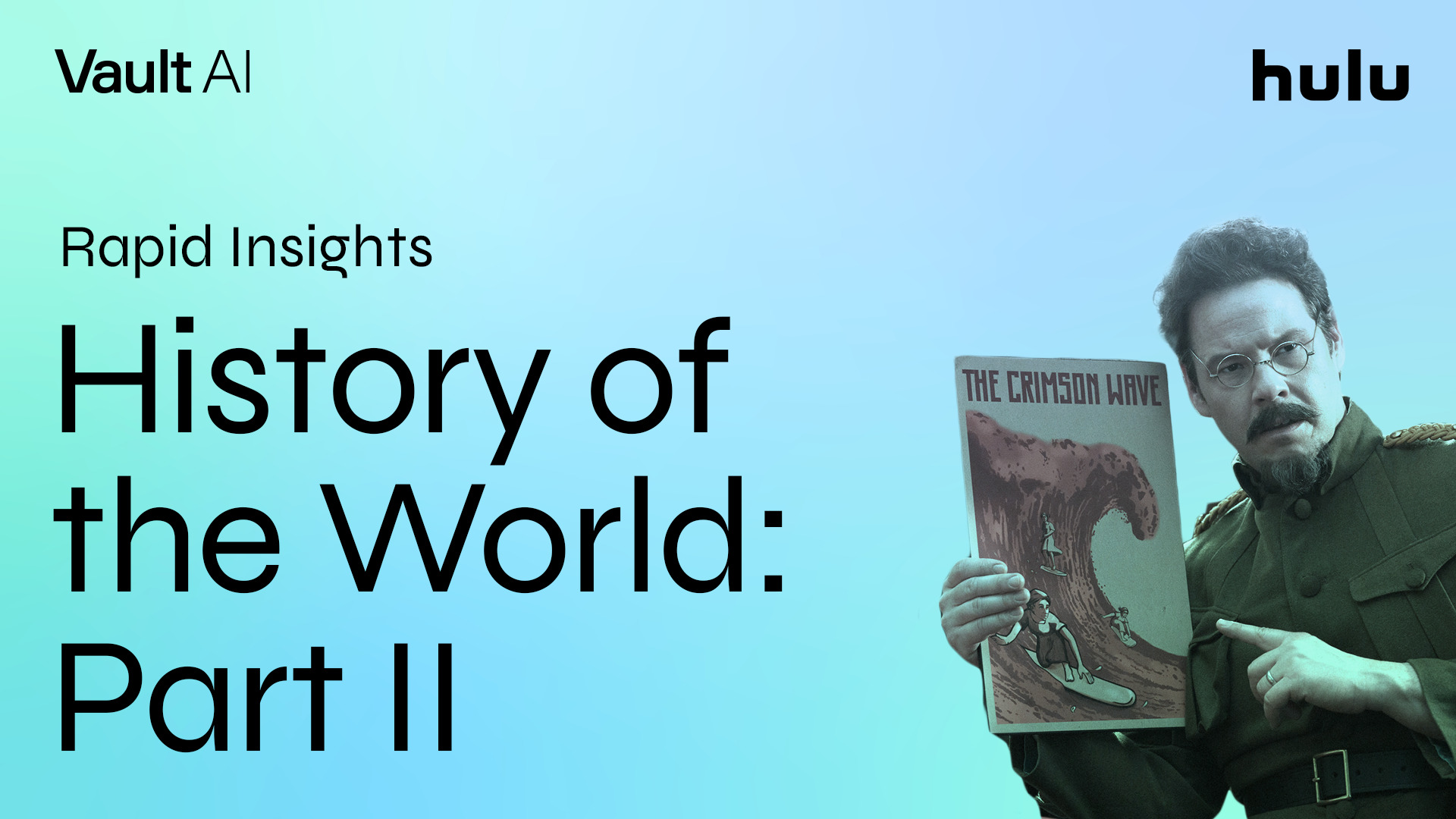 Want to listen instead of reading? Click here and we'll read it to you. 
The never-actually-planned sequel to History of the World: Part 1 (the subtitle was a joke) is about to become an unexpected reality, as the illustrious Mel Brooks has at long last penned a continuation of his hysterically beloved 1981 film. The resulting sketch comedy limited series rolls out on Hulu next week as a four-night special event and is one of the most anticipated shows of the year, having picked up considerable buzz since its widely shared trailer drop thanks in no small part to its star-studded cast.
Here's what you need to know about History of the World: Part II:
Vault AI uses index scores to describe the impact a given story/theme/element will have on specific KPIs: 
≤79 Disappointing  80-89 Challenging  90-109 Average  110-119 Promising  120+ Outstanding
How will History of the World's audience compare to other sketch comedy series?
It will include more men. We're predicting that History viewers will be both mostly male (67%) and mostly older (61%), a somewhat more angular audience than the norm. Previous shows like The Eric Andre Show and Portlandia only leaned male (both 57%), while others (Inside Amy Schumer, MadTV, Key & Peele) fell closer to a gender-balanced middle ground (46-51% male).
What will be the show's biggest draw?
Its zaniness. The crazy, Over-the-Top Humor (147) derived from its outrageous "historical" scenarios and the goofy Foolishness (147) of its satirical characters is History's most distinctive feature. The show also stars a veritable who's who in the comedy world, including Wanda Sykes, Nick Kroll, Danny DeVito, Johnny Knoxville, Taika Waititi, Seth Rogan, Sarah Silverman, Jack Black, and many more, and viewers will want to tune in to see their delectable take on Brooks's comedy.
What will keep viewers coming back each night?
The history. Underneath the jokes, quips, and clever parodies is a foundation (loosely) Based on Historical Events (130), with sketches centered around well-known figures like Sigmund Freud, Marco Polo, and Harriet Tubman. There are even prominent Religious Themes (119) as the show dips into biblical personages like Mary Magdalene and Noah (of Noah's Ark fame). The series doesn't just offer laughs, it also taps into the Emotional Rollercoaster (132) of major, real-life world events, which will make it eminently bingeworthy.
What will get people talking online?
The creative license it takes with history. Buzz-wise, the series is already off to a great start, as the early February trailer release shot to 8M views on YouTube within only two weeks. Once the episodes roll out, it's the reimagined settings and reinvented situations that viewers will want to discuss; audiences will be excited to see familiar real-world figures brought to life with a modern wink, with exaggerated personalities and outlandish Workplace Dynamics (130) to bring out the comedy.
Get Access to Our MIE23 Talk
Get your hands on a recording of our 'Using AI to Get Audience Insights Without Ever Asking' talk from MIE23 – including a case study by Warner Bros. Discovery. Simply register your details and we'll send you the recording as soon as it lands.
*Publicly released trailers for series are evaluated using Vault AI's algorithms – utilizing our proprietary 120K+ story element database alongside ratings performance and other datasets – to identify unique combinations of stories, themes, characters, and genre elements that will drive success.