Rapid Insights: Marvel's Secret Invasion Will Bring the Best of the MCU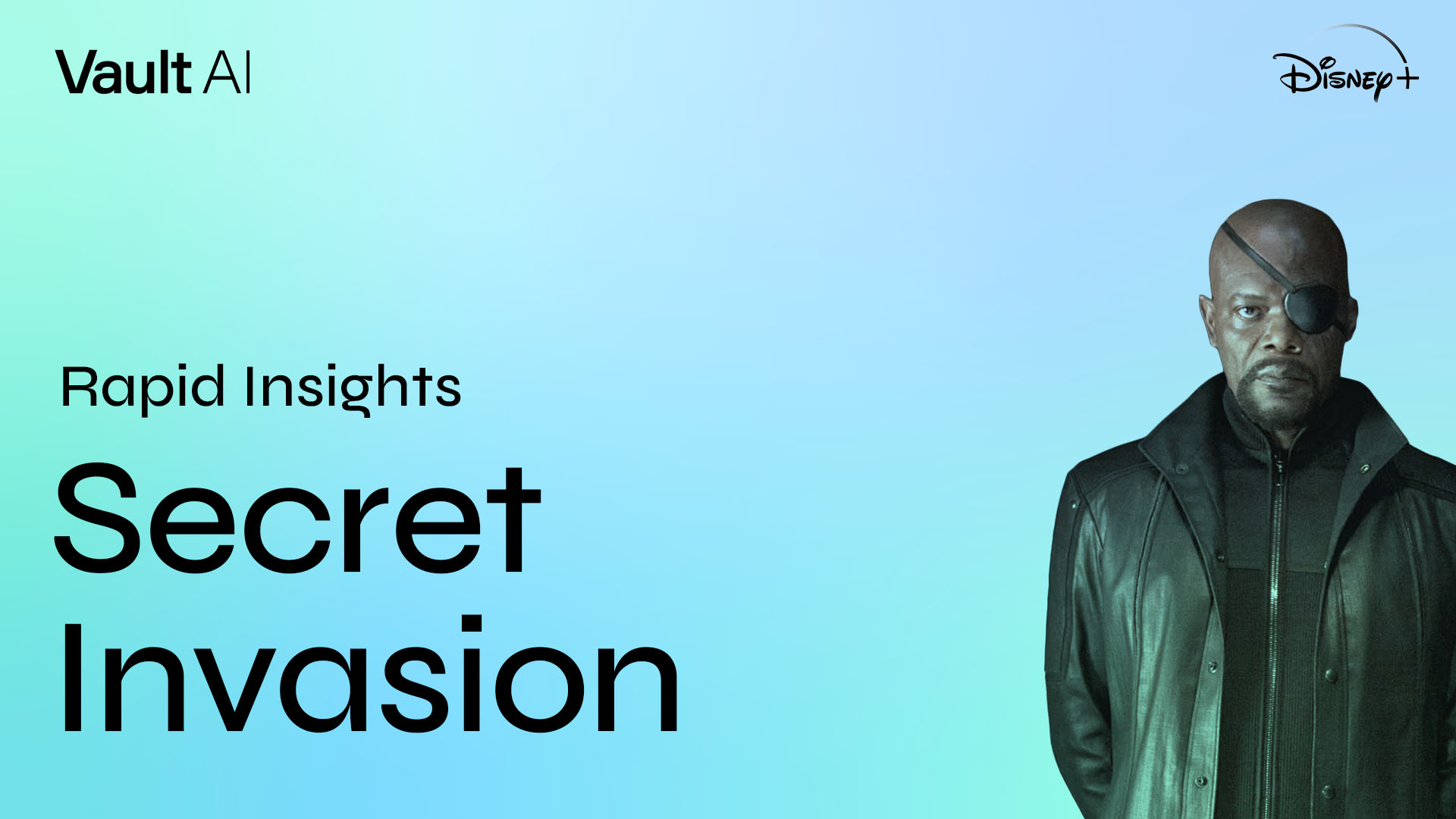 Disney+'s next entry in the Marvel canon, releasing in early June, will be the first streaming series of the MCU's Phase Five and has already picked up considerable buzz. Based on the comic storyline of the same name, the show will follow Nick Fury (Samuel L. Jackson) and his allies as they attempt to thwart a Skrull invasion of Earth before the alien shapeshifters can destroy all of humanity.
Here's what you need to know about Secret Invasion:
Vault AI uses index scores to describe the impact a given story/theme/element will have on specific KPIs: 
≤79 Disappointing  80-89 Challenging  90-109 Average  110-119 Promising  120+ Outstanding
How will this audience compare to Disney+'s other Marvel series?
It'll be more gender-skewed than most. We're predicting a heavily male (62%) viewership, much more so than The Falcon and the Winter Soldier (57%), Hawkeye (52%), Moon Knight (54%), WandaVision (50%), and She-Hulk (53%); Loki is its closest comp (at 60% male). All, however, appeal similarly to a mostly older demo (60-66% aged 30+).
How is the online buzz looking?
Stellar. Its social tracking maxed out our buzz meter (at 160) after its second trailer drop (and hit (150) after its first), scores very much in line with Marvel's typical highs; most of the previous series stayed in the conversation long after their episodes released, and Secret Invasion seems poised to do the same. Viewers will primarily be tweeting about the Skrull invasion conspiracy and Nick Fury's Search for the Truth (135).
Which aspect of the show will viewers most be tuning in to see?
A deeper portrait of Nick Fury. After a long post-Endgame stint in deep space, Fury's return to Earth (Lifestyle Change, 156) is complicated by an existential crisis–and the potential end of humanity. His team-up with allies Talos and Maria Hill (Co-Worker Relationships, 134) to stop the Skrull invasion will shed more light on his enigmatic character as well as offer plenty of classic Marvel Stylized Action & Violence (113). All will be top ratings drivers.
How important is Secret invasion's connection to the MCU?
Absolutely essential. The show's place within the broader Marvel Universe (150) is its top driver of bingeability, a common theme for all of the Disney+ Marvel series (the motif is the #1 or #2 bingeability driver across the board). Viewers won't be able to look away as the story links itself back to previously-revealed characters and events, such as the Skrulls' backstory in Captain Marvel (Alien Lifeform, 112).
What will carry this miniseries into future MCU spin-offs?
Its tense revelations. Though Secret Invasion has been conceived as a limited-length show, the Dangerous Missions (114) undertaken by Nick Fury and his allies and the threatening Secrets & Lies (117) they uncover will help feed into the brand's next phases of storytelling.
Break free from slow and expensive oversampling 
Create hyper-targeted fan groups and analyze every audience that matters to you.
Introducing SEGMENTS, the groundbreaking new feature revolutionizing how you analyze and target your audiences.
Get rich AI-powered audience insights at your fingertips with 5 Custom Segments included as standard. Define your own or choose from our library of 500+ ready made Segments. No extra costs, no time delays.
*Publicly released trailers for series are evaluated using Vault AI's algorithms – utilizing our proprietary 120K+ story element database alongside ratings performance and other datasets – to identify unique combinations of stories, themes, characters, and genre elements that will drive success.