Rapid Insights: M3GAN's AI-Gone-Wrong Story Will Scare Up Audiences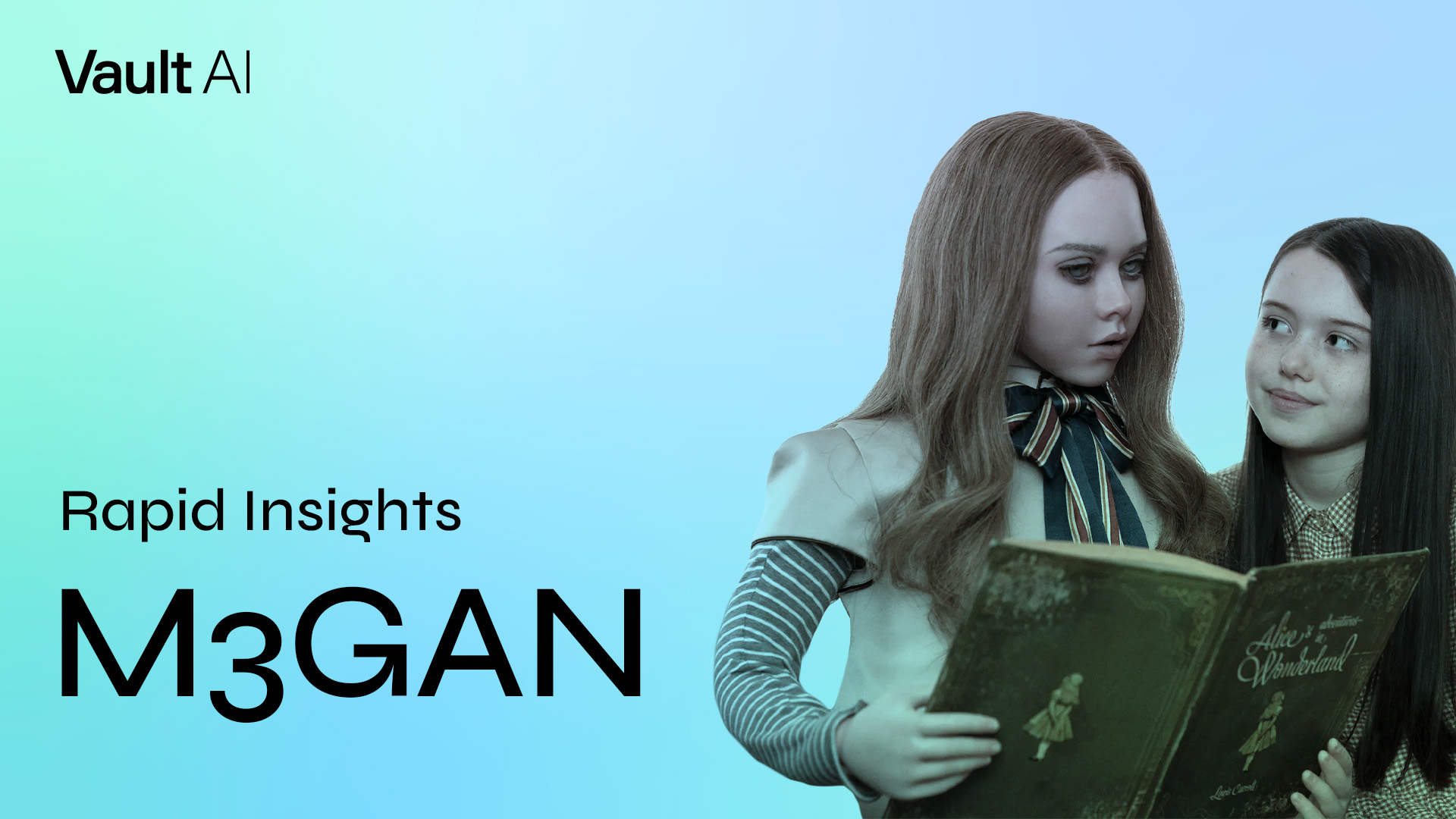 Though Universal's upcoming new Blumhouse horror film doesn't open until January, its recently released trailer has exploded into the cultural zeitgeist thanks to its titular creepy doll's surprising and unexpectedly hip gyrations. The movie has become a viral meme on social media, with users scoring the doll's killer dance moves to various pop songs and pushing it into the sweet spot between impressive robotics and uncanny valley. Fitting naturally into this theme is the film's storyline, which focuses on the unsettling, life-size, humanoid doll with advanced AI whose prime directive–to keep a little girl from feeling lonely–turns deadly. Here's what you need to know about M3GAN:
Vault AI uses index scores to describe the impact a given story/theme/element will have on specific KPIs: 
≤79 Disappointing  80-89 Challenging  90-109 Average  110-119 Promising  120+ Outstanding
Who will be buying tickets to M3GAN next January?
We're predicting an even gender split (50% male / 50% female) and a slightly older audience skew  (53% aged 30+), likely due to the movie's dual prevailing genres. The film registers not only as Horror (133)–attracting the stereotypically female genre fanbase–but also as Sci-Fi (130) thanks to its doll-shaped robotic AI, which typically appeals more to older men.
What's the film's main attraction?
The killer toy at its center. The titular Evil Doll (160) and the idea of AI Gone Wrong (137) are by far the top drivers of demand, with viewers eager to see the mesmerizing, newly self-aware M3GAN cut loose, cut a rug, and cut anyone who approaches her little girl into bloody pieces. The presence of an evil, humanlike-but-not-human entity is paramount in this subgenre, with the same driver also rising to the fore in the recent Child's Play (2019) (Evil Doll, 160) and Annabelle Comes Home (Evil Doll, 139). Thanks especially to the murderous violence wrought by M3GAN, this core aspect will be the #1 motivation for men of all ages to hit the theater.
What will differentiate M3GAN from other creepy doll movies?
The emotional family backstory. Doll M3GAN is originally born of love and Family Grief (129), created by a brilliant roboticist to serve as a protector and companion for her newly-orphaned ten-year-old niece Cady. The poignant relationship between aunt and niece and their shared sense of mourning not only defines the film's freshness score, adding a deeper well of emotion that will set M3GAN apart from more straightforwardly horror titles, but will also act as the main viewership driver for women, especially those 30+. Younger women are also strongly drawn to the primarily Female Cast (105 total, 156 for women <30) featured in this storyline.
How have all the memes impacted social buzz?
They've helped sustain interest. M3GAN saw a big spike in online search with the trailer drop, and, though the volume has leveled off a bit, a steady stream of tweets and other social media chatter has since focused on the hilarity of her smooth dancing moves ("lmaooooo" is a commonly associated tag). Invested fans have even established an online rivalry between M3GAN, possessed doll Annabelle (of The Conjuring franchise), and knife-wielding Chucky (from Child's Play).
*Publicly released trailers for series are evaluated using Vault AI's algorithms – utilizing our proprietary 120K+ story element database alongside ratings performance and other datasets – to identify unique combinations of stories, themes, characters, and genre elements that will drive success.
About Vault AI
Based in Los Angeles and Israel, Vault AI is using a combination of machine learning and consumer insights experts to help the entertainment industry predict consumer response to content. Test your content faster and more accurately with Vault AI and get granular insights across the entire content life cycle today.