Rapid Insights: Luther: The Fallen Sun Sees Idris Elba Reprise His Role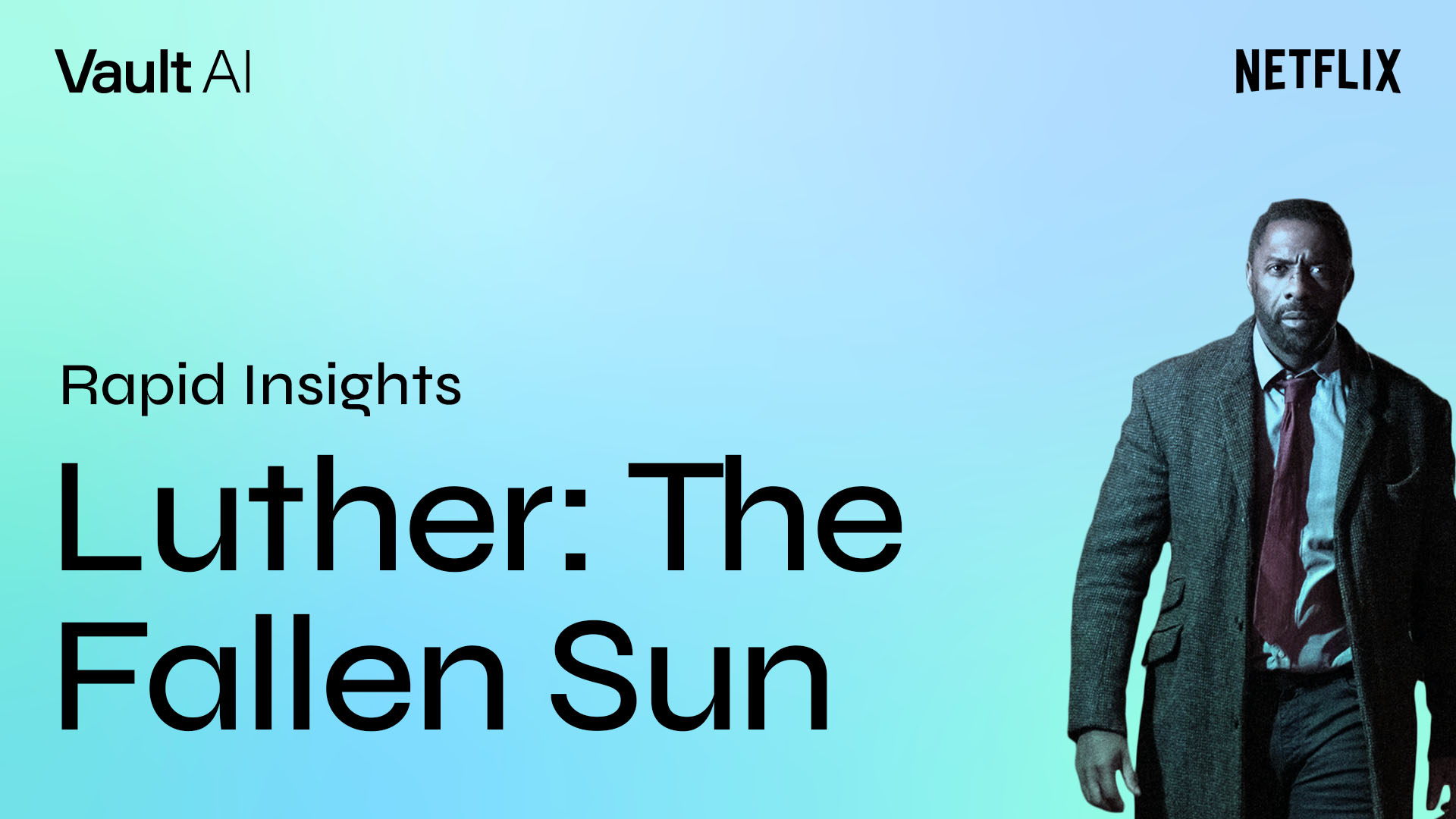 Want to listen instead of reading? Click here and we'll read it to you. 
Four years after the final sign-off of the BBC's dark detective series Luther comes Netflix's feature-length continuation to pick up where the show left off. When it releases for streaming next week, star Idris Elba will reprise his role as the tortured Detective Chief Inspector John Luther, a brilliant but haunted lawman often trapped by his own obsessions, this time on the trail of a terrible new killer.
Here's what you need to know about Luther: The Fallen Sun:
Vault AI uses index scores to describe the impact a given story/theme/element will have on specific KPIs: 
≤79 Disappointing  80-89 Challenging  90-109 Average  110-119 Promising  120+ Outstanding
How will Fallen Sun viewers compare to the original Luther audience?
They'll skew somewhat younger. Fallen Sun is expected to attract an audience that's 52% male and 75% aged 35+, numbers that reflect its new streaming-only home; overall, we're predicting the strongest demand among men 35-54 (126). In contrast, the original show, which Americans first saw linearly on BBCAmerica, leaned slightly female (54%) and significantly older (91% aged 35+).
What's driving the online chatter for this new film?
The IP Extension (122). Most of the excitement on social media stems from Idris Elba reprising his iconic role, especially as the series ended with his character seemingly down and out; audiences are eager to find out what's next for the brooding, tortured DCI, especially with talents like Cynthia Erivo and Andy Serkis newly added to the cast.
Where does the film pick up with DCI Luther?
In prison. The series ended with the character serving time for multiple murders–falsely, though his hands were not completely clean–turning him into a compellingly compromised lead for the film (Criminal as Protagonist, 114). His conviction and subsequent escape (Escaped Prisoner, 126) make for a set of very Complicated Workplace Dynamics (138) among the policemen and -women who used to be his peers. All are key drivers for both ratings and perceived originality.
Which part of the film will have the biggest impact on viewer demand?
Its edge-of-your-seat suspense. As Fallen Sun is effectively an entire season of Luther distilled into two hours, its High Stakes (114) thrills will feel even more intense. The titular DCI must pursue a treacherous villain in a race against time (Against the Odds, 145), placing his own Life in Danger (152) while also evading the Police in Pursuit (145) who are hot on his heels and eager to see him behind bars once again.
Which aspect of the show will most carry over into the film's ratings?
The moral complexity. Fallen Sun leans into many of the same layered elements that made the Luther series so successful: Psychological Investigations (126), Moral Dilemmas (122), Conflicts of Interest (126), and dark, twisted Obsessions (125). Viewers will revel in the shades of gray and pitch-black morass of Luther's latest case as the detective continues to risk his own Morality (122) by making dubious compromises in the name of justice.
What will make the film stand out from the series?
A compelling new villain. Luther's complicated relationship with Alice Morgan, his psychopathic Archenemy (131)-cum-Unlikely Friend (130), was the ongoing draw over the series' five seasons, but she's no longer in the picture by the events of the new film. Instead, Fallen Sun introduces viewers to Andy Serkis' David Robey, a billionaire serial killer with a penchant for gruesome, manipulative technology (Cyber Psychopath, 140) who lands in Luther's crosshairs after a desperate Cry for Help (132) from the mother of a victim. Robey is Fallen Sun's top driver of freshness.
Follow us on LinkedIn for more
*Publicly released trailers for series are evaluated using Vault AI's algorithms – utilizing our proprietary 120K+ story element database alongside ratings performance and other datasets – to identify unique combinations of stories, themes, characters, and genre elements that will drive success.
Stay in the know