Rapid Insights: Love & Death Is a True Crime Killer Romance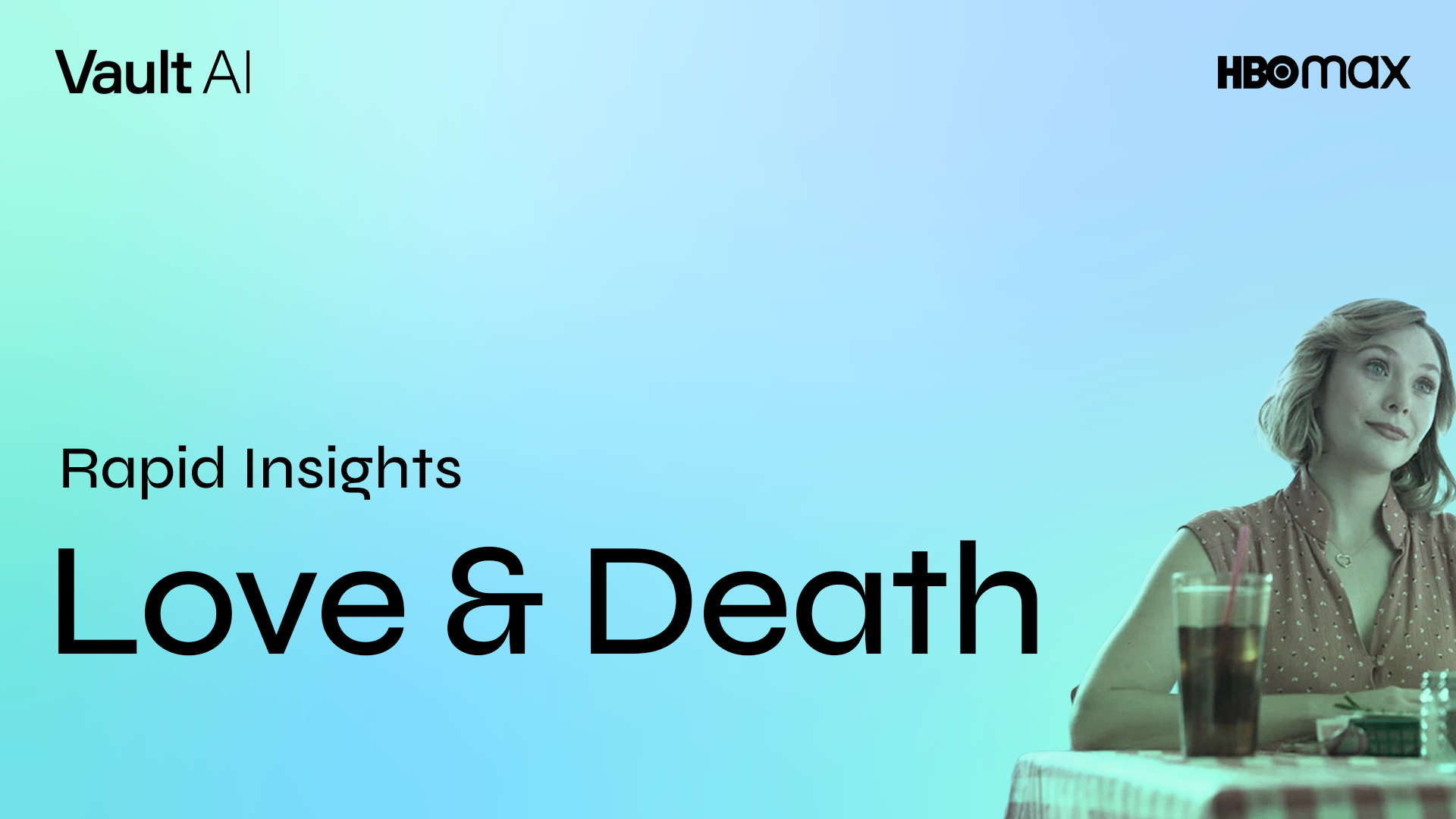 Late next month, HBOMax will give another boost to the recent true crime drama trend by releasing a new limited series that delves into the whys and wherefores of a brutal real-life murder. Created by the ever-prolific David E. Kelley, the show stars Elizabeth Olsen as Texan housewife Candy Montgomery, who was accused in 1980 of taking an ax to her lover's wife–who also happened to be her best friend.
Here's what you need to know about Love & Death:
Vault AI uses index scores to describe the impact a given story/theme/element will have on specific KPIs: 
≤79 Disappointing  80-89 Challenging  90-109 Average  110-119 Promising  120+ Outstanding
Who will be tuning in for this dramatized murder?
Older women. We're predicting an audience that's 61% female and 70% aged 30+, a profile similar to the viewership for other female-led recent true crime dramas like The Thing About Pam, Inventing Anna, The Girl from Plainville, The Act, and Candy, Hulu's 2022 take on the same memorable story.
What type of story will Love & Death be telling?
A layered one. The series opens with a murder Mystery (126), teasing questions about victim and slayer, and from there spins out a complicated, outrageous tale of Crime (124), interpersonal Drama (122), uneasy suspense (Thriller, 114), and a central character who contains multitudes (Biography, 111).
What will be the show's biggest selling point?
Its complex relationships. As told through Candy's warped perspective (The Accused POV, 135), the audience will get a front row seat to the building Romantic Tension (138) between the soon-to-be murderer and her lover, the Marital Problems (123) mushrooming within her own marriage, and the tangled, intersecting Family Relationships (127) between the two couples at the heart of this story. This series is living proof that Small Town Life (120) doesn't always equal small town happenings, and all are top ratings drivers.
What will keep viewers watching?
The depravity of the real-life case. Candy's betrayal of her victim and over-the-top choice of weapon–she struck her friend 41 times with a wood splitting ax–will create an irresistible trainwreck of Bloody Violence (126) and Dark Themes (125) from which audiences won't be able to look away. The fact that it's all Based on a True Story (128) will make the entire tale even more compelling.
How does the social buzz look?
Strong. The show has already reached a high-water mark of 140 (out of a possible 160) with only a teaser trailer; things will undoubtedly pick up even more as its campaign gets underway (a pattern mimicking Candy, which maxed out our buzz meter upon release). Once it airs, viewers will be tweeting about the same jarring elements that will make it so deliciously bingeable (its dark, twisted streak).
Follow us on LinkedIn for more
*Publicly released trailers for series are evaluated using Vault AI's algorithms – utilizing our proprietary 120K+ story element database alongside ratings performance and other datasets – to identify unique combinations of stories, themes, characters, and genre elements that will drive success.
Stay in the know