Rapid Insights: LGBTQIA+ Characters Offer a Unique Perspective that Draws in Viewers
To honor the last week of Pride Month, and with the recent success of shows like Heartstopper, Euphoria, Queer Eye, and Love, Victor across both TV and streaming, Vault AI wanted to dig deeper into current trends for series with prominent LGBTQIA+ themes. Here's what Vault uncovered:
What demographic tends to be the most attracted to series with compelling LGBTQIA+ hooks?
Women. Of all the series in StoryGuide that motivate viewership via their LGBTQIA+ Themes and Protagonists, the vast majority skew female, with an average audience make-up of 61%.
What's the trend for LGBTQIA+-related shows in recent years?
Rising in number and popularity. As a viewership driver, LGBTQIA+ Themes has become increasingly prevalent since roughly 2016, helping to boost ratings, binge, and longevity for the shows that offer it. So far peaking in 2021 with 19 occurrences, this driver—defined as "topics connected to members of the LGBTQIA+ community"—has an "outstanding"-level impact nearly every time it appears.
How are LGBTQIA+ leads being represented on-screen today?
With more nuance than ever. Over the last few years, shows as varied as Euphoria and Joe vs. Carole, and have found success in fully dimensionalizing their main characters, building them out to where their sexuality is one of many key traits rather than the only one. LGBTQIA+ Protagonists explore storylines ranging from Adultery and Dysfunctional Relationships to Teen Life and Rivalry–just like any non-LGBTQIA+ role.
What's the impact of featuring an LGBTQIA+ protagonist?
Strong and positive. Queer leads are increasingly becoming more of a draw for audiences eager for unique and authentic characters and storylines that center historically maginalized voices. In only the first six months of 2022, LGBTQIA+ Protagonists have already become more prevalent and more impactful than in both 2020 and 2021, particularly in terms of encouraging binge-watching.
Which story drivers work best alongside LGBTQIA+ Themes?
Love and family dynamics. Queer themes are often most effectively explored within the context of close personal relationships, creating tension and emotion that become compelling reasons to watch. Indeed, LGBTQIA+ narratives that highlight Romantic and Family Relationships in particular tend to drive ratings and bingeability.
*Publicly released trailers for series are evaluated using Vault AI's algorithms – utilizing our proprietary 120K+ story element database alongside ratings performance and other datasets – to identify unique combinations of stories, themes, characters, and genre elements that will drive success.
Vault AI uses index scores to describe the impact a given story/theme/element will have on specific KPIs: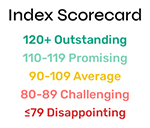 —
Stay in the know

Subscribe to get Rapid Insights delivered to your inbox weekly.
Sign up for StoryGuide for more details and analysis.
About Vault AI
Based in Los Angeles and Israel, Vault AI is using a combination of machine learning and consumer insights experts to help the entertainment industry predict consumer response to content. Test your content faster and more accurately with Vault AI and get granular insights across the entire content life cycle today.