Rapid Insights: Hello Tomorrow!'s Quirky Dramedy Shoots for the Moon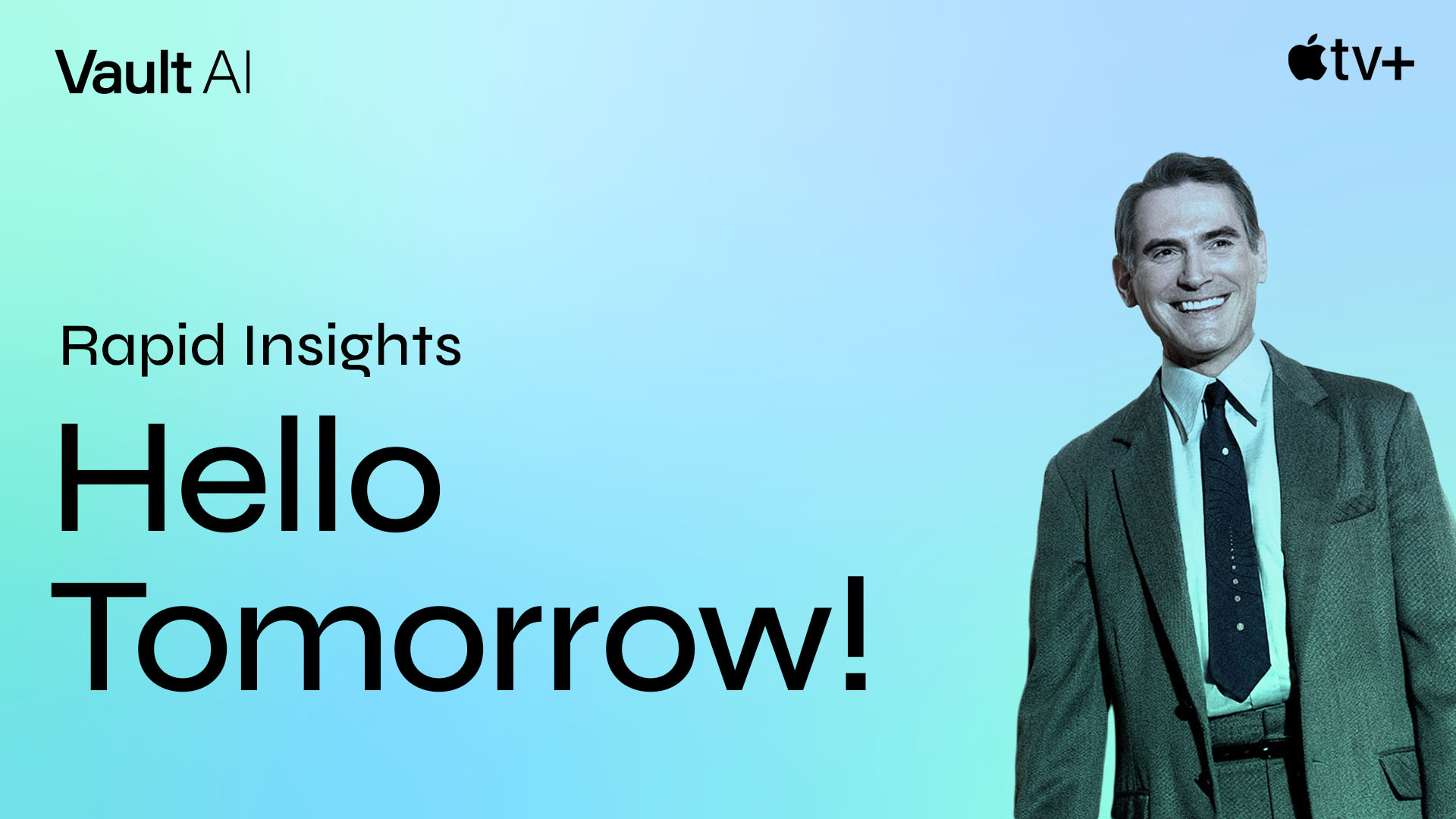 Following the success of its alt-history astronaut drama For All Mankind, this Friday Apple TV+ will be releasing a new sci-fi dramedy that also understands the intoxicating lure of outer space. Set in a 1950s retro-future world reminiscent of Disney's Tomorrowland, the series stars Billy Crudup as a talented, ambitious salesman promising desperate customers a bigger, brighter future through his signature product: timeshares on the moon.
Here's what you need to know about Hello Tomorrow!:
Vault AI uses index scores to describe the impact a given story/theme/element will have on specific KPIs: 
≤79 Disappointing  80-89 Challenging  90-109 Average  110-119 Promising  120+ Outstanding
Who will be tuning in for this slick, sparkly dramedy?
Thanks to the show's high-tech setting, we're predicting an audience that will skew mostly male (62%) and mostly older (64% aged 30+). These demos mirror those of other quirky Apple series featuring a real-world setting with a sci-fi twist (Severance, For All Mankind).
What will be the show's biggest draw?
Its cool Sci-Fi (121) tech. Viewers will be drawn in by the stylized, futuristic Gizmos & Technology (160) that are part of everyday life in this reality, from hovercrafts and robot bartenders to jet packs and automated dog walkers. The Space Setting (152) and populist Space Travel (136)–the main selling points for the lunar timeshares–will also prove quite sticky. All are key drivers for both ratings and bingeability.
What will keep viewers watching?
A desire to find out the truth. Though Crudup's salesman Jack appears honorable and sincere, the timeshares–and Jack himself–are not everything they seem, and hints of darkness swirl underneath. The possibility that it's all a Scam (130) and that Jack is swindling vulnerable people (Betrayal, 118) looms large, as the magnitude of their investment (Life Changing Decision, 120) could mean a ruined future; the high stakes and tantalizing glimpses behind the facade will keep audiences glued to their seats.
What will spur online chatter?
The slow-trickle reveals. The roller coaster of emotions linked to social buzz, including Disapproval (118), Annoyance (118), Surprise (118), Contempt (118), Loathing (118), Awe (118), and Amazement (118), suggests viewers will be stunned and scandalized when the truth comes out and want to share their reactions online.
Which aspect of the show will help it land a second season?
The unscrupulous timeshare business. Hello Tomorrow!'s scrutiny of the potentially unethical company at its center (A Focus on Business, 121), whose controversial sales practices wallow in Moral Ambiguity (114), provides a rich well for its layered storytelling. The ensuing Criminal Investigation (116)–as well as the push-pull between Jack's sincere, unshakeable Idealism (114) and his customers' angry desire for Vengeance (114)–can help drive the story past season one.
Get Access to Our MIE23 Talk
Get your hands on a recording of our 'Using AI to Get Audience Insights Without Ever Asking' talk from MIE23 – including a case study by Warner Bros. Discovery. Simply register your details and we'll send you the recording as soon as it lands.
*Publicly released trailers for series are evaluated using Vault AI's algorithms – utilizing our proprietary 120K+ story element database alongside ratings performance and other datasets – to identify unique combinations of stories, themes, characters, and genre elements that will drive success.