Rapid Insights: Grease: Rise of the Pink Ladies Tells an Uplifting, Female-First Story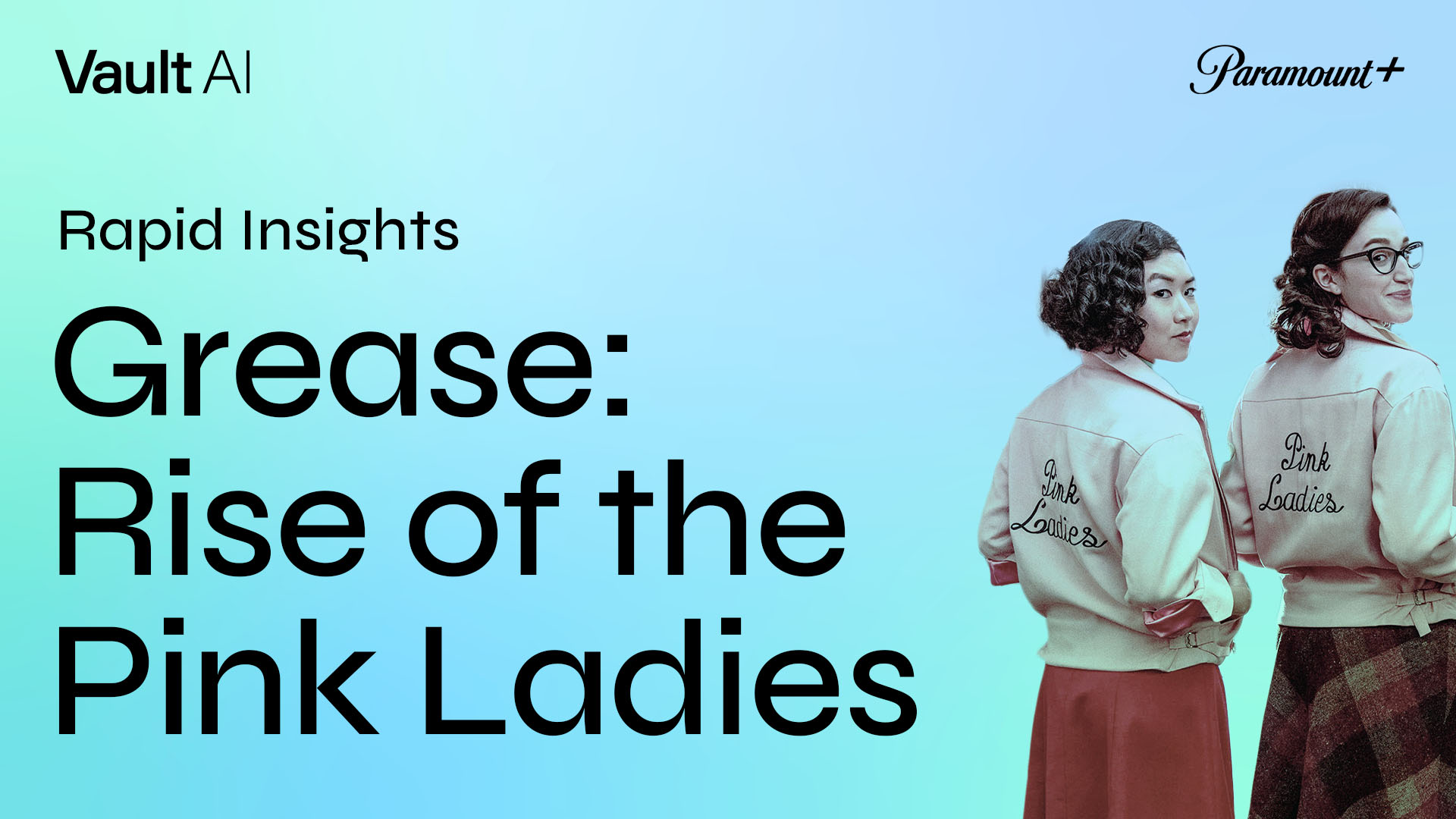 Grease will be the word once again this April, when Paramount+ releases its peppy new prequel series to the timeless 1978 film. Set four years before Sandy and Danny's fateful summer nights, the upcoming show tracks a quartet of misfits who dare to defy their era's stifling conventions, leaning hard into its predecessor's DNA and offering up a similarly bubbly concoction of comedy, music, and romance. Tell you more, tell you more?
Here's what you need to know about Grease: Rise of the Pink Ladies:
Vault AI uses index scores to describe the impact a given story/theme/element will have on specific KPIs: 
≤79 Disappointing  80-89 Challenging  90-109 Average  110-119 Promising  120+ Outstanding
How will viewers compare to those for other high school-based series?
Very similar. We're predicting an audience that's mostly female (62%) and leans younger (57% under age 30), similar to fellow teen musicals High School Musical: The Musical: The Series and Glee as well as popular music-less shows like Never Have I Ever, Riverdale, and Degrassi: The Next Generation (though the original broadcast audiences for Glee and Riverdale do skew older thanks to the medium).
Why will viewers want to watch this series?
For the uplifting Female Friendships (115). The show's main theme is one of Female Empowerment (128) as it follows four Strong Female Characters (117) standing up against the gender inequality and restrictive norms of the mid-1950s. When Jane, Olivia, Cynthia, and Nancy band together to form the Pink Ladies, their charming Joyfulness (129) at finally having a place to belong will make audiences glad they tuned in.
What will help the show earn a second season?
The group's outcast status. The titular Pink Ladies are Rebels (125) within their carefully ordered high school world, dabbling in frowned-up Fun & Games (117) like drag racing and uniting around the Pink Lady pledge: to look cool, act cool, and be cool at all times. The show's focus on the ups and downs of their Teen Life (123) and attempts to push back against the system will provide a story engine that can easily run for multiple seasons.
Where does the music fit in?
It makes the series bingeworthy. Rise of the Pink Ladies boasts a whopping 31 new original songs in its first 10-episode season, and the catchy moments of Song & Dance (122) taking place within the Rydell High School Setting (116) are arguably the show's most important link to its film predecessor (IP Extension, 111). All will keep viewers watching.
What kind of emotional experience should viewers expect?
A mirror to the highs and lows of being a teenager. The show incorporates everything from Ecstasy (120) and Disapproval (120) to Anticipation (120) and Serenity (120) as the Ladies pursue their primary desires of high school Romance (120), Social Contact (120), Independence (120) and, ultimately, Acceptance (117), all key parts of growing up.
Get Access to Our MIE23 Talk
Get your hands on a recording of our 'Using AI to Get Audience Insights Without Ever Asking' talk from MIE23 – including a case study by Warner Bros. Discovery. Simply register your details and we'll send you the recording as soon as it lands.
*Publicly released trailers for series are evaluated using Vault AI's algorithms – utilizing our proprietary 120K+ story element database alongside ratings performance and other datasets – to identify unique combinations of stories, themes, characters, and genre elements that will drive success.