Rapid Insights: Gran Turismo Brings a Popular Video Game to Life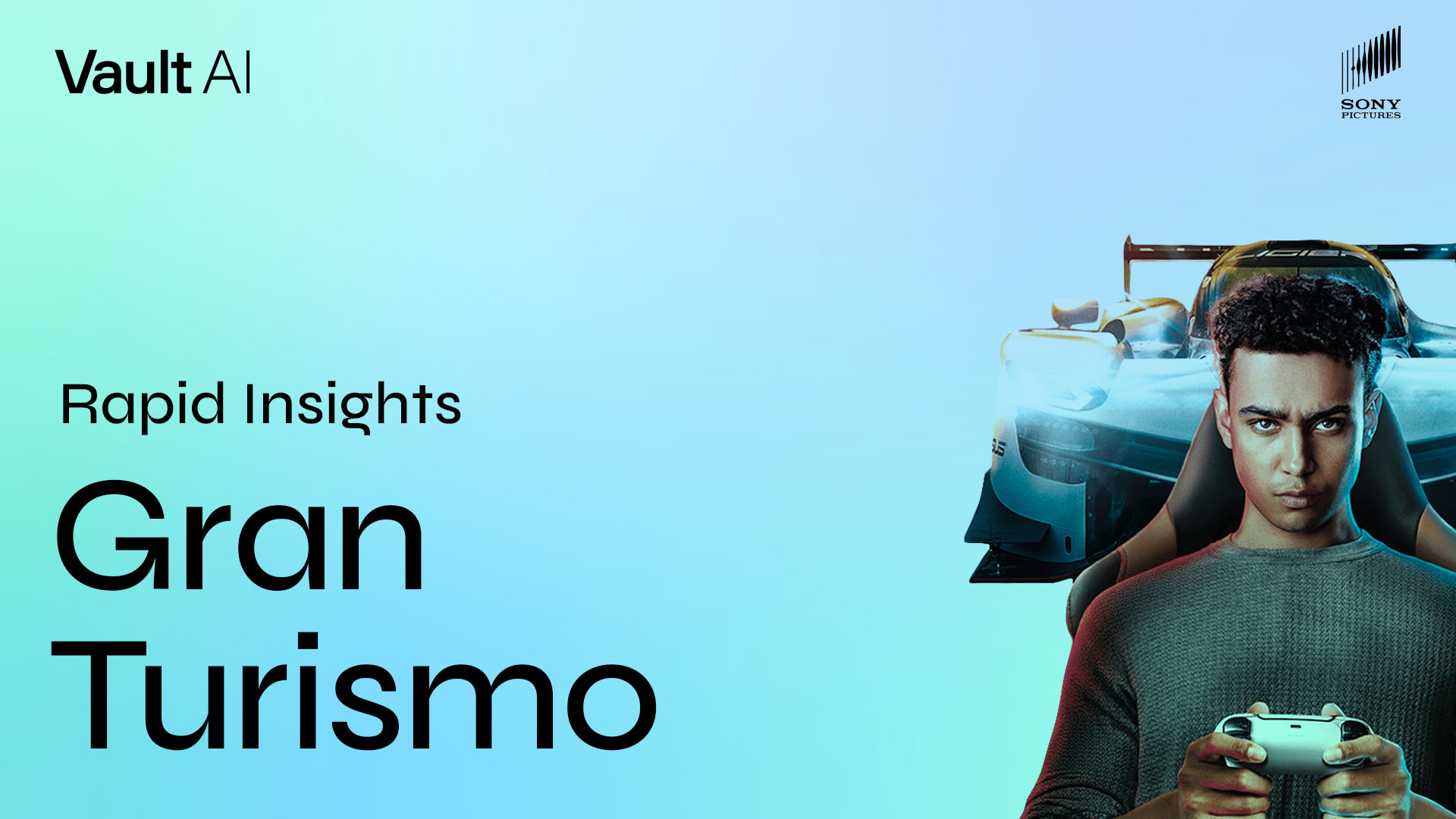 This August, Sony's mega-hit PlayStation video game series comes to the big screen as a biographical coming-of-age sports drama set in the franchise's beloved high-octane racing world. The movie tells the true story of Jann Mardenborough, a top-notch teen gamer who turned his superior virtual skills into a clinch tournament win and, ultimately, a real-life career as a professional racecar driver.
Here's what you need to know about Gran Turismo:
Vault AI uses index scores to describe the impact a given story/theme/element will have on specific KPIs: 
≤79 Disappointing  80-89 Challenging  90-109 Average  110-119 Promising  120+ Outstanding
Who will be buying tickets for this exciting sports drama?
Teen boys primarily. We're predicting an audience that skews heavily male (61%)–based on the trailer, women will be a much harder-to-capture group–with the greatest demand coming from boys <18 (116). This breakdown most closely matches that of a typical action-based film rather than the average sports movie (which tends to attract a few more women).
Will Fast & Furious fans be buying tickets?
Not necessarily. While we are predicting that the Fast & Furious audience will be especially drawn to themes of Rivalry (137) and Family Bonds (132), on the whole their predicted affinity for the upcoming film is average (98).
Will the video game series be important to the movie's success?
Absolutely. The film leans into the same adrenaline-pumping elements that have made the beloved racing games so popular: high-speed maneuvering, blow-out crashes, and thrilling near misses (Intense Racing Action, 135), all key drivers of demand. At the same time, it's based on the true story of a Gran Turismo player who took his gaming skills from Virtual to Reality (148) and became a professional racecar driver, tying into the franchise's real-life fanbase. The built-in name recognition will also help boost its levels of online search (122) and social buzz (110).
How does the film build on the video games?
It adds emotion and humanity. Whereas the first-person racing games have no characters, Gran Turismo the movie layers in the inspirational story of a working-class teen who aspires to Bigger Things (160), clashes with his loving-but-concerned father (Father-Son Relationship, 160), faces a life-changing Turning Point (160), and ultimately has his Dreams Come True (120). Overall, these vulnerable, relatable moments will be a bigger draw for the movie than the gaming-like action.
What type of viewing experience should the audience expect?
A well-rounded one. Viewers will primarily leave the theater Thrilled (124) with all the Sports Action (142), as well as more Amused (117) (by the interspersed moments of lighthearted comedy), Touched (112), and Uplifted (123) (by the story of a teen achieving his dreams) than they would be from a typical action film.
Break free from slow and expensive oversampling 
Create hyper-targeted fan groups and analyze every audience that matters to you.
Introducing SEGMENTS, the groundbreaking new feature revolutionizing how you analyze and target your audiences.
Get rich AI-powered audience insights at your fingertips with 5 Custom Segments included as standard. Define your own or choose from our library of 500+ ready made Segments. No extra costs, no time delays.
*Publicly released trailers for series are evaluated using Vault AI's algorithms – utilizing our proprietary 120K+ story element database alongside ratings performance and other datasets – to identify unique combinations of stories, themes, characters, and genre elements that will drive success.