Rapid Insights: Gen V Joins The Boys in Redefining the Misfit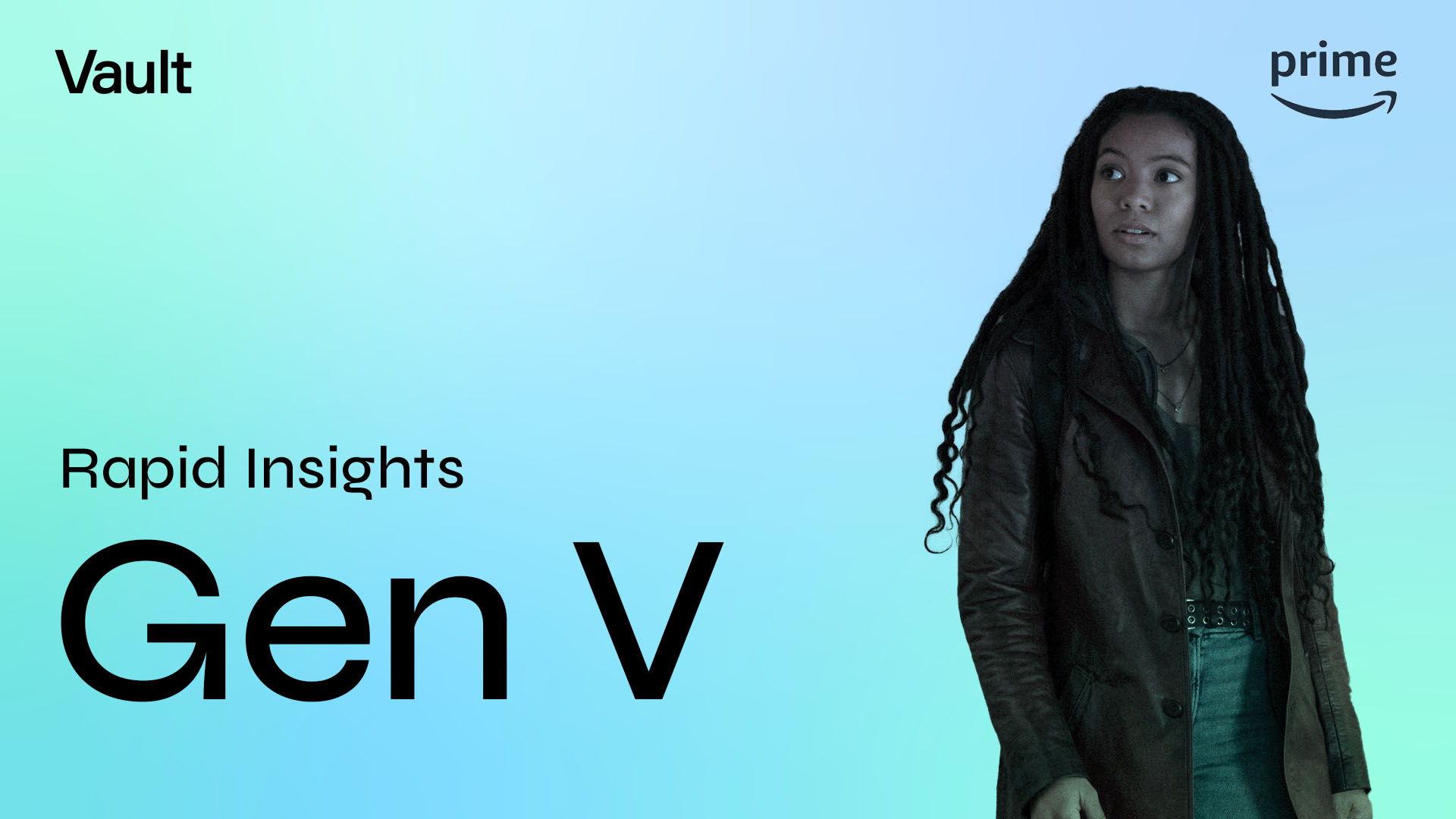 Amazon Prime's wildly successful series The Boys will launch its much-awaited second spin-off (after the animated The Boys Presents: Diabolical) later this month. Set in the same Vought-controlled universe as its predecessors, Gen V will focus on the cutthroat (literally and figuratively) competition between dangerously out-of-control superheroes-in-training at the Godolkin University School of Crimefighting.
Here's what you need to know about Gen V and the rest of The Boys franchise:
Vault uses index scores to describe the impact a given story/theme/element will have on specific KPIs: 
≤79 Disappointing  80-89 Challenging  90-109 Average  110-119 Promising  120+ Outstanding
Who's tuning in for these satirical superheroes?
Younger men. Though we're predicting that Gen V will be notably less male than its predecessors (61% vs The Boys' 78% and Diabolical's 70%), all three skew heavily towards men and somewhat to those under 30. The franchise as a whole is much more male-focused than is typical for the misfit superhero genre, including Doom Patrol (only 55% men), The Umbrella Academy (53%), Misfits (54%), and Watchmen (57%).
What's so appealing about The Boys and its spin-offs?
They're a clever send-up of a mega-popular genre. While these shows start with the Superpowers (130), Team-Ups (118), and Stylized Action & Violence (116) that make the Marvel and DC Universes so beloved, they take a hard right turn into the darkly comedic, layering in whip-smart Satirical Humor (128), hilariously over-the-top Bloody Violence (129), and bizarrely quirky Antiheroes (121) to smash apart the classic tropes and construct a biting Social Commentary (123).
Do they tend to attract a lot of attention?
Most definitely. The Boys regularly maxes out our social buzz meter (to 160), not only when it's in season but also as new information is revealed, as with July's big announcement of a Call of Duty collaboration. The spin-offs themselves don't quite hit the same highs, but are still in the outstanding range. Diabolical spiked to (130) with its 2022 premiere. Gen V saw a bump to (123) with the release of its teaser trailer, with still plenty of time for an even bigger build-up to its premiere.
What will distinguish Gen V from the other Boys series?
A clearer-cut line between Good vs. Evil (130). While The Boys features a conflict between two teams of borderline psychopaths and Diabolical's characters are all over the map, Gen V follows a more uncomplicatedly rootworthy (at least in the trailer) group of students who must uncover the darkly terrible things going on at their university (Searching for the Truth, 124). Additionally, Gen V boasts a central Strong Female Protagonist (122), while the main characters on The Boys are mostly, well, boys.
What will help Gen V power through to a second season?
Its take on Young Adult Life (114). While the show's skewering of the 'school for superheroes' cliché will drive ratings and bingeability, it's actually the more mundane aspects of the college experience–albeit colored by a dark and violent sci-fi twist–that will provide its story engine for future seasons. Viewers will become wrapped up in the typical student squabbles over Social Status (125), academic ranking (Competitiveness, 115), friendships, and romance. In contrast, longevity for both The Boys and Diabolical is driven by their superpowered team-ups and misadventures.
Your On-Demand Content Assistant
Vault GPT leverages the power of Vault's vast content database and insights engine to transform development, marketing and sales workflows empowering users with ondemand coverage-like-summaries and briefs combined with insights – a cutting edge new tool for today's executive.
100% safe and secure, Vault GPT is trained on over 60,000 film and television titles from the Vault database that contain both story and performance data.
Upload anything – a book, a script, a treatment – and let Vault GPT do the heavy lifting. In less than 1hr you'll have automated summaries giving you insights into characters, key themes, plot, and even potential taglines.
Spots are limited, join the waitlist to secure your place in line.
*Publicly released trailers for series are evaluated using Vault's algorithms – utilizing our proprietary 120K+ story element database alongside ratings performance and other datasets – to identify unique combinations of stories, themes, characters, and genre elements that will drive success.