Rapid Insights: Fast X's New Villain Will Rev Up the Adrenaline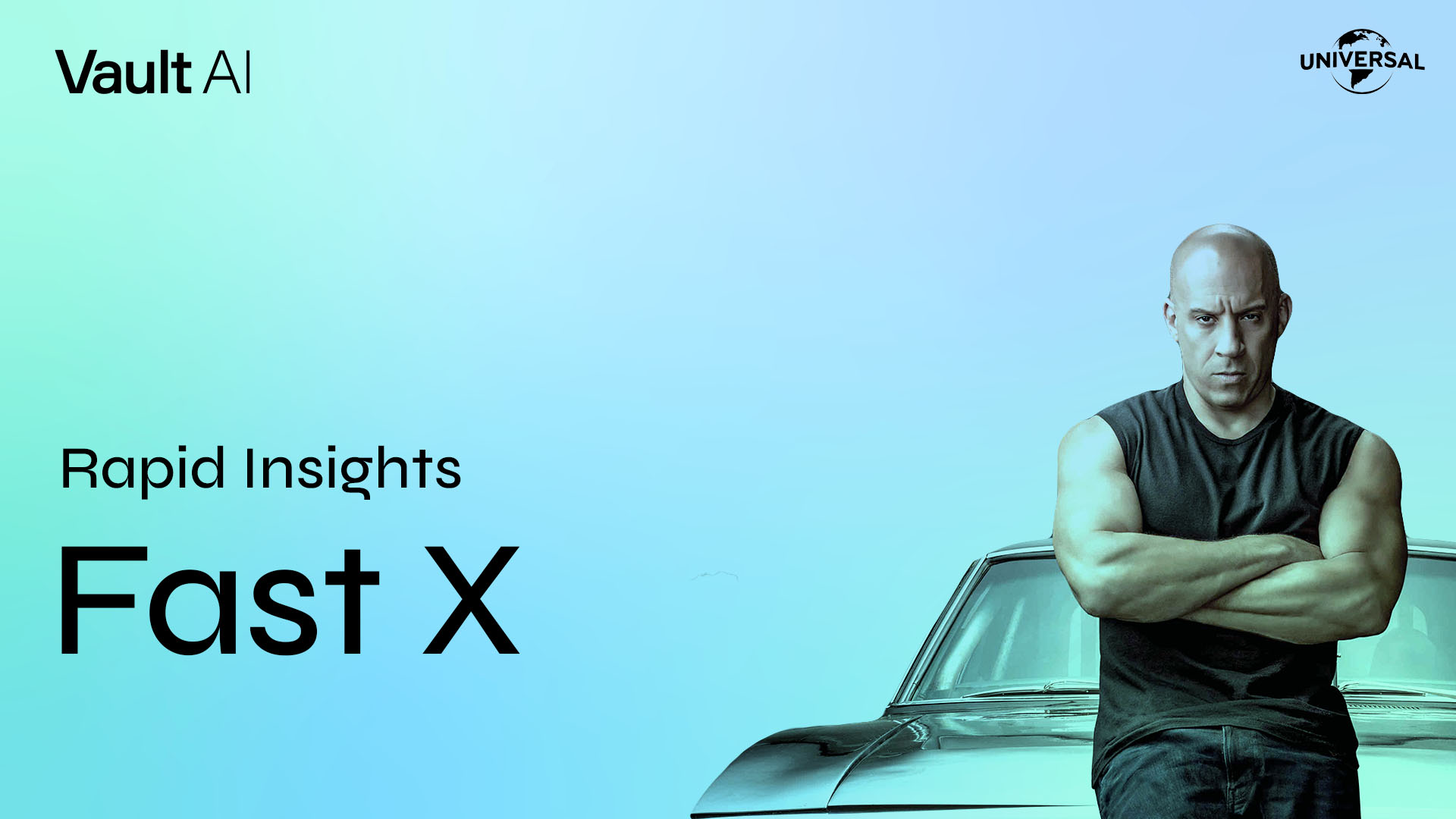 After F9 became one of the pandemic's biggest successes, the second-to-last installment of Universal's Fast & Furious series will arrive theatrically in mid-May to revved-up anticipation. This new film will introduce Jason Momoa, Brie Larson, and Rita Moreno to the franchise's already extensive cast and will tell part one of the saga's two-part final story of revenge and family.
Here's what you need to know about Fast X:
Vault AI uses index scores to describe the impact a given story/theme/element will have on specific KPIs: 
≤79 Disappointing  80-89 Challenging  90-109 Average  110-119 Promising  120+ Outstanding
Who will be lining up on opening weekend?
Men. As with the previous nine, the tenth Fast & Furious movie is predicted to lean heavily male (62%), with men of all ages expressing an outstanding level of demand (139). Teen girls and women 30+ also look promising (110-111).
What will be this penultimate film's biggest draw?
The Fast Franchise (160). Theatergoers will once again be drawn in by the brand's core DNA: thrillingly Over-the-Top Action & Violence (157), adrenaline-spiking High-Speed Chases (123) with reckless Dom in the Driver's Seat (116)–this time involving a fully vertical race–and a large, recurring ensemble cast that truly feels like family.
What will set Fast X apart from the earlier Fast & Furious films?
The next generation. While the Fast movies have always centered on family, Fast X will take the theme a step farther by exploring the specific legacy of Fathers & Sons (117): villain Dante Reyes seeks revenge for his own father's death (in Fast Five) by targeting Dom's eight-year-old boy, who the tough leader is terrified of losing.
Is this latest antagonist an important draw for the film?
Definitely. After the franchise essentials, Jason Momoa's Dante Reyes will be a top driver of demand for Fast X (New Villain, 114), and the dynamic threat he presents to our heroes–along with the dazzlingly exotic locales he frequents–will help bring in women (121) even more than men (113).
Break free from slow and expensive oversampling 
Create hyper-targeted fan groups and analyze every audience that matters to you.
Introducing SEGMENTS, the groundbreaking new feature revolutionizing how you analyze and target your audiences.
Get rich AI-powered audience insights at your fingertips with 5 Custom Segments included as standard. Define your own or choose from our library of 500+ ready made Segments. No extra costs, no time delays.
*Publicly released trailers for series are evaluated using Vault AI's algorithms – utilizing our proprietary 120K+ story element database alongside ratings performance and other datasets – to identify unique combinations of stories, themes, characters, and genre elements that will drive success.