Rapid Insights: Cocaine Bear Offers Jumpscares and Tongue-firmly-in-cheek Humor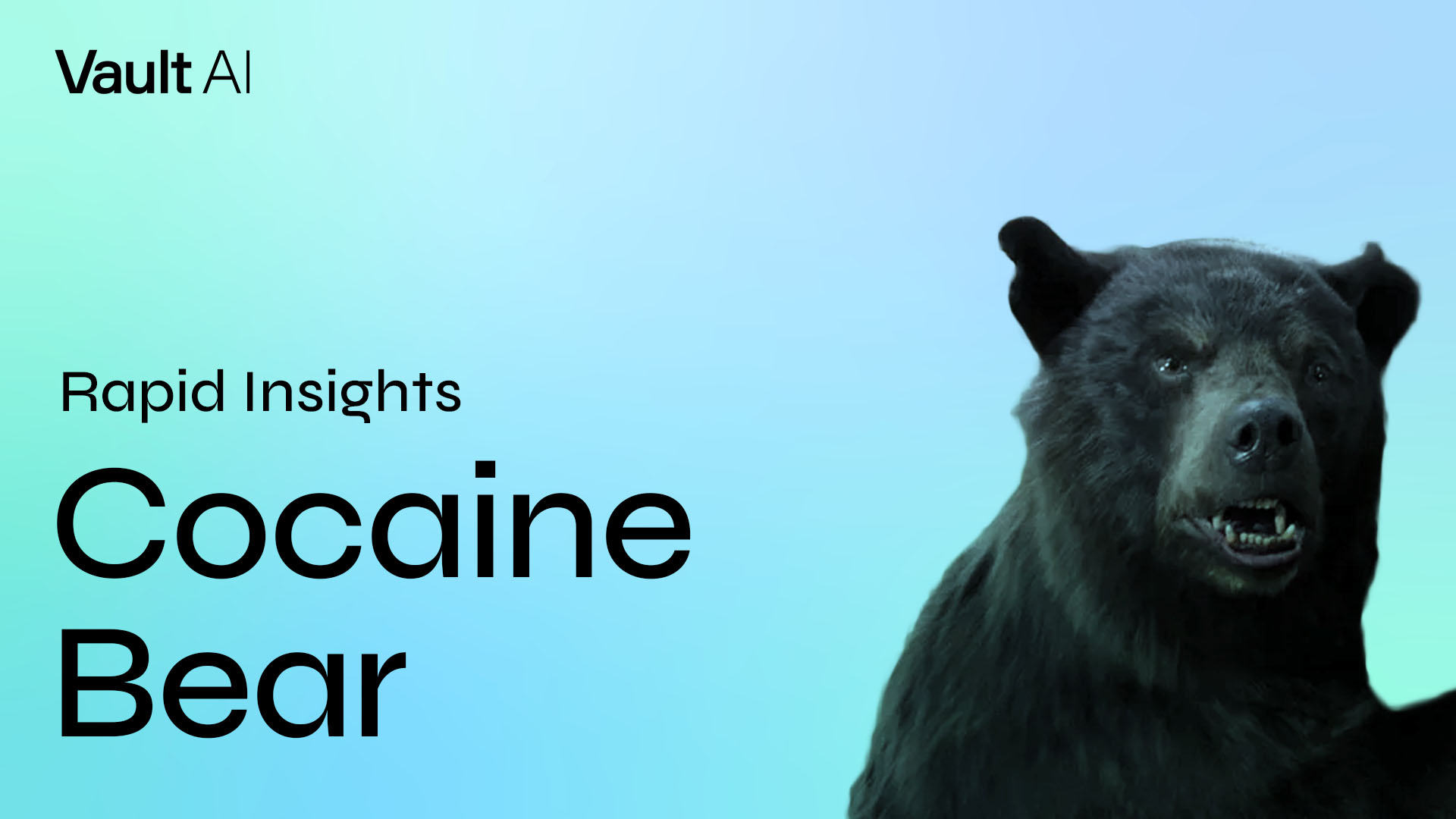 With a high-concept title that it wears proudly on its sleeve, this February opener is sure to turn heads. While Cokey the title character does all the work to grab your attention, the oddball group of characters ranging from tourists to cops and criminals all have backstories that root the film in some semblance of reality. Here's what you need to know about Cocaine Bear:
Vault AI uses index scores to describe the impact a given story/theme/element will have on specific KPIs: 
≤79 Disappointing  80-89 Challenging  90-109 Average  110-119 Promising  120+ Outstanding
Who will show up in theaters for this horror-comedy?
Older-skewing audiences (58% 30+), with a male lean (59%). This predicted core audience demographic is attracted to key film concepts like its Dark Comedy (148), the Drug Theme (146), and Blood and Gore (123).
How does the early social chatter look?
Excited, bordering on carnivorous. Most of the chatter revolves around the film's crazy title, and second to that, the fact that the film is inspired by true events. Cocaine Bear also has its own twitter account run by Cokey the bear himself, with pithy tweets like "Don't coke the bear."
What's the film's main attraction?
Its jumpscares. With Cokey the Ballistic Bear (129) on the loose, the film's cops and criminals have their fingers on their triggers, while the helpless tourists can only cross their fingers and hope for the best. Life in Danger (160) is almost an understatement, with Chaotic Chase Scenes (115) and Blood and Gore (96) galore that'll have you looking away in horror.
What makes this film stand out against others?
Its knowing humor. Inspired by True Events (111), this ludicrous story brings a moment in history to life with over-the-top antics and violence that are sure to surprise and entertain audiences. The Drug Theme (160) involving Cokey on a bender rampage matched with a delightful Dark Comedy (160) tone maxes out our freshness scale.
What genres comprise Cocaine Bear?
A broad array. The film is a combination of Thriller (115), Adventure (115), and Action (111) genres, with a palpable sense of Comedy (97) seeping in.
What is Vault AI?
WATCH this 3min video to find out 
*Publicly released trailers for series are evaluated using Vault AI's algorithms – utilizing our proprietary 120K+ story element database alongside ratings performance and other datasets – to identify unique combinations of stories, themes, characters, and genre elements that will drive success.
About Vault AI
Based in Los Angeles and Israel, Vault AI is using a combination of machine learning and consumer insights experts to help the entertainment industry predict consumer response to content. Test your content faster and more accurately with Vault AI and get granular insights across the entire content life cycle today.