Rapid Insights: CBS's True Lies Packs a Punch with Life-Threatening Twists, Turns, and Thrills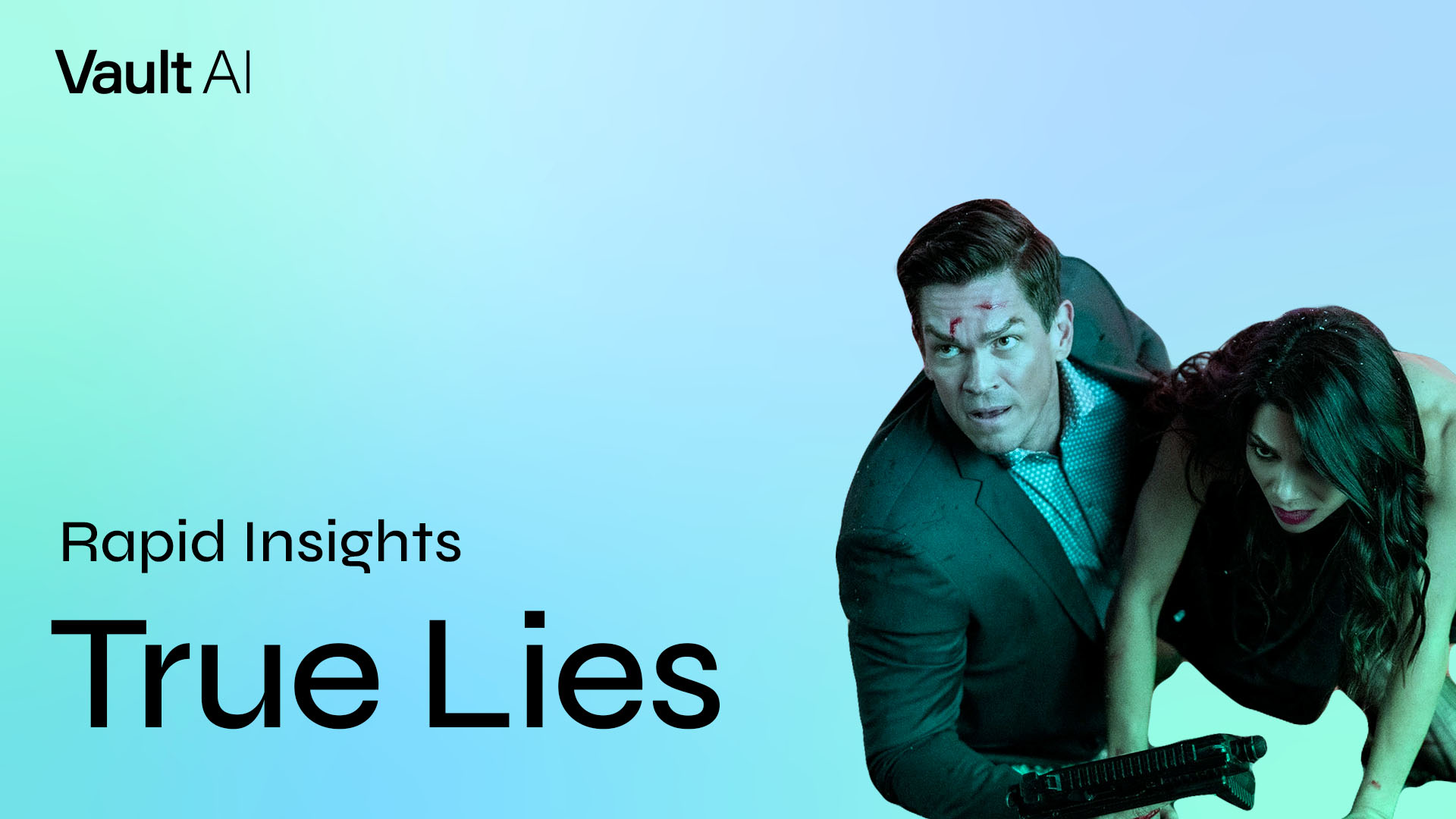 In 1994, director James Cameron's movie True Lies, starring Arnold Schwarzenegger and Jamie Lee Curtis, became the third-largest domestic title of the year; this March, nearly three decades later, that hit film will be getting the TV treatment with the release of a promising new action series on CBS. Like the film, the show is centered around skilled international spy Harry and his unsuspecting wife Helen, who believes he's merely a boring IT salesman; after she discovers the truth, she becomes his partner in espionage as well as life, and the pair ultimately become a super-spy duo. Here's what you need to know about True Lies:
Vault AI uses index scores to describe the impact a given story/theme/element will have on specific KPIs: 
≤79 Disappointing  80-89 Challenging  90-109 Average  110-119 Promising  120+ Outstanding
Who will be tuning in?
Older women. The expected audience (58% female, 96% aged 35+) for this CBS thriller falls right in line with that of the network's other case-of-the-week series (FBI, S.W.A.T., Magnum P.I., The Equalizer, NCIS, CSI: Vegas), suggesting that the Eye Network continues to play expertly to its base. These older viewers are also the most likely to remember the original True Lies movie.
What will inspire audiences to check out this new show?
Helen's World being Turned Upside Down (133). Viewers will tune in primarily to witness the shocking revelation that will up-end her well-ordered life: that her seemingly bland, predictable husband is actually an international spy. As Helen is thrust into the Action & Violence (131) of Harry's everyday life, she finds excitement in their adrenaline-fueled escapades and willingly puts her own Life in Danger (111) to join forces with him.
What type of emotional experience will pull in audiences?
The same sense of edge-of-your-seat danger that Helen comes to love. The Fear (115) and Apprehension (115) stirred up by Helen and Harry's risky missions, in-the-field snap decisions, and by-the-skin-of-their-teeth breathtaking escapes, will engage viewers and help keep ratings high.
What will make this series so gripping?
Its intriguing world of spies and secrets. Harry's globe-spanning Espionage (137), the clandestine nature of his missions, and his tantalizing Secret Life (121) will cause the True Lies show to become just as much a fan favorite as the original 1994 movie (IP Extension, 127).
What will carry this series into a second season?
The loving and funny Tasker family. Viewers will become invested in the Family Relationship (122) between Helen, Harry, and their two kids, as well as root for the spy couple in their eventual (and effective!) espionage Team Up (112). Along their journey, unexpected and funny moments of Twisted Humor (120) will keep things light and entertaining in the midst of all the action and violence, making audiences beg for more.
What is Vault AI?
WATCH this 3min video to find out 
*Publicly released trailers for series are evaluated using Vault AI's algorithms – utilizing our proprietary 120K+ story element database alongside ratings performance and other datasets – to identify unique combinations of stories, themes, characters, and genre elements that will drive success.
About Vault AI
Based in Los Angeles and Israel, Vault AI is using a combination of machine learning and consumer insights experts to help the entertainment industry predict consumer response to content. Test your content faster and more accurately with Vault AI and get granular insights across the entire content life cycle today.