Rapid Insights: Black Panther: Wakanda Forever Sees a Grieving Nation Find New Strength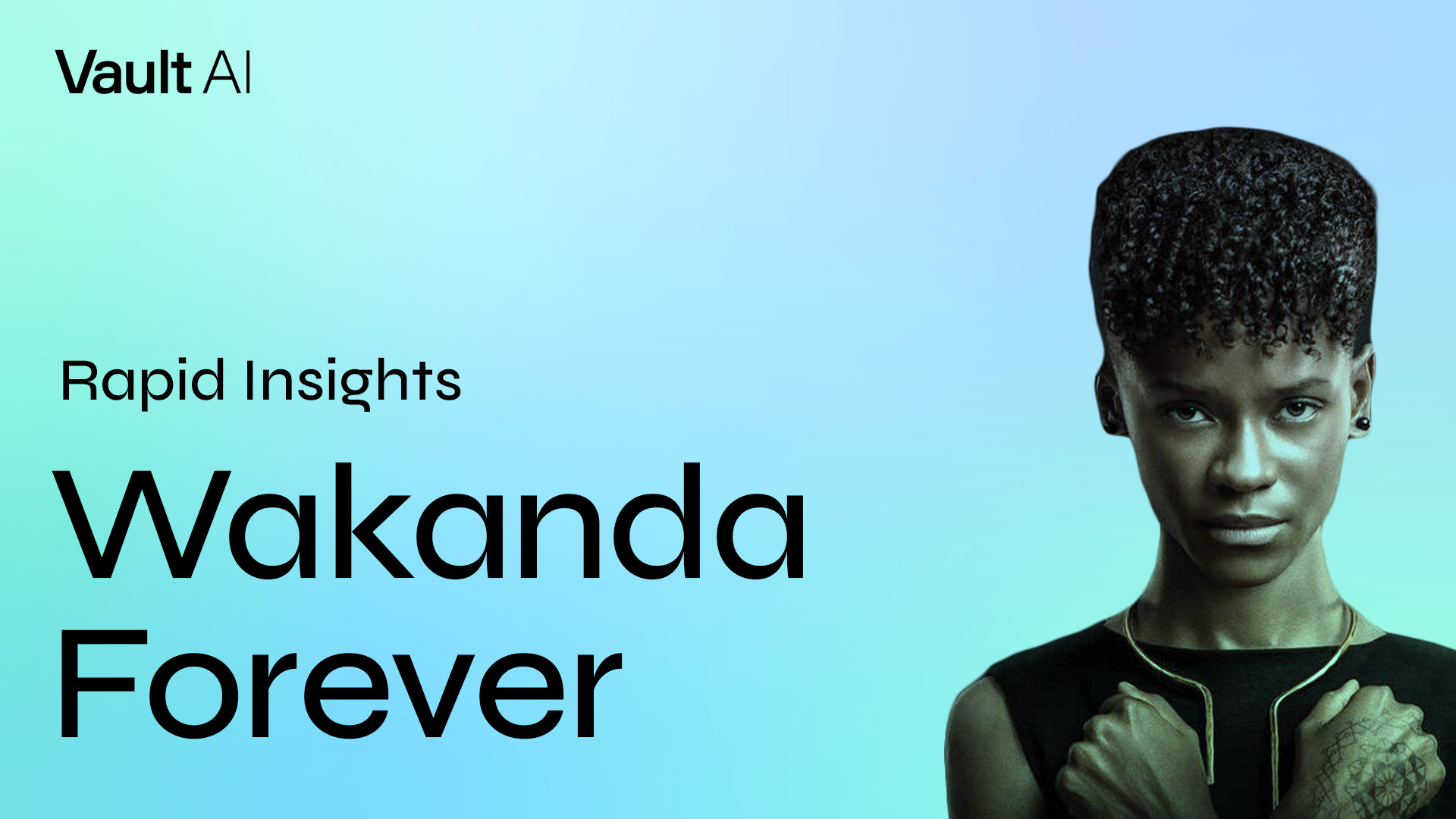 Next month, Marvel will release the much-awaited sequel to its critically-acclaimed blockbuster hit Black Panther, and audiences are champing at the bit to find out what will happen to the citizens of Wakanda. Specific details around the plot have largely been kept under wraps, and there is much debate over which character–if any–will be taking over the mantle of Black Panther from the beloved, much-missed Chadwick Boseman/T'Challa. Here's what you need to know about Black Panther: Wakanda Forever:
Vault AI uses index scores to describe the impact a given story/theme/element will have on specific KPIs: 
≤79 Disappointing  80-89 Challenging  90-109 Average  110-119 Promising  120+ Outstanding
Will the audience for Wakanda Forever be the same as for its predecessor?
Yes. We're predicting a nearly identical age breakdown for the sequel (43% <30 / 57% 30+) as was seen with the original film (42% <30 / 58% 30+), and a very similar close-to-even gender split.
How will the film address the loss of Chadwick Boseman?
By fully embracing the grief. Wakanda Forever is a film that, both on and off screen, begins in the wake of an unexpected tragedy. The sadness underpinning the movie's broader sense of adventure coalesces in a secondary storyline of Mourning (112) as the people of Wakanda come to terms with the loss of the beloved T'Challa. The new vacuum in the nation's power structure also allows Ramonda, Shuri, Okoye, and other Strong Women (111) to step further into the spotlight as they grapple with questions of Royal Succession (109) and who is best positioned to replace him as leader. These more emotional elements are a stronger draw for female audiences.
What is everyone talking about in advance of the film's premiere?
The film's newest character. As expected, there's a sky-high level of anticipation for Wakanda Forever, and many intended viewers are expressing their interest on social media through a large volume of posts and tweets (clearing 3.5 million on Twitter alone over just the past two weeks). In addition to the beloved cast that will be returning from the first film, these online denizens are discussing the newest addition to the franchise: Namor, the mutant king of an ancient underwater empire, as well as Tenoch Huerta, the actor who portrays him. Marvel fans are especially excited to see this well-liked comic book character brought to life.
What will set Wakanda Forever apart from the original Black Panther?
The exploration of an intriguing new civilization. The Underwater World (134) of Talokan, ruled by the mutant king Namor, and the imaginative Futuristic Warfare (136) and technology that they employ against their land-bound enemies are the key freshness drivers for this new film.
What's the main story draw for Wakanda Forever?
Its civilization-destroying stakes. This sequel introduces a broad Geopolitical Conflict (123) that arises between Wakanda and other nations as the former is made vulnerable by the death of its king, as well as the battle between Tradition vs. Modernity (117) as the Wakandan people fight to protect their cultural heritage and way of life (both of which are particularly appealing for male viewers). While it did touch on some of these themes, the original Black Panther, in contrast, largely focused on a more personal story of Revenge (121).
How important is the film's Black point of view?
Still essential, but not as much of a front-and-center draw as for Black Panther. Given that the original movie introduced the first Black Marvel superhero, its refreshingly all-Black cast and centering of a Black Narrative was its top ratings draw (140) and a key component in differentiating it from other action-adventure films (110). As this concept has thankfully become less unique even in only the past few years, the fact that Wakanda Forever offers a similar Black focus is still an important driver of demand, but it has lessened in strength (115) and now falls behind the movie's broader stakes in convincing theatergoers to buy tickets.
*Publicly released trailers for series are evaluated using Vault AI's algorithms – utilizing our proprietary 120K+ story element database alongside ratings performance and other datasets – to identify unique combinations of stories, themes, characters, and genre elements that will drive success.
About Vault AI
Based in Los Angeles and Israel, Vault AI is using a combination of machine learning and consumer insights experts to help the entertainment industry predict consumer response to content. Test your content faster and more accurately with Vault AI and get granular insights across the entire content life cycle today.