Rapid Insights: Andor Will Focus on the Rebel Alliance in a Galaxy Far, Far Away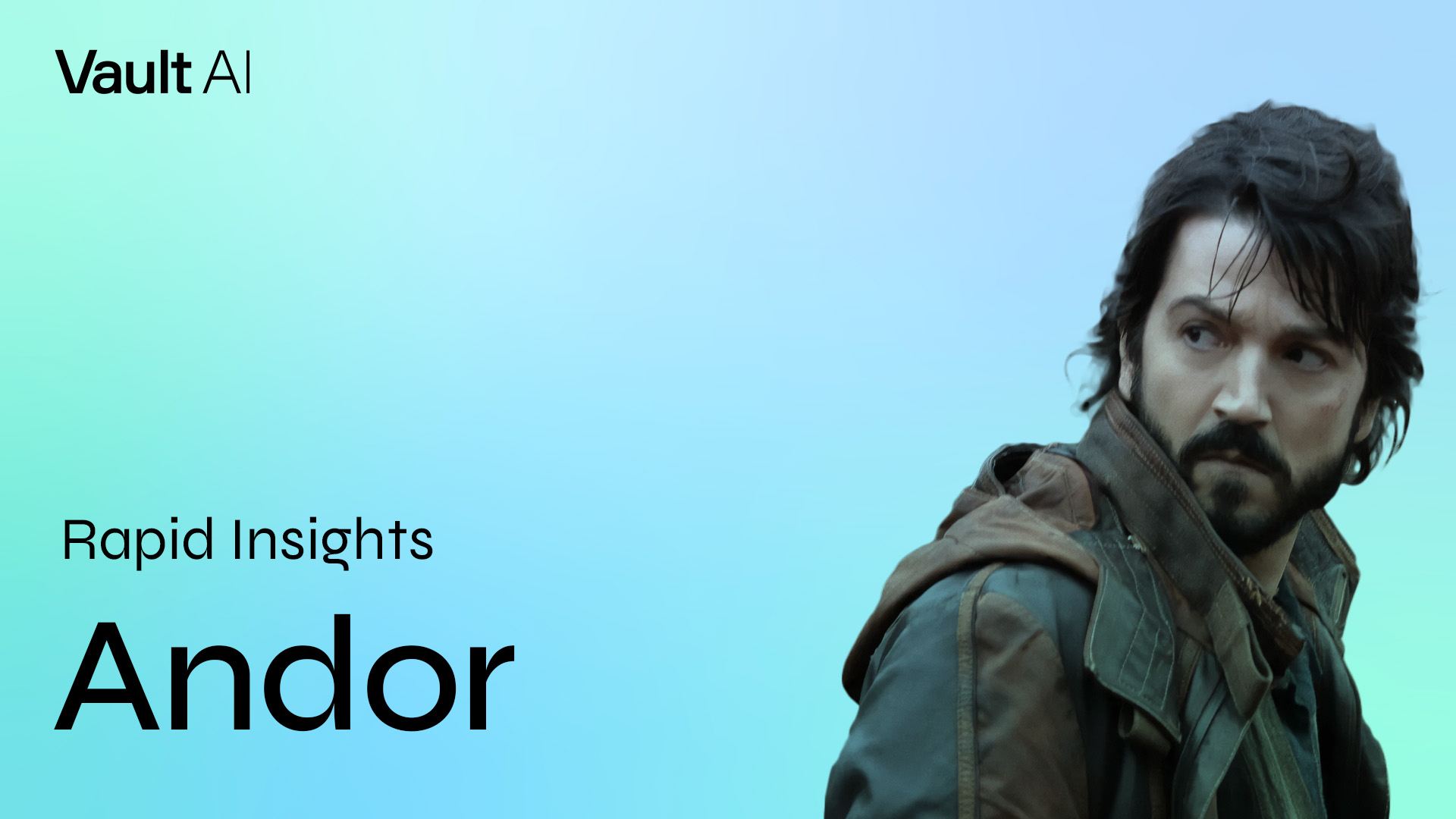 Premiering next week, Disney+'s newest live-action Star Wars series will serve as a prequel to the film Rogue One and is set five years before the events of that 2016 movie. Already confirmed for a second season, the show traces the formation of the Rebel Alliance, with Diego Luna reprising his role as a thief-turned-Rebel-spy who will ultimately steal the plans to the Death Star (and kick off the events in A New Hope). Here's what you need to know about Andor:
Vault AI uses index scores to describe the impact a given story/theme/element will have on specific KPIs: 
≤79 Disappointing  80-89 Challenging  90-109 Average  110-119 Promising  120+ Outstanding
Who will be tuning in for this new Star Wars adventure?
Mostly older men. Andor's audience will skew heavily male (61%) and 30+ (67%), very much in line with Disney+'s other live-action franchise extensions (Obi-Wan Kenobi, The Book of Boba Fett, The Mandalorian).
Which story element will most capture audiences' attention?
The people enduring and fighting back. Andor is a story of David-against-Goliath resistance, and its most crucial ratings drivers revolve around the formation of the scrappy Rebel Alliance: its campaign against Empire oppression (Rebels 160), its members' determination to survive and persevere (Survival Skills 160), and its leader's evolution from cynical bystander to dedicated revolutionary (Stepping Up 160).
What emotional experience can viewers expect?
A tense and gripping one. As the evil Galactic Empire amasses power, the show will lean heavily into the Fear (136) and Terror (129) of those Being Hunted (129) and forced to flee from its persecution. The Rebels' resulting desire for Vengeance (122) and freedom from its tyranny will ultimately drive the events of the story.
How will the Star Wars IP impact Andor?
It will make the show more bingeable. In line with Disney+'s other franchise series, Andor's placement within the Star Wars Universe (123) and its ties to the broader in-world timeline will keep audiences glued to their seats, as will the accompanying Space Setting (142) and aircraft, droids, and other futuristic Gizmos and Technology (140) that viewers love.
What will set Andor apart from the other Star Wars series?
Its broader focus. While Andor does follow Cassian Andor's growth from petty thief to Rebel spy, the show also encompasses a wider view of the Rebel vs. Empire war and tracks a number of key characters on both sides of the emerging conflict to set the stage for later events in the franchise. In contrast, The Mandalorian, The Book of Boba Fett, and Obi-Wan Kenobi have all concentrated more heavily on their central heroes' Journeys of Self-Discovery, one-man Missions, and personal Relationships.
*Publicly released trailers for series are evaluated using Vault AI's algorithms – utilizing our proprietary 120K+ story element database alongside ratings performance and other datasets – to identify unique combinations of stories, themes, characters, and genre elements that will drive success.
—
Stay in the know

Level Up: Your guide to AI-powered consumer insights and how to benefit today
Wed Sep 28 – 11AM PT | 2PM ET
Subscribe to get Rapid Insights delivered to your inbox weekly.
Sign up for StoryGuide for more details and analysis.
About Vault AI
Based in Los Angeles and Israel, Vault AI is using a combination of machine learning and consumer insights experts to help the entertainment industry predict consumer response to content. Test your content faster and more accurately with Vault AI and get granular insights across the entire content life cycle today.