Rapid Insights: Ahsoka Leans into the Strengths of Its Star Wars Heroine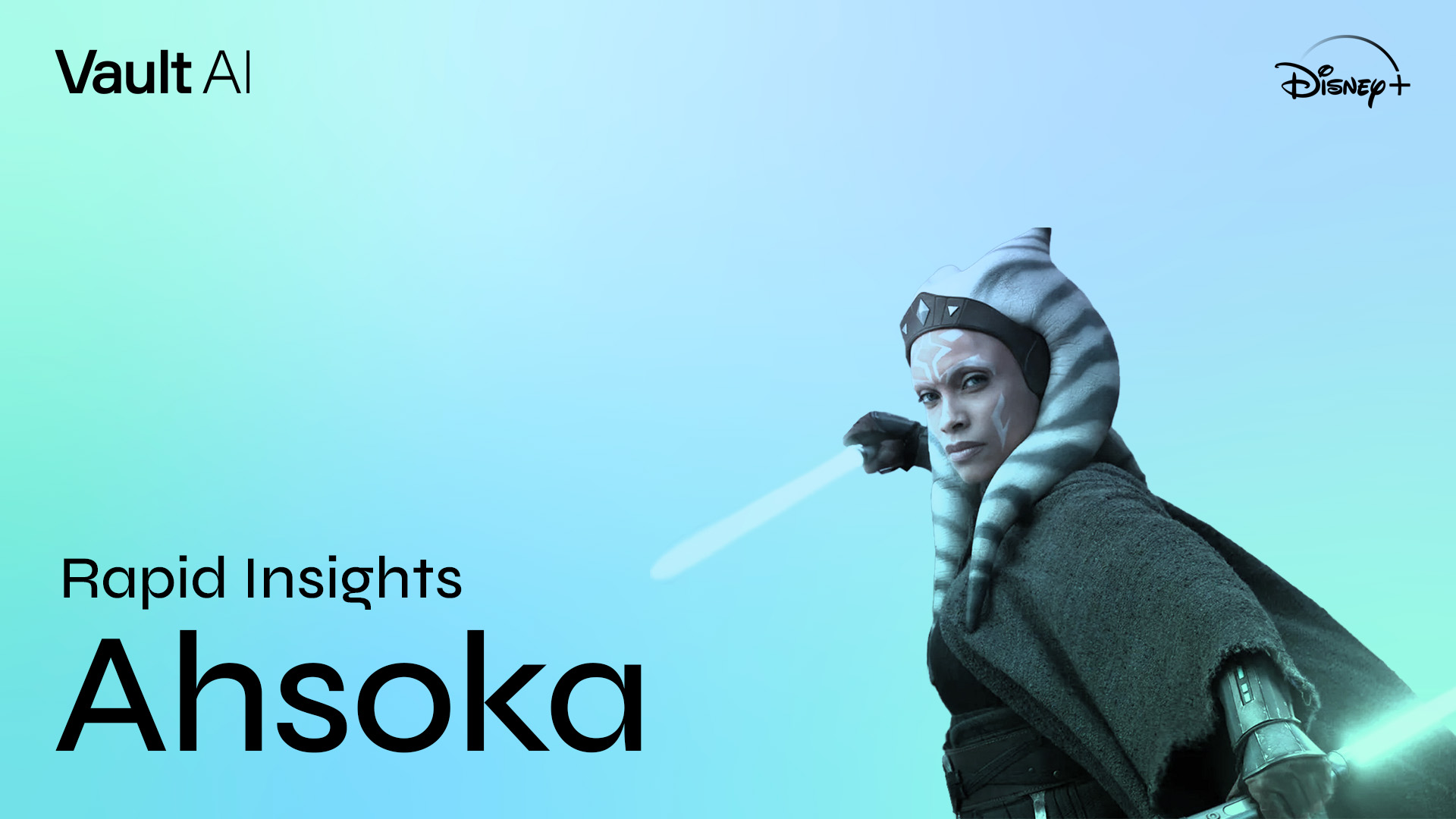 Popular heroine Ahsoka Tano is about to receive her own eponymous series with the late August arrival of Disney+'s newest show in the Star Wars universe. First created for the animated Star Wars: The Clone Wars, the character made her live-action debut (as played by Rosario Dawson) in The Mandalorian and will now continue her story as a Force-wielding warrior investigating an emerging threat to the galaxy in the wake of the Empire's defeat.
Here's what you need to know about Asoka:
Vault AI uses index scores to describe the impact a given story/theme/element will have on specific KPIs: 
≤79 Disappointing  80-89 Challenging  90-109 Average  110-119 Promising  120+ Outstanding
How will the Ahsoka audience compare to D+'s other Star Wars series?
It'll fit right in. We're predicting that Ahsoka will lean heavily male (75%), just like The Mandalorian, The Book of Boba Fett, Obi-Wan Kenobi, and Andor before it (all 70-75%) as well as older (all landing at 66-70% aged 30+). The Star Wars IP, with its Jedi mythology and space opera elements, tends to land best with this demographic.
What type of character is Ahsoka?
The one in charge. Fierce, self-possessed, and comfortable both giving orders and leading troops into battle, Ahsoka embodies the dramatic archetypes of The Ruler (131) and The Warrior (130). She finds plenty of company alongside other iconic strong female leads, including Zoë Washburn (Firefly), Buffy Summers (Buffy the Vampire Slayer), Daenerys Targaryen (Game of Thrones), and Katniss Everdeen (The Hunger Games).
How important is the show's lead character?
Very. Ahsoka herself has an outstanding impact on viewer demand (123), and her inherent Heroism (142) as a noble warrior bent on helping others is a top ratings driver. Her primary traits–Badass (145), Brave/Courageous (145), Daring (129), and Tough (127)–will shine through clearly as she embraces her independence and role as mentor after serving as Anakin Skywalker's Jedi apprentice in The Clone Wars series.
Why will viewers be tuning in?
The heroine's journey. Audiences will want to watch Ahsoka's Dangerous Mission (146) to locate both Grand Admiral Thrawn–a cunning, treacherous enemy of the Rebel Alliance–and the missing hero Ezra Bridger, who both disappeared into the galaxy's Unknown Regions after a decisive battle (Searching for the Truth, 144). Her Team Up (160) with several Rebel comrades and their resulting Female Friendship (156) will help her along the way. All are crucial ratings drivers.
What will keep Ahsoka viewers glued to their seats?
The Star Wars Universe (116). As with the other live-action spin-offs, the show's Space Setting (124) and rich, Distinctly Realized World (115) offer a host of storytelling possibilities and broader franchise connections, and fans will once again want to immerse themselves in the unique Star Wars cosmos.
Break free from slow and expensive oversampling 
Create hyper-targeted fan groups and analyze every audience that matters to you.
Introducing SEGMENTS, the groundbreaking new feature revolutionizing how you analyze and target your audiences.
Get rich AI-powered audience insights at your fingertips with 5 Custom Segments included as standard. Define your own or choose from our library of 500+ ready made Segments. No extra costs, no time delays.
*Publicly released trailers for series are evaluated using Vault AI's algorithms – utilizing our proprietary 120K+ story element database alongside ratings performance and other datasets – to identify unique combinations of stories, themes, characters, and genre elements that will drive success.