Rapid Insights: Abbott Elementary's Warm Humor Makes the Grade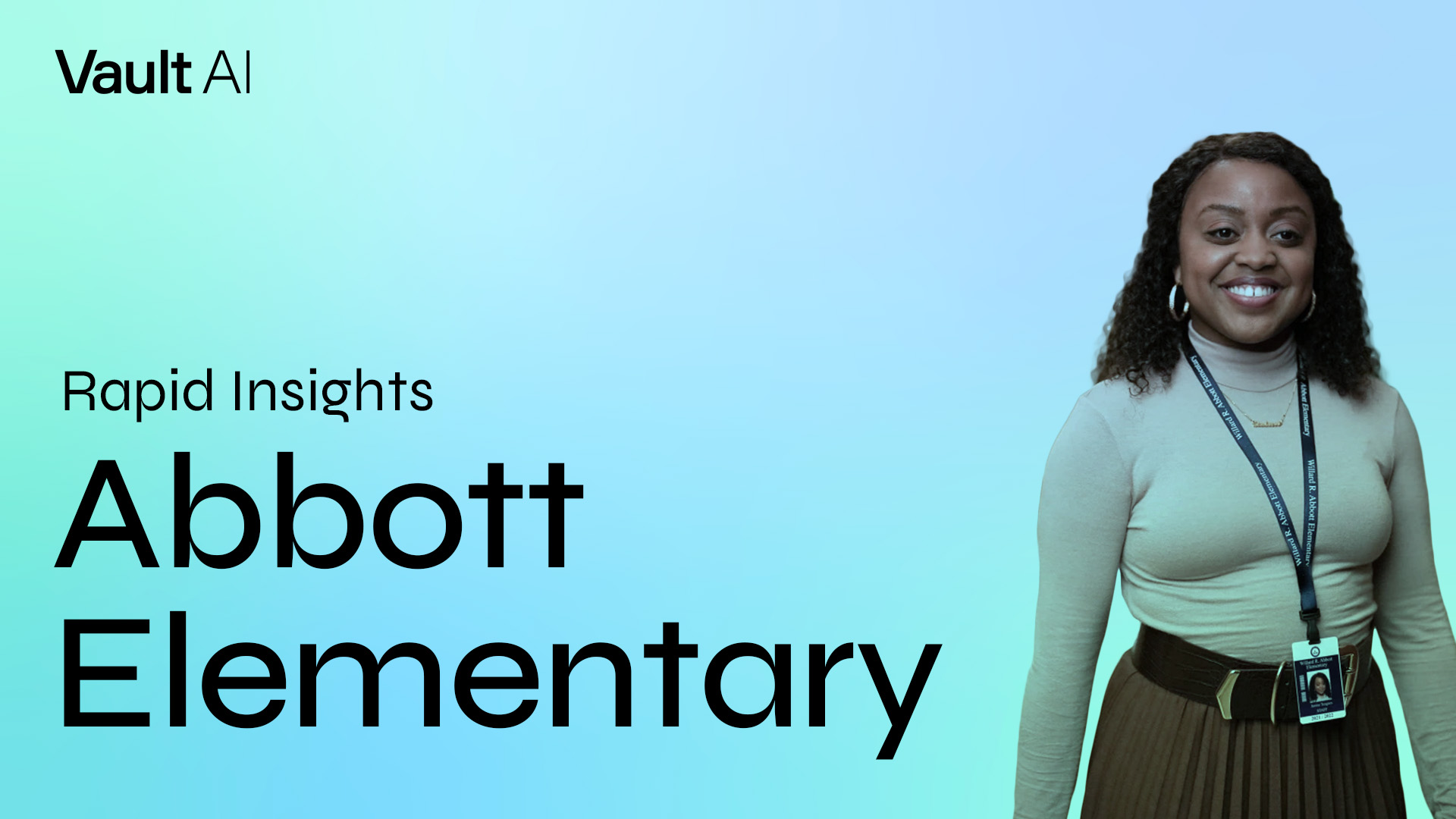 ABC's mockumentary comedy about a group of teachers in an underfunded Philadelphia elementary school became a breakout success in its first season, blowing up in the ratings thanks to snowballing word-of-mouth and widespread critical acclaim. Now, fresh off its two well-deserved Emmy wins (for writing and supporting actress), the single-camera sitcom returns this week to much anticipation for its sophomore outing. Here's what you need to know about Abbott Elementary:
Vault AI uses index scores to describe the impact a given story/theme/element will have on specific KPIs: 
≤79 Disappointing  80-89 Challenging  90-109 Average  110-119 Promising  120+ Outstanding
Who's watching this series?
Demographically, nearly everyone. While Abbott is a strong performer on live TV, the show has also received a massive bump in ratings via streaming, and each platform brings in a different audience profile. Older women (62% female aged 35+) are largely driving its broadcast success, while SVOD viewers lean male and cover a wider age range (57% male / 51% aged <30). Ethnically the show's viewers are 29% African American, 7% Hispanic, and 65% other. Overall, the show has a much broader demographic appeal than ABC's other sitcoms going into the 2022 fall season, all of which land squarely in the F35+ quadrant (The Connors, The Goldbergs, Home Economics).
How's the current social buzz around the show?
Peaking. Thanks to actress Sheryl Lee Ralph and creator Quinta Brunson's headline-making acceptance speeches (that song!), online activity around Abbott has skyrocketed since last Monday, maxing out our social buzz metric (of 160) and making the show top-of-mind going into its S2 premiere.
What is the impact of Abbott Elementary's Mockumentary style?
While it is a familiar format, it really helps elevate the humor. As the season gets underway and the Emmy buzz settles, the show's mockumentary conceit and clever Parody (115) of public school Workplace Dynamics (128) will be core drivers of conversation.
What made S1 such a standout success?
Its dry humor and warmth. The Supportive Relationships (157) among the quirky educators all fighting together in the public school trenches–especially between newbie Janine and experienced but jaded Barbara–has been the show's top ratings draw since the beginning, followed by its hilarious Awkward & Funny Moments (147) that lovingly skewer Janine's naivety in a style reminiscent of Parks & Recreation.
Why did audiences keep coming back?
For the School Setting (137). The show's scholastic environment provides fodder for an endless series of stories offering both of-the-place specificity and widespread audience relatability and, along with its humor, is a top driver for bingeability.
What type of viewing experience will keep the show going through S2?
A warm and fuzzy one. While Abbott does highlight the unfortunate realities of an underfunded school system, it does so with a sense of hope and idealism, and it's this type of positive emotion (Serenity 118, Optimism 117, Joy 117) that will prove most crucial to the show's longevity.
*Publicly released trailers for series are evaluated using Vault AI's algorithms – utilizing our proprietary 120K+ story element database alongside ratings performance and other datasets – to identify unique combinations of stories, themes, characters, and genre elements that will drive success.
—
Stay in the know

Level Up: Your guide to AI-powered consumer insights and how to benefit today
Wed Sep 28 – 11AM PT | 2PM ET
Subscribe to get Rapid Insights delivered to your inbox weekly.
Sign up for StoryGuide for more details and analysis.
About Vault AI
Based in Los Angeles and Israel, Vault AI is using a combination of machine learning and consumer insights experts to help the entertainment industry predict consumer response to content. Test your content faster and more accurately with Vault AI and get granular insights across the entire content life cycle today.