Rapid Insights: '23 Emmy Nominations: Outstanding Comedy Series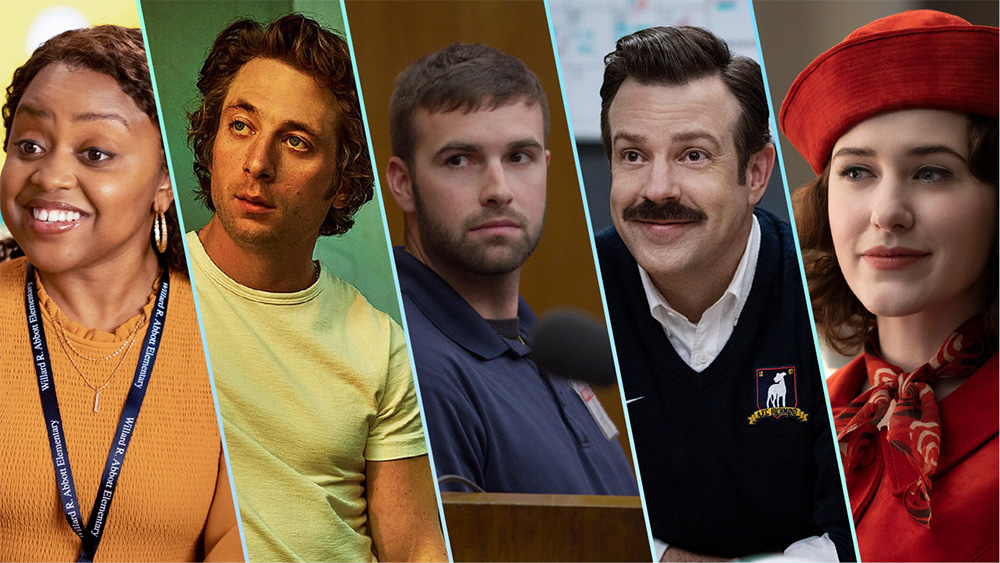 As we await the Television Academy's 2023 Emmy Awards celebration–postponed to January this year–we're continuing our in-depth series focused on the nominees, which takes a closer look at the high-quality shows representing the best of this past year's TV.
Next up: the category of Outstanding Comedy Series, featuring 5 returning favorites from 2022 plus 3 brand new entrants: ABC's Abbott Elementary, HBO's Barry, FX's The Bear, Amazon Freevee's Jury Duty, Amazon Prime's The Marvelous Mrs. Maisel, Hulu's Only Murders in the Building, Apple TV+'s Ted Lasso, and Netflix's Wednesday.
Here's what you need to know about this year's Comedy race:
Vault uses index scores to describe the impact a given story/theme/element will have on specific KPIs: 
≤79 Disappointing  80-89 Challenging  90-109 Average  110-119 Promising  120+ Outstanding
Do these comedy standouts appeal to a common audience? 
Not at all. Though all represent variations of the same genre, these shows reach very different sets of viewers. Some are heavily female (The Marvelous Mrs. Maisel, 68%; Only Murders in the Building, 63%), while others are mostly male (Jury Duty, 60%; Barry 57%). Those airing on linear TV skew much older (Abbott Elementary, 87% aged 35+; Barry, 90% aged 35+), while those on streaming are more tempered (The Bear, 62% aged 30+; Jury Duty, 64% aged 30+), and one even leans younger (Wednesday, 53% aged <30).
How important is humor as a ratings driver?
Extremely. For seven of these eight nominees, their jokes, set-ups, and schtick have become hallmarks of their success and are a key reason that so many viewers have been tuning in: the Awkward & Funny Moments (147) and Parody (115) of Abbott Elementary; the Twisted Humor of Barry (124) and Wednesday (135); the Cringe Comedy (160) of Jury Duty; the Feel-Good Humor of Only Murders (148) and Ted Lasso (119); and the sharp stand-up performances (A Subculture Up Close, 160) built into Mrs. Maisel. The lone exception is The Bear, whose appeal rests squarely on its more dramatic aspects.
How have these series distinguished themselves as comedies?
By layering in additional genres. While Abbott Elementary is more of a traditional sitcom, the other entrants in this field may be more accurately described as comedy hybrids, injecting aspects of the Crime (125, Barry), Mystery (134, Only Murders), Sport (137, Ted Lasso), Horror (126, Wednesday), and even Reality (121, The Bear) genres to heighten their impact and make their storytelling even more unique.
What else do these shows have in common?
Unexpected relationships. This particular list of comedies tends to feature mismatched pairs and groupings and mine their differences for humor, from the crime-solving intergenerational trio in Only Murders (Team Up, 142), to the 'odd couple' comic and manager in Mrs. Maisel (Female Friendship, 160), to the hitman-turned actor and his struggling classmates in Barry (Unlikely Friendship, 120), to the eclectic group of teachers in Abbott Elementary (Workplace Dynamics, 140). These unusual kinships are top viewership drivers across this year's comedy nominees.
Do viewers talk about these shows online?
Oh yeah. Every one of these eight nominees has maxed out our social buzz meter (to 160) at some point during their latest season release, with some sustaining this high level of chatter for a month or longer (Only Murders, Ted Lasso, The Bear, Wednesday). They also see spikes around renewal announcements and new trailer drops.
Your On-Demand Content Assistant
Vault GPT leverages the power of Vault's vast content database and insights engine to transform development, marketing and sales workflows empowering users with ondemand coverage-like-summaries and briefs combined with insights – a cutting edge new tool for today's executive.
100% safe and secure, Vault GPT is trained on over 60,000 film and television titles from the Vault database that contain both story and performance data.
Upload anything – a book, a script, a treatment – and let Vault GPT do the heavy lifting. In less than 1hr you'll have automated summaries giving you insights into characters, key themes, plot, and even potential taglines.
Spots are limited, join the waitlist to secure your place in line.
*Publicly released trailers for series are evaluated using Vault's algorithms – utilizing our proprietary 120K+ story element database alongside ratings performance and other datasets – to identify unique combinations of stories, themes, characters, and genre elements that will drive success.